Young men's tennis team takes the court
The Blue Demons men's tennis squad is starting up another season, and is naturally going into the year looking to come in first in the Big East. However, when talking to 10th year coach Matt Brothers he said he likes to look at the process of getting better rather than just one end goal.
"I talk to the guys a lot about something called periodization," explains Brothers. "Which is, for us and our schedule, a week-long process."
"What we do in our practices and leading up to our matches and then recovery afterwards and how conditioning is handled so that, at the end of the week when we need them at their best they're there physically and mentally. And then we start the next week over. If we can get those things right on a weekly basis then the sky is the limit for these guys," Brothers said.
There is one thing that is immediately noticeable about "these guys." The team is extremely young and relatively inexperienced: one new transfer and five freshmen, including one who was added just last week. While acknowledging that they aren't perfect, Brothers was not short on praise for the newcomers.
"They're all great guys and talented players, it just makes our team kind of young. You have to deal with some of those growing pains," Brothers said, "But, at the same time, the potential that's there, even this year, with the talent they have, is exciting to be a part of. And it's only going to make us better each year these guys get to play."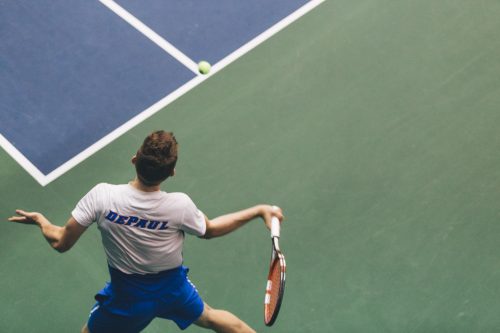 Some of the upperclassmen on the team seemed to share similar sentiments towards the young guys. Senior Nathan De Veer, a former member of the All Big East Team, said he and others were starting to mesh well with their new teammates.
"I think this year we are actually very close with the whole team. I mean it's been like that every year almost, but I think this year we have really good vibes," said De Veer.
Teammate and doubles partner Alex Galoustian echoed his comments, adding that, "If they ever need anything we are always there and they don't have to face everything on their own." Galoustian continued "They know we understand, especially Nathan and Tim (Corwin, the team's only other senior). I mean, this is their last year, they know more than I do."
As upperclassmen, both players knew that they would need to be voices in the locker room. Galoustian said one of his goals for the year was to be, "more of a leader. Since we have six new guys and now I'm older so I want to try and show them … what we expect." De Veer added "We want to be an example … we try to work hard and show them how it's done, basically."
In order to set that example, both knew that they would need to set their goals high for themselves. In his last year, De Veer said he was really hoping for the team to win the Big East conference, as well as, "to be ranked as an individual player, those are the main goals for me."
Galaoustain, after having his record in singles drop from 19-3 his freshman year to 10-21 last year said, "I do definitely want to get back to where I was a few years ago, mentally, being more tough. And I want to reach the goal of maybe being Big East player (of the year)."