Students Together Against Trump continue organized opposition
Protests took place all over the country the day of Donald Trump's inauguration Jan. 20. DePaul's Students Together Against Trump, (STAT), were among the many protesters, which took out to the streets to demonstrate their dissatisfaction with their new president.
"Myself and some other students from other clubs were discussing how universities across the country (…) have already begun to pull together these broader coalitions. We thought it was worth it to begin discussing how we were going to do this," Sam Pieer, a junior and member of STAT, said. "In (the first meeting), we discussed our perspectives around Trump, why it's going to be necessary to fight back in the attacks that will come down on LGTBQ people, Muslims, immigrants, health care, education, whatever it might be. We felt those kinds of attacks necessitated a resistance and a fight back."
Members of the group reflected on the protests inauguration weekend. Meeting as a group for the rst time since Inauguration Day, STAT continued on the conversation in their third meeting, which took place Thursday, Jan. 26. STAT also reflected on how they could organize as a collective front with other student organizations throughout campus against President Trump and his administration.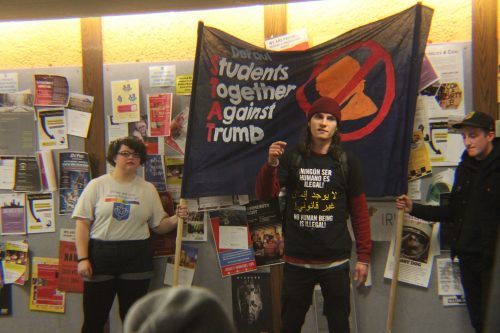 Not yet an official student organization at DePaul, STAT began their meeting discussing how they wanted to organize their group to be different than the traditional method of hierarchy many student groups follow on campus.
Members of STAT voted "yes" on organizing into three separate committees — outreach, activism and steering. The outreach committee would be in charge of educating the members of STAT on current political action taking place by a Trump administration as well as promoting the coalition on campus.
The activism committee would take the lead in organizing direct action in response to oppressive legislation passed by the Trump administration. The steering committee would propose agendas for STAT meetings.
Anais Donald, a sophomore STAT member, was part of the decision making process for the intention of allowing for more discourse and democracy in STAT's future decision-making process, proposed the committee process.
They noted their need for more members to join STAT in order to be more proactive in their efforts to bring attention to social issues, as well as individuals being targeted by the new administration.
"STAT is not trying to separate itself from other activist groups on campus, that's the whole point. STAT is meant to be a united front. The goal is to draw from all these groups that are already pre-existing, as well as organize the vast majority of students who aren't in an "activist organization," sophomore, STAT member Anais Donald said. " The short term goals are being hashed out every week by the committees, the long term goal, at this point in time, is to stop Trump."
STAT finished their meeting by reflecting on their involvement in both the anti-inauguration protests and the Women's March, in which they noted the importance of using all-inclusive language and recognized the importance of having a stronger coalition.
"Most of the people who came out to march this weekend, primarily at the Women's March, were what we call 'unorganized,' which is fine, but in order for us to 'stop Trump' or effectively block any action or legislation that we oppose, there needs to be a collective," Donald said. "Power concedes nothing without demand. The more people you have making that demand standing together, the more likely you are to get those in positions of power to give in."
About the Contributor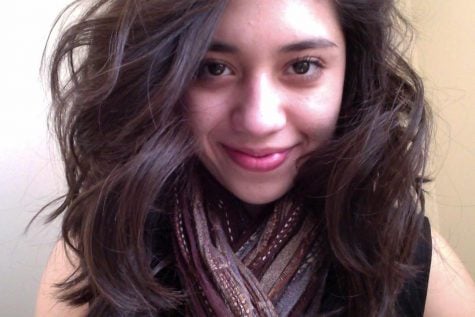 Yazmin Dominguez, Online Editor
Yazmin is the online editor of The DePaulia. She enjoys house music, storytelling, tough editors, and people who can make her laugh. Follow her on Twitter...