Men's basketball still searching for a third scorer
Currently sitting on an 8-13 record (1-7 Big East), DePaul's men's basketball team has looked dazed and confused since they hopped, skipped, and tripped into conference play peppered with top-25 opponents, driving their modest early season record south of .500. indefinitely.
Today the Blue Demons are lurking in the basement of the Big East standings, looking up at some of the most storied programs in college basketball, trying to salvage a season plagued by injury and squandered opportunities.
"One of the things about this group is sometimes we become two different teams," head coach Dave Leitao said. "This is a very unforgiving league, with talented and experienced players, and you got to bring it."
Not only do you have to bring it, you have to bring it for two consecutive halves, and that wasn't the case when the No. 13 Butler Bulldogs visited Allstate Arena on Jan. 21 and overcame a 20-point deficit to win 70-69 in overtime.
The Blue Demons looked unstoppable early in the first half, or at least two of them did.  Eli Cain posted 21 points and Tre'Darius McCallum added nine points from behind the arc to combine for 30 of DePaul's 33 first half points.  Senior point guard Billy Garrett Jr. was effectively useless in the first half, scoring his only point on a free throw.  Garrett Jr. stepped up in the second half, but his increased production came alongside waning production from Cain and McCallum.
"(We need to) maintain our intensity throughout the whole game," Forward Tre'Darius McCallum said. "We came out strong in the first half and the second half came out kind of slow, so we just have to maintain our energy."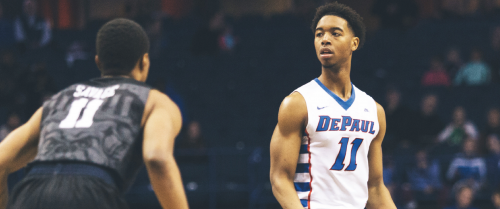 It took the Demons just over seven minutes to extend their lead to 20 points, but by the end of the half, they only led by two – a collapse that seems all too predictable when you look at the numbers.
Cain's 21 first-half points came on a 70 percent shooting performance.  For perspective, there are only five division-one college basketball players in the country who have field goal percentages of over 70 percent on the season.  Of those five, two are centers, and the rest of forwards who likely spend most of their time in the paint taking high percentage shots from close range, opposed to guards who tend to take more shots from longer range. In fact, there are only two guards in the country among the top-40 field goal percentages.  That kind of shooting efficiency is simply unsustainable, especially when a player takes 11 of 18 shots from three-point range.
"I think I missed some shots in the second half that I made in the first half," Eli Cain said after his 32-point performance against Butler.
Simply put, DePaul has been trying to win basketball games with three players: Billy Garrett Jr., Eli Cain, and Tre'Darius McCallum – all three of whom are putting up all-conference numbers this season.
Both Cain and Garrett  are among the top scorers in the Big East, scoring 17.1 and 15 points per game respectively.  Garrett boasts the top free throw percentage in the Big East (.912), and Cain is ranked among one the best perimeter shooters in the country. Tre'Darius McCallum has led the way for the Blue Demon's defensive effort, ranking second in the Big East with 7.4 rebounds per game, and fifth in the Big East with just shy of two steals per game.  Outside of these three, the top scorer averages 11 minutes and 5.5 points per game.
As a team, the Demons don't look so spectacular.  Among the ten teams in the Big East, DePaul ranks no. 10 – dead last – in field goal percentage (.429), three-point field goal percentage (.325), assists per game (11.4) three pointers per game (5.4) and scoring margin (-2.0) – the only negative scoring margin in the Big East.
So long as the Demons insist on trying to win basketball games with their top three players alone, it will be a long time before the DePaul crawls out of the Big East's basement.