DePaul men's basketball falls at last second to Georgetown
Hang on for a minute...we're trying to find some more stories you might like.
In a battle between Big East bottom-feeders DePaul (8-14, 1-8 Big East) and Georgetown (13-10, 4-6 Big East), the Blue Demons came within spitting distance of a win in another down-to-the-wire finish, falling 73-76 to the Hoyas on Tuesday night at Allstate Arena.
"I thought both teams played well enough to win," head coach Dave Leitao said. "Two teams put uniforms on and one wins and one loses; that's the cruelty of sports."
Georgetown owned the first two minutes of play with 10 unanswered points before a momentum shifting three-pointer from Billy Garrett Jr. resurrected the Demons offense and nudged the Demons toward nine unanswered points of their own.
Sophomore Eli Cain stumbled through the first 20 minutes, taking a team high nine shots for an underwhelming four points, looking dumbfounded as a handful of shots failed to find the rim.  McCallum seconded Cain's slow start by posting a goose egg on three tries from the field and corralled only one rebound in the first half.
As a team, DePaul had an inefficient shooting night, especially in the first half, but it would have been worse without Billy Garrett Jr. shooting 50 percent from the field for 13 points at the half.  "We had no answer for Billy tonight," Georgetown's head coach John Thompson III said.
A herculean dunk from Georgetown's Rodney Pryor tied the game at 33 with 1:15 left in the half, and two fouls in the last minute handed the Hoyas a late 35-33 lead at the free-throw line.  Pryor exited the first half as the game's leading scorer with 14 points.
Georgetown carried their momentum into the second half, ripping off six unanswered points. A few minutes later, Eli Cain hit his first three-pointer and got rolling from there, totaling 15 second half points for 19 on the game.
Tre'Darius McCallum left the game three minutes into the second half after taking a hard fall under the basket, but returned to the game shortly thereafter to see his find points of the night on a turnaround jumper in front of the basket.  McCallum walked away with six points and three rebounds.
With just over nine minutes to play, Eli Cain grabbed an offensive rebound, jumped up for the put back, and drew a foul.  Cain hit his free throw to complete the three-point play and tie the game at 52, setting the stage for five lead changes in the final 9 minutes of play.
As the game eclipsed the five-minute-mark, Chris Harrison-Docks stole a ball from Jonathan Mulmore for what should have been an easy two points in transition, but DePaul's Brandon Cyrus failed to convert a contested layup that would have closed the Hoyas lead to one.
On the last play of the game, with 9.7 seconds hanging on the play clock, the Demon's looked toward Billy Garrett Jr. to take on last shot and force the game into overtime.
"They did want teams probably would do against him, late game with the ball in his hands," Coach Leitao said. "They put to guys on him and jammed him so somebody else has to beat you."
With no chance at an open shot, Garrett found Tre'Darius McCallum behind the arc.  Which no time to drive to the basket, McCallum launched a shot that took the breath out of Allstate Arena.  It rattled in the rim and jumped out of the basket as time expired.
"From our perspective, the good lord made it bounce out," John Thompson III said.
Billy Garrett Jr. ended the game with25 points 8-10 at the free throw line, which was enough to push him past Stephen Howard's 528 career free throws for the most free-throws in program history.
"You have to know (Billy) and his family to understand what he has put into this program," Coach Leitao said. "There may be guys that can jump higher, and do all that, but there is not going to be another Billy Garrett in terms of what his legacy means for DePaul basketball."
About the Writer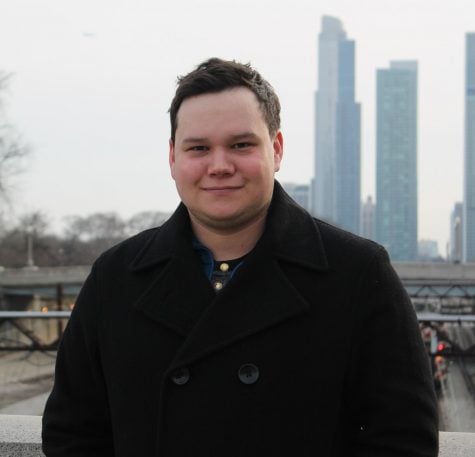 Shane Rene, Editor-in-Chief
Shane is the Editor-in-Chief of The DePaulia and an undergraduate student studying journalism and political science. He was born in Australia but doesn't...