Men's basketball crushed by Jays
DePaul (8-17, 1-11 Big East) rolled into Saturday's game against no. 23 Creighton (21-4, 8-4 Big East) with a record painted in 50 shades of losing and walked away with a bruising 93-58 loss, adding a dark, new shade to the loss-column of the Blue Demon's record.
"You got a really good team that has their eyes set on (The NCAA Tournament) against a team that's trying to find their way on offense," coach Leitao said. "It was a bad recipe for us today with (Creighton) playing well and us not being able to many thing too well."     
Chris Harrison-Docks was the only Blue Demon with a hot hand in the early-goings of the first half, dropping 13 points (4-6 from three-point range) and added four steals. 
Billy Garrett Jr. and Eli Cain had a modest showing – at best – in the first 20 minutes. Cain made one-of-six field goal attempts for two points; Garrett was a perfect two-for-two at the foul line.
"We executed the defensive game plan against Cain and Garrett," Creighton's head coach Greg McDermott said after the game.  "Harrison-Docks made some tough shots in the first half, but other than that, the execution of our game plan was right where it needed to be."   
Outside of Harrison-Docks, the Demon's offense was flat, but flashes of stingy defense kept them in the game.  Creighton turned the ball over nine times and struggled on the offensive glass, grabbing only two offensive rebounds.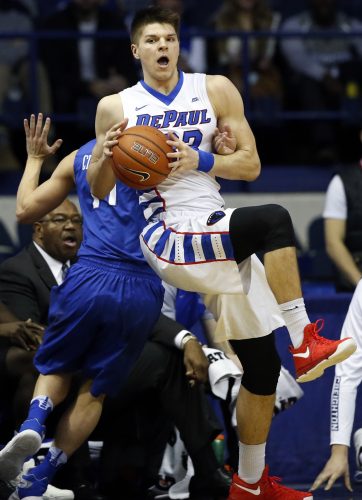 DePaul's 32 percent field goal shooting paled in comparison to an efficient 60 percent from the Blue Jays, putting the Blue Demons behind 39-26 at the half.
"We shot the daylights out of the basketball," Creighton head coach Greg McDermott said. "Things look pretty good when the ball goes in." 
Creighton came out swinging in the second half, posting six unanswered points in the first two minutes. Mid-way through the second half, the Blue Jays had a 22-point advantage, and the DePaul was showing no signs of closing the deficit.
Leitao was called for a technical foul less than two-minutes into second half play – the culmination of a frustrating afternoon with the refs and his team's lack-luster offense.
Garrett found his shot in the second half, scoring eight points to total 10 on the game, and Cain hit a three-pointer at the 11:36 mark for his fifth and final point of the day.
Harrison-Docks lost the energy he had in his 13-point first half, resulting in an underwhelming two points in the final 20 minutes.  The Western Kentucky transfer finished with a game-high 15 points – his personal best since joining the DePaul this season.   
With Creighton's lead hovering around 30 points, the final five minutes were reserved for the bench players on both sides. Levi Cook, Erten Gazi, R.J Curington, Devin Gage, and Darrick Wood all saw the court in the final five minutes for DePaul, scoring a combined 10 points.
"One of the things you look at when you look as our record is, 'boy they're not that good of a team,'" Leitao said post game. "But we've had the ability to be competitive in a lot of situations during conference play, and today we weren't."
DePaul will look to capture their second conference win of the season at home on Monday night against no. 2 Villanova (24-2, 11-2 Big East).