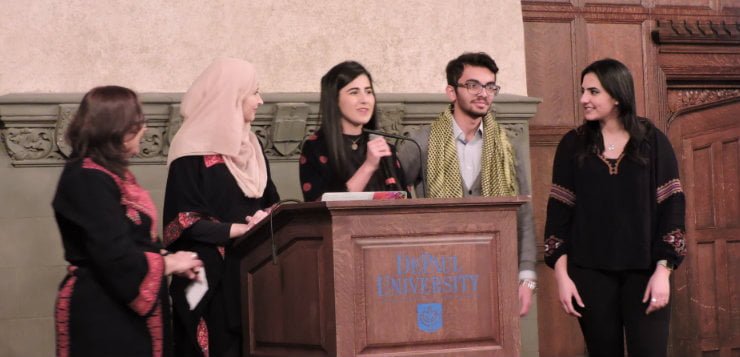 A group of men form a line, hold hands and kick their feet up and down to perform the traditional Arabic "Dabke" folk dance. The "Lawweeh," or the most skilled dancer of the al Salaam Dabke group, is at the beginning of the line to direct the rest of his troop and to encourage more energy.
Shortly after they begin, everyone from the crowd joins in. Cortelyou Commons instantly transforms from a traditional DePaul building into the heart of the Middle East.
This Dabke dance was a part of DePaul Arabic Language and Culture Club's (ALCC) Annual Cultural Night on Thursday, Feb. 9. The event was entitled "El Donya Helwa" which means "life is beautiful" and is a song by Lebanese singer Nancy Ajram.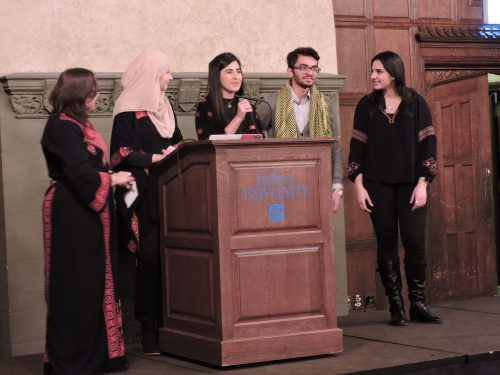 According to ALCC vice president Saad Ahmed, ALCC took awhile to pick an appropriate Dabke group that expressed this theme in their performance.
"We kind of wanted the Dabke group to be reminiscent of that song," Ahmed said. "So that's what our theme was mainly. That was a bit of a challenge we just wanted to throw ourselves into and it worked out good."
Before the Dabke group performed, the night began with three poets: Najwa, Mohammed Al Badri and Director of the DePaul Arabic Studies Department Nesreen Akhtarkhavari. Then Arabic singer Bahaiddeen Assaf took the stage, even starting some of his own Dabke performances with the crowd.
People in the audience consisted of students who study Arabic at DePaul as well as Loyola University of Chicago's ALCC and the University of Chicago at Illinois' ALCC. One of the reasons Ahmed chose to get involved in DePaul's ALCC is because members don't have to be Arab to join.
Ahmed is not even Arab – he's Pakistani, and joined the club because he "enjoys the culture."
However, ALCC event planner Roba Elashry is Arab. According to her, most of the members in ALCC aren't Arab – the executive board consists of people from Lebanon, Jordan, Palestine, Egypt and Pakistan. She believes it's what truly makes their club so special and thought it was "amazing" and "encouraging" that so many people wanted to learn about her culture through both the club and their Annual Cultural Night.
"Our mission of ALCC is to bring the Arabic culture on campus because even though we do know a lot of Arab people, we just feel like the culture is not very (known)," Elashry said. "What's really surprising is that most people or most of the members in our club aren't even Arab. So that's an even better opportunity to spread the culture because we already know what it is – it's nice for us to celebrate it. But when we see a lot of people who are not from the club that are more excited about (our Annual Cultural Night), that's what encourages us to put it together."
ALCC's mission is solely to spread their culture and inform people of what it means to be an Arab, staying away from any politics. It's also part of the reason Elashry enjoys being in ALCC so much, especially after everything that has been happening in the political world lately.
"I'm very into a lot of what (other Arabic clubs on campus) stand for but I'm tired of (politics)," Elashry said. "I just want to be involved in something less stressful and more cheerful."
Senior Shourouk Abdalla is also grateful she can be part of a club on campus that is apolitical, but also one that is a-religious.
"I like that (ALCC) is apolitical and a-religious because Arabs, first of all, come from different religious backgrounds," Abdalla said. "So if it's just for Muslims, then that doesn't include the Coptic Christians or the Orthodox or different Arab Jews that are everywhere in the world. Then apolitical – the Arab world is always in flames with politics so to have a space where Arabs and non-Arabs and anybody interested in the culture (or) the language can come and discuss its beauty and embrace it – it's really nice."
For Ahmed, the Dabke is the perfect example for people to experience the beauty of the Arabic culture.
"I think it's just the dance itself," Ahmed said. "It unifies the people. It shows them the culture of the Middle East."