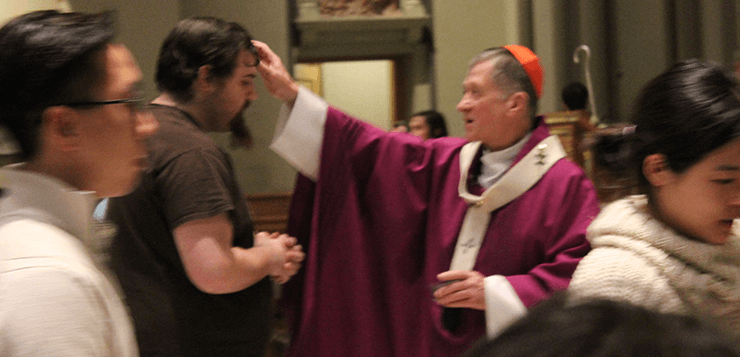 DePaul's Catholic Campus Ministry (CCM) choir spent over two months practicing for Ash Wednesday's 9:30 p.m. Mass all because of one person who would be in attendance: Cardinal Blase J. Cupich.
"We've stepped up our game for the Cardinal," Matthew Verive, DePaul junior and CCM liturgical music assistant, said.
Cupich was appointed to Cardinal at the Vatican in Rome last November, previously serving as Archbishop of Chicago since November 2014.
He presided over Wednesday night's Mass, delivering a homily halfway through about repenting to go along with the start of Lent, a six-week period of reflection, fasting and preparation for the coming of Easter.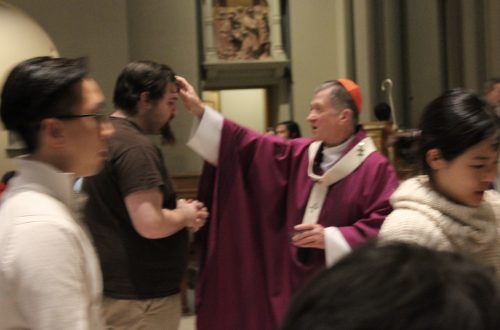 Cupich came to DePaul for Ash Wednesday because of CCM liturgy coordinator Matt Merkt, although he has been to DePaul repeatedly within the past three years. Merkt had the idea to bring the Cardinal because of how willing Cupich has been to show his face at DePaul.
According to Merkt, Cardinal Francis George, who died in 2015 after he lost his battle to cancer, only came to DePaul every five years.
Once Merkt decided he wanted Cupich to come, he talked to Rev. Dennis H. Holtschneider, C.M. about bringing the Cardinal since any relationship involving DePaul and the Cardinal goes through the president's office.
Holtschneider agreed to set it up, acknowledging how kind Cupich was to come especially with how late the Mass ran.
"It's a true honor for Cardinal Cupich to spend Ash Wednesday at DePaul," Holtschneider said. "It speaks about how much he enjoys being with our students, especially after a long day of duties elsewhere. He's coming at 9:30 p.m. for mass, so that our students can attend when their classes are over, and it's a real kindness for him to respect our students' schedules like that."
Verive met Cupich in the past and was also surprised he agreed to come so late.  Last year, Cupich came for a regular Sunday night Mass at 8:30 p.m. and according to Verive, it took its toll on him.
"(Cupich) was saying how late it is and that normally he's already in his pajamas," Verive said. "So being that he's coming here for such a late mass is really great for the DePaul community to show that we are still living the mission."
In Cupich's willingness to keep coming back to DePaul, he has allowed the university's community to get a better understanding about what kind of man is leading the Catholic church in Chicago.
"He's very much compassionate, kind and caring," Verive said. "He's one of those faces that you see and it kind of automatically brightens up your day."
CCM Director Amanda Thompson says she's noticed how much Cupich has made an effort to get to know people in the Chicago Catholic community.
"So far he's been amazing, very in tune with what families need, with what parishes need," Thompson said. "He really strives to have a relationship with his priests, he's met with all of them on a consistent basis."
Cupich actually arrived earlier than originally planned on Wednesday to visit a dying priest's bedside here at DePaul. He said a prayer with Rev. Barry Moriarty, C.M. plus his family and Vincentian priests and brothers who live in the parochial residence.
Moriarty has been battling cancer, but was placed on hospice care last Saturday after he arrived home from the hospital.
Thompson says this is exactly the kind of person who should play such a big role within Chicago's Catholic community.
"It's exactly what a priest should be doing," Thompson said. "We are proud, lucky and blessed to have him leading the church here in Chicago."