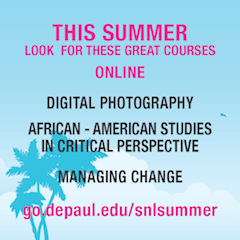 In this raunchier and stunt-filled adaptation of a beloved '70s sitcom, is isn't your parent's "CHiPs".
Dax Shepard helms the role of writer, director and co-star for the buddy cop comedy of two California highway patrol officers. Shepard plays John Baker an ex-extreme motorcycle mega star who's coming to terms with living a normal life away from fame. On the verge of losing his wife, Shepard joins the California Highway Patrol to win her back.
Michael Peña takes up the popular role of Frank 'Ponch' Poncherello. Peña is a reckless FBI agent who is mourning the lost of his recent partner. On assignment, Peña goes undercover as a California Highway Patrol officer to discover the mastermind behind recent armored cash truck robberies.
A passion project for Shepard  — who took over two years to get it green-lit from Warner Bros. — enlisted his friends for a starstudded cast. Shepard's wife Kristen Bell, a frequent collaborator, also plays his onscreen wife who has moved on from the former X Games legend.
The DePaulia sat down with Shepard and Peña before the release "CHiPs."   
DePaulia: Because of what happens in the film, both of your characters have a revelation. They are a different person than they were before. Can you relate to that transformation?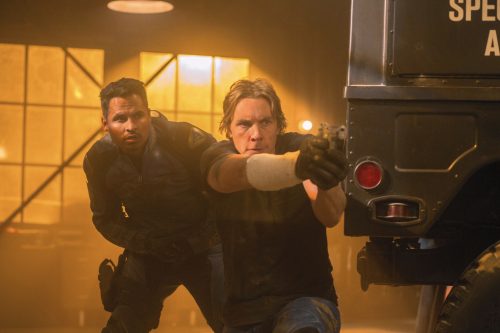 Shepard: For me, I super relate to John because at times as an actor it's a singular goal that you have that's so hard to accomplish. You make it your whole life and when you're not careful it does become your identity. In the past it has become my identity and if you make a job your identity you're destined to feel low during the lows.
Shepard: I find that it's most healthy to kind of divorce your identity from your occupation because you ultimately only control so much.
Shepard: John was an X Games guy. That is all he was. He had a trophy wife, a sweet house, cool toys, that was him. When that went away he has to figure who he is without that. I can relate to that. When my career is over in six months, I'll go through a similar transformation.
Peña: Whether I'm doing a comedy or not I try to relate to the characters. The world is what it is, and you just have to act truthfully for that specific project. You want to relate to them because if not I don't think anybody will believe you and won't be able to relate to you or your character.
DePaulia: Shepard, with the multiple roles like directing, writing and co-starring, this film is heavily centered on Peña. As director, when do you take yourself out of the story in order to grow it with another actor that isn't yourself?
Shepard: I can tell you Peña's probably one of my top three favorite actors alive. In "End of Watch," I was like "Jesus Christ this guy is a mega star." I sold the idea of "CHiPs" to the studio saying Michael Peña would be Ponch and I never asked Peña nor have met him before.
Shepard: So I have two goals, one was getting this movie green lit and keeping Michael in this movie. Never have I ever thought I'd sit down for a writing exercise so consciously trying to make my co-star a bad ass. So I wouldn't be writing that opening scene as him as an FBI agent waking up to a beautiful girl, great shape and healthy, tricking the bad guys and in a cool car chase I was writing this stuff saying "Man, I wish I could be this guy in this movie."
Shepard: I was more than happy being the goofier idiot part of the equation because I so desperately wanted Peña apart of the movie.
DePaulia: Peña, you pride yourself in playing Latino roles in films. How was it playing "Ponch", one of the earliest recognizable Latinos in television, especially in Shepard's vision of "CHiPs"?
Peña: Now that I reflect on it, I'm sure if I weren't process oriented it would freak the sh*t out of me. But thank god now, now I'm starting to think to myself that was kind of advantageous. I try not to think about that as much as possible just so I can bring myself to the role and focus on the task at hand. Really try to stand in the present and treat every scene as its own thing.
Peña: We didn't want to make a campy movie or some kind of a parody. We wanted to ground it, which is much more comfortable for me than some of these bigger comedies. I'm not good at those because I don't think that material is funny so we just did what we thought was cool. That way you can relate to the characters and the jokes. His conversations in the movie, like in "Hit In Run," those were all conversations Dax had before. In this movie, it's the same thing.