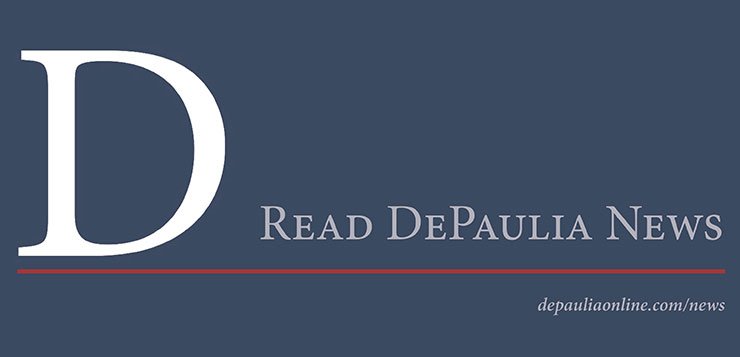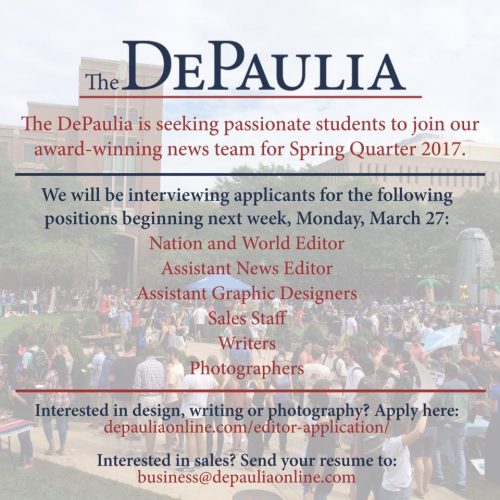 Four DePaul students were arrested March 29 on charges of felony manufacturing and delivery of a controlled substance near a school or park. According to Chicago police (CPD), the students — Marc Anthony Randazzo, 21; Chad Yale, 20; Cole Hanusa, 20; and Paul Fontana, 20 — were arrested separately near the Lincoln Park campus Tuesday afternoon after "some or all of them" sold more than 100 Xanax pills to undercover officers of the Chicago Police Department (CPD).

In total, the students are accused of selling 104 Xanax pills. According to prosecutors, the first sale occurred March 15 in the 2400 block of N. Seminary where Randazzo, and Yale sold 30 Xanax pills for $140. The second sale occurred on March 20 in the 2200 block of N. Lincoln, where prosecutors say Hanusa sold 22 Xanax pills for 100 dollars.
According to DNAinfo, "Lincoln Elementary School is about a block away (from the 2200 block of North Lincoln Avenue) at 615 W. Kemper Place."
The third and final sale, according to Chicago police, took place a day before the students were arrested. Prosecutors accuse 20-year-old Fontana, Randozzo and Yale of selling 52 Xanax pills for $200 in the 2200 block of N. Lincoln Avenue on March 28.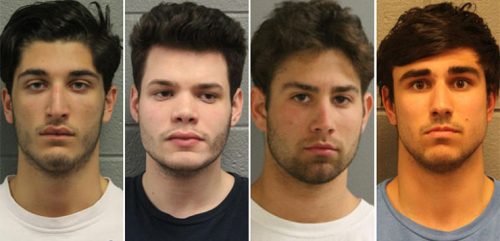 Cook County Judge Peggy Chiampas granted the release of Randazzo — who had a previous arrest in October 2015 on charges of cannabis and paraphernalia possession — and Fontana March 30 on the condition that they qualify for electronic monitoring. Chiampas set a $10,000 bail for Hanusa and Yale. The students are scheduled to appear in court again April 17.
Xanax is a particular brand of benzodiazepine medication that is commonly prescribed to treat anxiety and depression.  According to the Drug Enforcement Administration, Xanax is classified as a Schedule IV drug. The DEA defines Schedule IV "drugs, substances or chemicals" as "drugs with a low potential for abuse and low risk of dependence." Other Schedule IV drugs include Ambien, Valium and Darvocet.
Despite the DEA's definition of Xanax as having "a low potential for abuse and low risk of dependence," there has been a significant increase in overdose deaths from benzodiazepines in recent years. A study by the National Institute on Drug Abuse, found that "from 2002 to 2015, there was a 4.3-fold increase in the total number of (overdose) deaths" from benzodiazepines.
A friend of Fontana's who asked to remain anonymous said he was surprised to hear of Fontana's arrest.
"(The arrest) surprises me because he didn't strike me as the type of person who would sell street pressed Xanax," the student said.
"He struck me as a good kid who knows right from wrong, selling street Xanax (being) far from right and he knows that which is why I believe he was released from jail on his own reconnaissance so long as he wears an ankle bracelet. (That) tells me there isn't much evidence pointing in the direction that he was involved. At least that's what I got from a lot of the news articles."
Selling or giving away prescription drugs is not entirely uncommon among college students. According to a study in the Journal of American College Health, nearly two-thirds of college students are offered Adderall or another kind of ADHD medication by their fourth year. Almost one-third of fourth year students have accepted the pills.
One student that sells her prescription Adderall said she only sells to close friends because they "know the percussions would be severe if (they) were caught."
"I wouldn't sell to a complete stranger in the off chance they are (an) undercover (officer)," the student said.
The student said that despite the risks associated with using drugs that are not prescribed to him or her, the serious consequences if caught selling prescription drugs can be too harsh.
"I understand why selling controlled substances to those who are not prescribed is illegal, especially since everyone reacts to drugs differently. Selling to someone who isn't prescribed could cause serious health issues for them. However, I do not think a felony is warranted, especially if it was a first offense."