Chance the Rapper accepting internship applications
Hang on for a minute...we're trying to find some more stories you might like.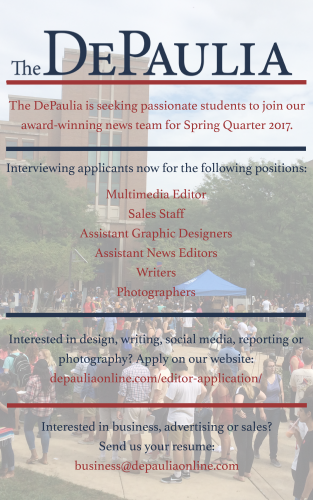 2017 has been an amazing year, so far, for Chance the Rapper. The 23-year-old rapper became a three-time Grammy award winning artist, joined the elite on Fortune's 2017 World's Greatest Leaders list, and showed the world his humanitarian spirit by raising over 2.2 million dollars for Chicago Public Schools.
The multi-award winning artist took to Twitter a couple of weeks ago to announce that he was looking for interns. He tweeted, "I'm looking for an intern, someone with experience in putting together decks and writing proposals." Many fans began to reply to the tweet with their resumes and links to personal websites, vying for their spot on Chance's team. Although, there's been no deadline set for when applications are due, the rapper relayed to those who are interested, via Twitter, that the job has "no official title yet," and to format their resumes as "creative decks, pitches and proposals."
With such a big opportunity at stake, many students are wondering how they can stand out from the crowd. Ed Childs, career advisor for the College of Liberal Arts and Sciences, believes this position is calling for individuals passionate about this field and can be a flexible employee.
"We're talking about entrepreneurship. We're talking about entertainment. Students are going to have to be flexible. Students have to be open to ideas," Childs said. "It has to be something they care about. It can't just be 'I want to work in entertainment,' but (they) have to care about the cause. The structure is not like a tall building, nine to five, with lots of floors and elevators. If students are okay with that, those are the one that should apply."
Looking at the unconventional way of how Chance has presented the internship to potential candidates, Childs advises students to follow that unconventional pattern when preparing to apply.
"Try something unconventional. Use a video, use a blog, use a vlog. Maybe make a 15 second video as part of the application. It's not just your resume. Here's the thing that says, 'I can reach out to a lot of people' If these are students that feel comfortable doing that kind of thing, I encourage them to do it," Childs said.
DePaul junior Betsy Lugo knows far too well what it's like interning in this field. Lugo is spending her spring quarter over at Twentieth Century Fox, working as a development intern for one of the studio's producers. Lugo, who is also a huge fan of Chance the Rapper, believes the opportunity he's offering is not only huge for students, but for the city of Chicago, as well.
"Chance is known for doing unique and special things for his fans, and this internship opportunity is no different. I think that all of us, especially those who grew up in Chicago or any other large city, have seen the major changes that need to be made and issues that need to be fixed and Chance does that," Lugo said. "He outwardly says that he is helping Chicago because he can and I think that will influence a lot of people to apply for this internship opportunity, because it's not every day that you have a chance to help, assist and intern for someone who influences a community with such humility and kindness. Whoever gets an opportunity to intern with Chance is definitely going to be a part of a wonderful team who invokes the change we have wanted to see for a very long time. It makes it even more special that he is someone close to our age and that resonates with us. We see ourselves, our ambitions and our desire for change illustrated in Chance and this internship is a great opportunity to get involved."
DePaul junior Udani Hewavitharana is not too shy of being immersed in the entertainment industry, as well. Hewavitharana currently works for Warner Music Group (WMG), who owns major record labels such as Warner Bros Records and Atlantic Records. Due to her position at the entertainment company, the DePaul student has had the opportunity to work on projects for a variety of artists, ranging from Bruno Mars to Kehlani.
Hewavitharana believes that even if students can't snag a spot on Chance's team, there are still several opportunities for students that are interested in this line of work.
"I don't know details about Chance's internship, but it would be a great opportunity for those who want to get their foot in the industry," Hewavitharana said. "I love to use my work connection (at) WMG to bring different opportunities to student groups on campus. That could go anywhere from creative events related to WMG artists, to artist appearances on campus. If any student org would be interested and would like to collab, please contact me."
According to the rapper's Twitter page, anyone that's interested in applying to work for Chance the Rapper needs to send all necessary information to ctrinternsubmissions@gmail.com.