Students walk down memory lane and discuss their first concerts
You can almost feel it—the warm breeze, the humid air, the sound of laughter and chatter as people take to parks and sidewalks. Spring is almost in full swing and summer is just around the corner and, as anyone who loves music knows, that also means one thing: concert season.
With the release of lineups for some of the most popular summer festivals, DePaul students found time to  reminisce about their first concert experiences.
Firsts always seem to have that same feeling: anxiousness masked by the hum of excitement, the nervous repetition of playing different scenarios out in your head. But when it comes to your first concert, there is almost nothing like it. For some, the whole day was spent planning what outfit to wear, looking in the mirror to make sure their dance moves weren't too awkward, and listening to their favorite artist on repeat to get ready for the evening.
For freshman Grason Clark, who saw Lana Del Ray at Chicago's Aragon Ballroom, it was the best day of his life.
"I love Lana with all my heart, so it was such an experience," Clark said. "At the end of her show, she walked down the stairs set up in the middle of the stage and met fans that were in front of the barricade. I was all the way down on the right and she held my hand and smiled at me."
Being a DePaul student makes it incredibly convenient when your favorite bands come to town.
It's the third largest city in the nation, so most big artists will stop by at some point, and the smaller artists might come a couple times a year. On top of that, some of the venues these artists go to are just a couple of L Line stops away from DePaul's campus. From small venues such as Aragon Ballroom to stadiums like Allstate Arena to the outdoor home of Lollapalooza in Grant Park, Chicago is teeming with places for you to take a break and listen to some great artists.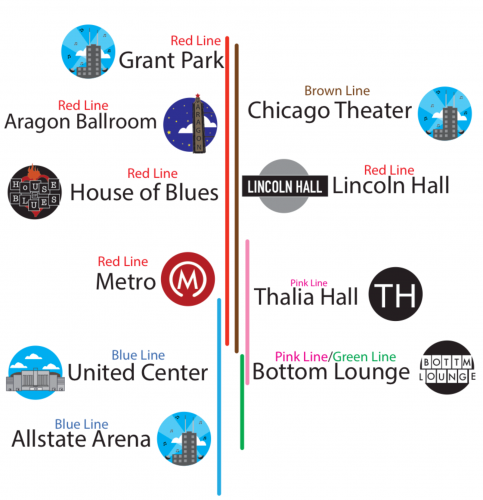 Some artists are really great about interacting with fans throughout the concert. Many artists will take the time to talk with fans after the show, or even just jump down to be part of the crowd in the middle of a song.
To a fan, receiving a high-five or even just making eye contact with their favorite artist can be a moment they will never forget. To get a moment like that at your first concert is pretty incredible, but that wasn't the only reason this concert was so important to Clark.
"On top of it being my first concert, it was the first time I came to Chicago alone," Clark said. "So at the time, it was a pretty big deal to me."
Some artists are even known for leaving a piece of themselves with the fans before they leave. This can be a moment in the middle of all of the music where the drummer throws out his drumsticks or when another band member throws their shirt out to the crowd. But for freshman Jack Bexell, it was something a little more special.
"I saw The 1975 at a venue called Myth (in Minnesota)," Bexell said. "They had an acoustic performance and a signing before at Mall of America, so I went and saw them then. I got to  meet the band and got a guitar pick signed by them."
Not everyone is as fortunate as Bexell to get a prize like that, but most people attending their first concerts aren't concerned about gifts or mementos. There's so much going on at once. The room is filled with people who all share a love of the same music. Their ears are filled with sound and the lights are flashing a million different colors into the darkness of the crowd. It's almost impossible not to get  that wonderful sense of being completely separate from everyone while still being in unison.
Unless, of course, it begins to feel like everyone is a little too close for comfort.
"I went with a friend to the actual concert at Myth, but we got separated and I was totally alone," Bexell said. "It was just general admission, so I was alone in a packed, medium-sized venue and I mean packed like no one can move. I had to make my way through surges of people to get to her so that was fun," he added with a laugh. "But I'm a big fan of The 1975, so it was worth it to be that close to the band."
Venues with general admission and standing-room only, such as the Aragon Ballroom and the Myth, may make your legs tired, but they can also give you an opportunity to get close to where the real magic happens, if you're willing to fight your way up there. Stadium concerts may provide the opportunity for an incredible light show or even just a moment to rest halfway in to the set.
Outdoor venues, however, bring a unique aesthetic to the table that indoor venues just can't capture.
"I saw Florence and the Machine last summer in Tinley Park," freshman Camille Koch said. "It was an outdoor venue and the evening was so nice. There was a beautiful sunset behind us, and it was one of those awesome nights where it was just chilly enough so that you didn't sweat when you danced with everyone."
One aspect of concerts that first-time goers may not realize before they get there is just how socially aware their bands are. Many artists don'tshy away from political or world issues in the middle of their concerts. This can either be a refreshing moment or an uncomfortable shock.
"I remember Florence did a big thing calling for people to put their phone lights up in a moment of silence for those who died in the Orlando nightclub shooting," Koch said. "And even though there were so many people at that concert, it seemed very personal. It felt intimate."
For some, the intimacy of concerts is a coveted moment. The room or field is filled with people, the lighting is just right, the music is so loud you can feel it in your bones. Then, suddenly, you are filled with that feeling that this moment was cut out just for you and that in a world of chaos everyone in this room is perfectly in sync. Maybe it's the beauty of that moment or the feeling of the music reverberating around you, but something about concerts draws people back over and over again.
So as the spring quarter approaches its end and summer starts to fill the lakeside air, take a moment to see if your favorite artists are nearby. After all, that could be the concert of a  lifetime