A DePaul team that came into this match winning three straight and nine of the last ten once again took care of business as they defeated the 7-7 Seton Hall Pirates 4-0, giving DePaul a win to finish off the season before the Big East tournament starts. Things started off closer than that score might allude to, however.
DePaul lost the #3 doubles game, which was to first to finish.  The #1 finished next as Aspia Avgeri and Yulia Shupenia took care of Seton Hall's Anicka Fajnorva and Luize Strike 6-4.  The last match up was Patricia Lancranjan and Keisha Clousing against the Pirate's Katie Kim and Thandy Kangwa.  Kim and Kangwa had the advantage early as they jumped out to a 5-3 game lead, just game away from securing the doubles point for Seton Hall.  However, in dramatic fashion, Lancranjan and Clousing rallied back for 4 straight wins and took the set 7-5 and giving DePaul a 1-0 lead.
"We definitely started off a little slow, couldn't really bounce off each other and get a good rhythm.  But our coach came over when it was 3-4 and was like 'Alright you guys gotta turn it around.'  Obviously, it took us one more game to pound it in our head…but we definitely got our motivation back," said Clousing.  "What works well with me and [Lancranjan] is we can kind of give each other motivation, so we just use that positivity and that really helped us a lot for sure.  For sure the crowd too."
Head coach Mark Ardizzone said the message he gave the pair was all about belief.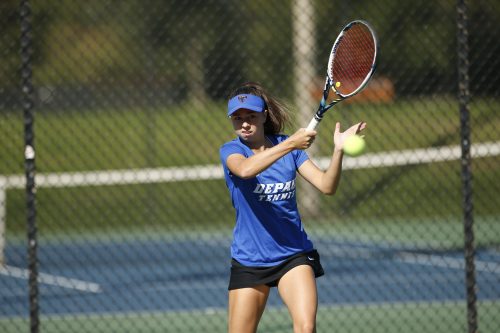 "They just got to believe in themselves a little bit.  They just start, the doubt creeps in, [Lancranjan] hasn't played much because she's been injured so they just loose a little confidence," Ardizzone said.  "And all I'm gonna do in that situation is tell them that they can do this.  Whether they believe me or not I don't know, but they just have to believe they can do it…they have to trust themselves, that's the key."
When the singles began, it was a new story.  Keisha played at the #2 spot and carried over some momentum as she beat Melody Taal in straight sets.  At the top spot, Shupania took down Strike in two sets as well.  The first game to finish was won by DePaul senior Ana Vladutu, who came off an injury plagued last few seasons to grab a win in her last game at home.
"It was hard after last year when I hurt my ACL.  This whole year was really hard getting back…trying to get my game back and stay aggressive.  Unfortunately, yesterday I had another injury and I pulled my hamstring," said Vladutu.  "When it happens you just have to deal with it and that's what I did today…I just went out there today and did my best.  I'm really happy about the win and I'm really happy I finished first and I finished fast."
Florence Abbot, Milica Tesic and Aspasia Avgeri also had single matches, but did not finish.  DePaul looks to take it's four game win streak into the Big East tournament that starts on Wednesday.
"We haven't had out full lineup in a while…we've been kind of taping and gluing it for a while, but I think they are starting to understand what it's like to get to four points," said Ardizzone. "And at the conference tournament it's all about getting to four…that's what the theme for the rest of this year is."