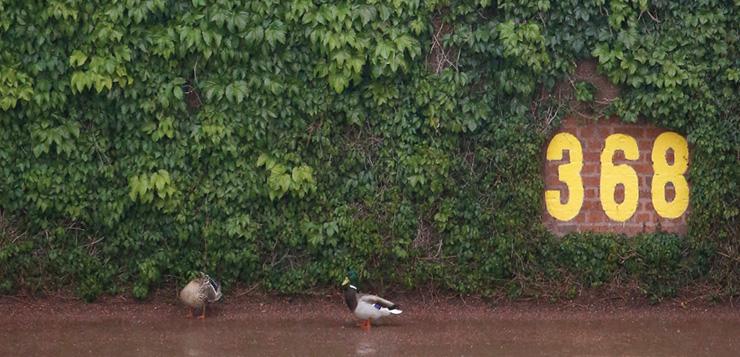 When you go to a baseball game you focus on the players, the food, time with family and friends and enjoying a great game. You're not thinking about how many recycling bins are in the stadium, if they are using LED lighting, or whether or not your cup is biodegradable. But should you be?
That's where DePaul's Public Relations and Advertising program in collaboration with FOX Sports University comes in. Sustainability practices in professional sports often go unnoticed, but this year FOX Sports University is trying to change that. They are working with 38 different colleges to give students a marketing, research, or strategy challenge the business faces and time to come up with a real world solution via products or campaigns.
This quarter professor Don Ingle's PRAD 393 FOX Sports class is creating entire public relations campaigns that focus on creating sustainability initiatives for Major League Baseball. The class of 24 has been split into four teams of six people each, where they have just 10 weeks to create these campaign ideas. The tight timeline is how new businesses work in the real world according to Ingle, which is why the class is designed for the students to be in groups to compete to win a new business campaign.
"We did not choose our groups, which I enjoy," junior Melissa Bellew said. "When we applied for this class we had to say our professional experiences as well as our interest in sports. Every group has some people who have had amazing internships as well as others who are extreme sports fans."
Ingle had approached FOX Sports University to get DePaul a stellar assignment for the class.
"I told them because we weren't a sports major, I asked if they could give us a mainstream sport," Ingle said. "They came up with Major League Baseball. We're so excited because Major League Baseball has been doing things in sustainability for almost 10 years, but now is the first time they have enough activities going on to begin talking and taking credit for it."
The MLB Greening Program is a committed effort to implement sustainability practices such as gardens at the ballparks, using LED lighting, recycling practices, reserving water, reducing electricity use and more. Ingle explained how that is a part of Major League Baseball's corporate social responsibility, which is an organization's efforts to positively affect the environment and the larger community for our social well-being.
"I've been teaching for seven years now, and each year when we teach corporate social responsibility the very first thing that jumps out is that every corporation and brand has to have an environmental sustainability program that's very active," Ingle said. "They have to show that they're reducing their carbon footprint whenever possible. Reducing the footprint has a dual purpose. One, it saves the planet, but two, it saves money for the company and makes them more efficient. It's been brought into all business practices and major corporations, so we teach that a lot to help students understand corporate social responsibility."
Sustainability practices vary in volume at different stadiums,  but Ingle said every team is sharing best practices and beginning to implement a variety of activities depending on their individual stadium.
"FOX Sports felt that this is the year that they have enough proof of their commitment to sustainability that they can start to broadcast it, and do more in stadiums," Ingle said. "They want to showcase their efforts especially on All-Star Weekend, the playoffs and the World Series, which Major League Baseball controls and FOX Sports has television rights for. Our students are doing most of the work around those days."
The students had to sign confidentiality agreements to not disclose specifics about their campaigns, but could talk to The DePaulia about their thoughts creating the campaigns. Most spent nights and weekends coming up with ideas, doing research and executing strategies for this final presentation.
"Creating the campaign is definitely a challenge," Bellew said. "Coming up with unique and original ideas can be extremely difficult especially when we want to engage with the fans and players as well. The challenge is to get people excited about sustainability."
Getting excited about sustainability is something that the students were encouraged by FOX Sports University to practice in their own lives as well.
"The main way I practice sustainability is through reusable products," Bellew said. "Investing in a S'well water bottle has been great. I never use plastic bottles anymore and my water stays cold all day. I also try to avoid using paper products, such as plates and forks."
DePaul Athletics have also been utilizing sustainable practices in their stadiums and fields.
"The current athletic facilities on campus have recycling bins in them, and they utilize LED lighting in certain areas," Bob Janis, Vice President of Facility Operations at DePaul said. "Where there is no LED lights the fixtures fit with an energy saving lamp. In terms of cups, the teams use either refillable water bottles or paper cups which are biodegrade. Lastly, some of the Wish Field material is made of recycled product."
The new Wintrust Arena, which will  open this fall at McCormick Square, will be implementing sustainable efforts into its operations too, including expecting to be LEED-certified. LEED, or Leadership in Energy and Environmental Design certifications are given to buildings that meet strict guidelines for environmental responsibility by using less water and energy and reduce greenhouse gas emissions.
"The Wintrust Arena will use low flow plumbing fixtures and LED lighting predominantly installed throughout to include sports and TV lighting," Janis said.
Regarding Ingle's class, each group will get to present and engage in a Q&A to six executives from FOX Sports University, 21st Century Fox and Major League Baseball. The executives will then choose which group's campaign is the best and select a winner, though Ingle hopes they can use ideas from all four campaigns. The representatives from FOX Sports and Major League Baseball have helped assist the students with industry knowledge and insight, lectures and mentorship.
"They brought Eddie Motl, the Director of Media Relations at FOX Sports, Maddie Bozarth, the Manager of Communications and Integration at FOX Sports, Molly Stires and Kimberly Borza, the two Managers of Marketing and Strategic Partnerships at FOX Sports University, and Paul Hanlon, the Director of Sustainability and Ballpark Operations for Major League Baseball to give the assignment to the students within the second week of class," Ingle said. "They all got on the phone a few weeks back for the mid-point check ins, and are coming back in person on June 5 for the final presentations. This is how much of a commitment they had to this class," Ingle said.
Major League Baseball celebrated Earth Day by sending out a press release on April 20 to highlight a variety of league-wide sustainability efforts, as well as the hard work DePaul PRAD students were doing in creating their sustainability campaigns.
"The sustainability efforts in sports is important because it is a platform that reaches so many people," Bellew said. "Almost everyone is interested in at least one professional sport and if they see the players or their favorite team practicing sustainability, fans will be more likely to."
Most of the students in the FOX Sports class are graduating this June, and are using this experience as a great resume builder for their personal portfolios and future careers.
"We would love to thank FOX Sports, 21st Century FOX and MLB for giving us such a rich assignment," Ingle said. "I've never seen any class have that much professional involvement from beginning to end. My students are all confident that in 2018 we're going to see PSA's on FOX Sports, we're going to hear messaging pre-game and in the post-game, we're going to see things happen at the All-Star Game next year and for the World Series. Our students take so much pride in that, but it would be possible without FOX Sports University specifically going to Major League Baseball and getting them to agree that this was the right time and that we were the right school to be doing this kind of campaign.