DePaul's plan for a 'Living Street' on life support
Walking between campus buildings on Kenmore Avenue, a herd of students pays little attention to the line of cars waiting at a stand still to pass.
You can't blame the students, considering there's not much of a campus in Lincoln Park. Buildings are nestled between busy streets and students often have to stop traffic while they make their way to class.
"I've had some close encounters out here," said Grace Stenberg, a DePaul undergraduate student. "Cars speed through here, students pop out of buildings not paying attention; it's just a dangerous setup."
Other students weren't as lucky as Stenberg. Sophomore Sarah Hamilton was walking to class across Kenmore Avenue last year when she was struck by a moving car.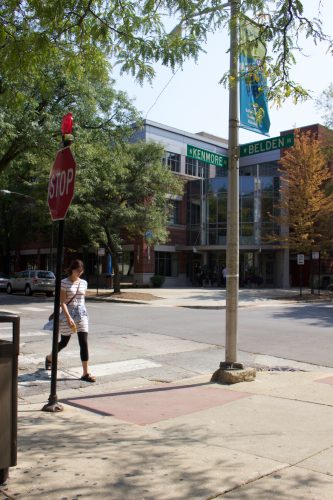 "Out of nowhere, I'm on the ground. Luckily, I was fine, but still, the crosswalk is very unsafe," Hamilton said.
This safety issue is one that DePaul administrators tried addressing in their 2009 master plan with the introduction of the Kenmore Green project.
The original proposal would have permanently shut down the 2300 block of North Kenmore Avenue to foot traffic and created a new green space for students, something the University is desperately lacking.
Professor Jim Montgomery, the head of the DePaul Sustainability Network, says the project is all but dead.
"Right now, there have been no talks of constructing the Kenmore Green," Montgomery said. "Our hope is that we can work to find a solution that benefits our neighbors while creating a safe and living space for our students."
The plan has been idling for nearly four years since local residents expressed their concerns. Alderman Scott Waguespack nixed the idea of closing Kenmore, citing the loss of 47 parking spaces for nearby neighbors and creating more traffic on Sheffield Avenue.
But there is still hope for the DePaul living street. The alderman for the 32nd Ward introduced a plan to create what he calls a "Dutch-inspired Woonerf."
"Ultimately, there's a plan that can work for everybody," Waguespack said. "The plan I introduced to the university would create a woonerf or living street; it's a winding road where students and cyclists have the right of way, but the street would still be accessible for local residents."
Waguespack's "woonerf" has drawn neighbors' criticism. Allan Mellis is director for The Wrightwood Neighbors Association and says the alderman's plan fails to address their concerns about the lack of parking.
This isn't the first time the university and Mellis have debated the issue. In 1992, DePaul decided on closing the 3200 block of Seminary Avenue to construct the quad.
In hopes of moving the plan for a living street forward, outgoing DePaul President Father Dennis Holtschneider said jokingly, "We have offered free 24-hour access to campus parking garages. We continue to hold forums with the community. I don't see what's stopping us."
The university had planned a community referendum for this past summer, but Holtschneider said the plan can be decided by his successor, DePaul President A. Gabriel Esteban, since it's DePaul's property.