Glass Animals, Amber Mark showcase new material at Aragon Ballroom
Bringing their peanut butter vibes back to Chicago since their performance at Lollapalooza, indie rock band Glass Animals with Amber Mark visited the Aragon Ballroom on Thursday, Sept. 28.
Having come into the public eye after the release of their well-received first album "Zaba" in 2014, Glass Animals reemerged in August with their latest work, "How to be a Human Being." Having been on tour for two years after the success of "Zaba," Glass Animal's sophomore album was heavily influenced by their time on the road.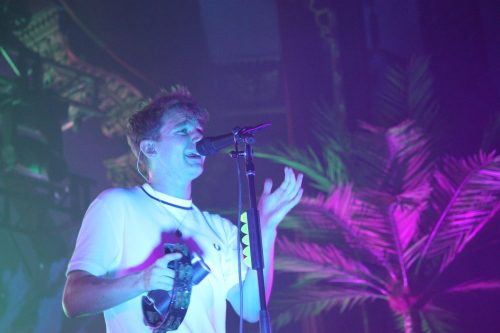 "How to be a Human Being" continues to show off their signature synth pop sound, only this time each track is a fictional story loosely based on different people the band encountered while on their previous tour. Popular tracks such as "Pork Soda" was named after a woman's tattoo exemplifying her love for the meal in a drink. Its popular chorus "pineapples are in my head" came to be after lead singer Dave Bayley overheard the phrase being said by a homeless man.
Their album tells the story of 11 different fictional characters, each influenced from Bayley's and the rest of Glass Animals' encounters, offering explanation for the different characters ranging from a toddler on a toy bike to even a greased-up swimmer in a speedo featured in the album's cover and music videos. Their album title "How to be a Human Being" is meant to embody and showcase all the different walks of life from infancy to the elderly.
Their album expresses the quirkiness and depth of the band through lyrics, sound, performance and even stage design as seen by Chicago fans last week. Before Glass Animals held a high-energy set, up and coming artist Amber Mark started the evening with her sultry R&B infused pop set.
The opener had fans in the crowd singing as she performed tracks from her debut album, "3:33 am," which she wrote to emotionally cope with the passing of her mother. Performing catchy and heartfelt songs such as "Lose my cool" and "Can you hear me?," Mark warmed up the crowd for the anticipated act of the night.
Precisely at 9 p.m., the 36-second stream of conscious pre-recorded track "[Premade sandwiches]" blasted through the venue while the pineapple disco ball on the stage began to rotate, marking the beginning of their long awaited concert. Starting with familiar hits from "Zaba" like "Black Mambo," Glass Animals quickly turned to play their new tracks like "The Other Side of Paradise" and "Mama's Gun."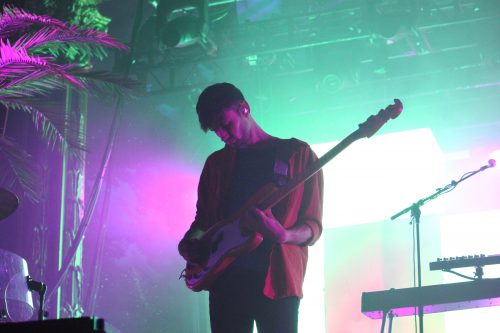 Dave Bayley's on-stage chemistry with the rest of his band mates, Drew MacFarlane (guitar), Joe Seaward (drums) and Edmund Irwin-Singer (bass) was easily visible. Bayley's eccentric, high energy brought out the crowd's best dance moves which made their performance even better.
Even bros wearing baseball hats and polos were dancing to the lyrics of "Youth," a song written from the perspective of a nostalgic mother to her young son who, according to the music video, is speculated to have had a sad disappearance.
The strangeness of the album's concept adds to the quirkiness and talented ideas behind Bayley and the rest of the band. Their devotion and love for their own art is visible in their live performances.
The highlight of the night was an omen to "Zaba" when they played their hit "Gooey." The hit had the Aragon in full groove mode, especially when Bayley jumped off stage and immersed himself within the crowd while ironically singing about not being able to take this place and wanting some space.
Nearing towards the end of their set, they surprised the crowd with an unexpected cover of Gnarls Barkley's "Crazy." Followed up by what Bayley announced was his favorite track of the album, "Agnes," a song he described as the saddest song he will ever write. 
The pineapple disco ball stopped spinning and venue lights flicked back on after Glass Animals ended the show by performing their latest hit "Pork Chops," which was easily the best way to end their high energy concert.
Glass Animals will continue promoting "How to be a Human Being" throughout the United States until mid-October, in which then they will continue their headlining world tour in Mexico.
About the Contributor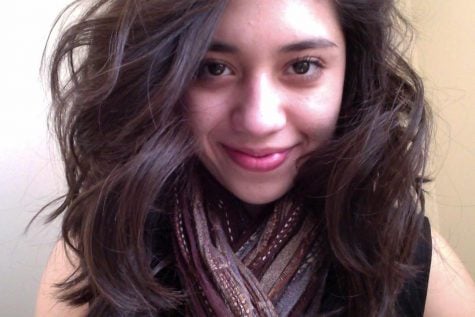 Yazmin Dominguez, Online Editor
Yazmin is the online editor of The DePaulia. She enjoys house music, storytelling, tough editors, and people who can make her laugh. Follow her on Twitter...