New play aimed at youth tackles immigration issue
The DePaul University Theatre School has opened their curtain for "Augusta and Noble," a Chicago Playworks' production that will run until Nov. 11. Aimed at younger audiences, the play puts into perspective two issues many pre-teens may be facing right now – the transition from middle school to high school and immigration.
"The Theatre School at DePaul produces Chicago Playworks, an annual season of plays for young audiences," said Lisa Portes, Head of Directing. "We chose to produce 'Augusta and Noble' because it's a Chicago story, based on interviews with Chicago families about an issue that directly reflects the experience of many young people in our city: the anxiety, uncertainty and confusion that comes from being the U.S.-born child of undocumented parents."
Portes has been the head of directing since 2005. She served as Artistic Director for Chicago Playworks from 2002-2017, with "Augusta and Noble" being the last piece she programmed. Portes says Chicago Playworks primarily serves the Chicago Public Schools, with the target age for this production being eight years and up.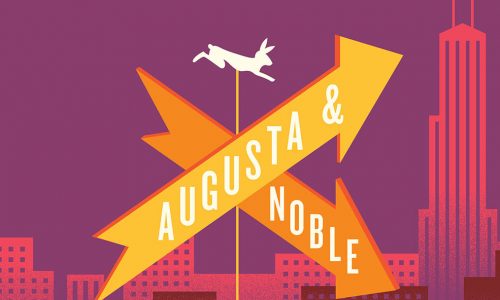 Written by Carlos Murillo, the play is focused on 14-year-old Gabi who, throughout her first days of high school, discovers that her mother is undocumented. Through a tale of courage and self-discovery, Gabi learns the process of what it is like to be accepted to a selective enrollment high school, far from home, while realizing the obstacles her parents went through to get her where she is. 
With fear that their immigration status might be exposed, Gabi's mom, Dolores, would have preferred for her daughter to go to her neighborhood school. Throughout the story, we learn that Dolores had originally hid Gabi's acceptance letter.
Playing the character of Gabi is Mariana Castro, a senior at the DePaul Theatre School who was born and raised in Bogota, Colombia. While Castro is in America under a student visa, she says her and Gabi may have different life experiences but can still relate to her in the way that Gabi feels like she belongs to different worlds.
"Even though Colombia is my home, Chicago has become sort of a home too," Castro said. "And since I don't have any family here, I can understand the uncertainty when being left alone with new responsibilities and unknown territory from one day to the other, having to deal with new experiences on your own."
Given that immigration is such a big topic right now, Murillo and Portes said they chose to do this play "after the election and in direct response to campaign rhetoric that criminalized and stigmatized specifically Latin American immigrants."
"Many of our students are first or second generation Latin American immigrants," Portes said. "We wanted to tell the intimate, human story of a Mexican immigrant family to counter the dehumanization of Latino immigrants fomented by this administration."
The play goes back and forth between reality and Gabi's dreams, specifically with the character of El Coyote. His character represents a person who helps undocumented immigrants cross the border to the United States.
"The dream sequences are important to the story because they not only represent Gabi's confusion, feeling of abandonment, fear, and frustration, but it's an exploration of her parents' experience and how she begins to understand her history," Castro said. "As she goes on the journey her parents did, she also goes through a process of understanding her identity and of growing up."
Though the play is aimed at younger children, it is just as impactful for adults. Jose Blanco, a father in the audience, took his two sons to see the play on Thursday morning.
"My sons may not have really felt the significance, but this play hit close to home for me," Blanco said. "My mom was an immigrant. Dolores' story was very similar to that of what my mom went through to get to this country."
Castro hopes the play will raise awareness and empathy.
"In these times particularly, when everything becomes political, it's important for kids to understand that this is a case to case scenario and these are families, friends, neighbors, not statistics on a newspaper," Castro said.
Portes wanted to share a message with this production to the many Latino immigrant families in Chicago: "We see you. We stand with you."