Chicago artist Saba teams up with Apple
Chicago musician, Saba, recently had his lyrics artistically showcased on and around the new Apple store on Michigan Avenue. This store opens Oct. 20 and will offer Today at Apple courses. The Chicago Riverfront display is open to the public as the construction of the new building is underway.
Saba's latest single "Where Ideas Sing" was released via Apple on Sept 28. The next day, lyrics from the song were painted down Michigan Avenue around the new Apple store by topography artist Matthew Hoffman. The building and surrounding sidewalk area is now a work of art in its own way. The store itself was built with a roof that resembles a closed MacBook laptop.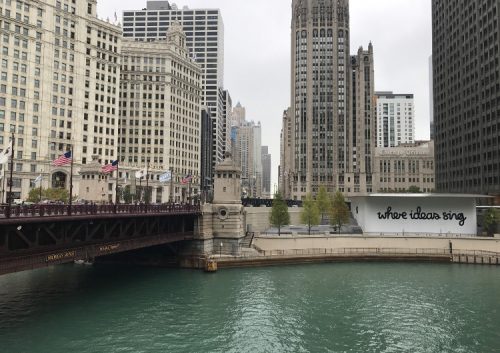 Apple introduced its new program "Today at Apple" this past May. The program involves various classes on how to effectively use Apple products for photos, video, music, coding, art and design, and more. The free classes are offered at all Apple stores and range from the basics, how-to lessons, and professional-level programs.
Today at Apple courses are led by team members and in select cities world-class artists, photographers and musicians. The training sessions vary based on skill level, age, and interest.
The song title, "Where Ideas Sing" is printed on the temporary outer layer of the store. The white layer is there for construction purposes and will be removed once the store is complete. The final design is expected to be a transparent box with the laptop resembling rooftop.
Across the walkway on Michigan Ave are the lyrics, "We all are the stars, the next generation, keep pushing it forward, young pioneers. And my peers, and the poets, we bringing it back home, right where it started."
Rapper and lyricist Tahj Malik Chandler, better known by his stage name Saba grew up nn Chicago's West Side. He gained recognition with his feature on Chance the Rapper's 2013 song "Everybody's Something" which also featured Chicago's own BJ the Chicago Kid. Later also being featured on Chance's single "Angels" in 2015.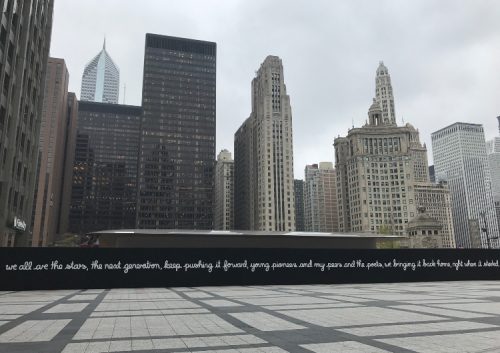 Saba released his debut album "Bucket List Project" in 2016. Since this album, he has been releasing various singles including "Monday to Monday," "There You Go" and his latest "Where Ideas Sing."
"Where Ideas Sing" ties into Today at Apple's mission here in Chicago because Saba is speaking of his hope for everyone to do their best. He is ultimately saying that he is starting to take off with his music and explains his journey throughout the song. This leads into Saba ending with, "That's how I let my ideas sing but now it's your turn," essentially rooting for the young artists of Chicago.
This message connects with Today at Apple on many levels. The classes that Apple offers is an initiative that allows Apple users to succeed in their creative works through Apple products. Like Saba, Apple is saying now it's your turn, and putting the right tools in customer's hands with a knowledge of how to effectively use those tools.
Saba is starting his European tour dates soon. Catch him when he's back in Chicago at The House of Blues on Nov 25 for John Walt Day. All benefits go towards the John Walt Foundation to support Chicago youth and interest in the arts. More information on the show can be found at The House of Blue's webpage. 
Today at Apple class schedules can be found based on the store's website.