Beach Fossils engage crowd at The Bottom Lounge
Brooklyn-based indie pop band Beach Fossils engaged the crowd at The Bottom Lounge on Oct. 17. The intimate West Side venue made for a show that the audience seemingly appreciated.
Beach Fossils is an all-male group lead by singer and guitarist Dustin Payseur. The band began in 2009 as a vehicle for Payseurs' many already-written songs. In 2010, Payseurs' singles "Daydream" and "Desert Sand" were released as Beach Fossils' first creations. Their self-titled debut album was also released that year, showcasing their very atmospheric sound that was dominantly created by Payseur.
The band currently consists of Payseur, guitarist Tommy Davidson and bassist Jack Doyle Smith. In addition to the guitarists and bassist on stage, there was also a drummer and a keyboardist who was using a tambourine and trumpet on and off throughout the show.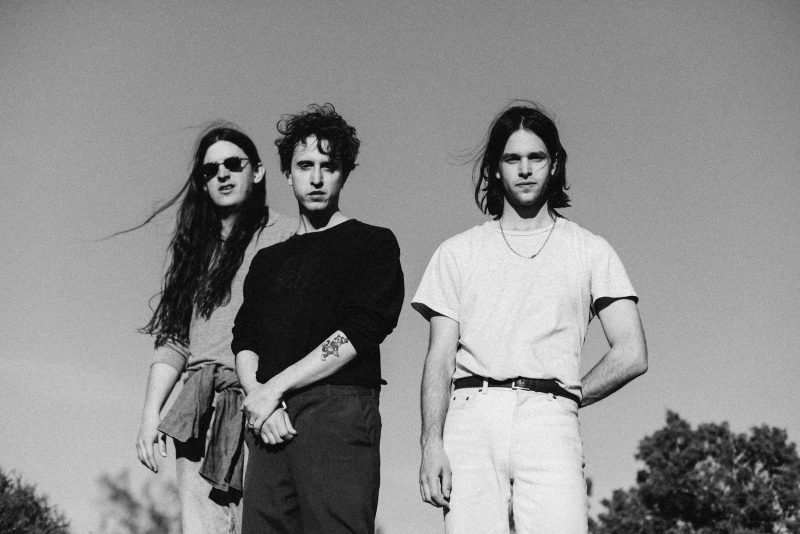 The concert began with Los Angeles band Raener, followed by Baltimore performers Snail Mail. The lineup created a fairly consistent sound leading up to Beach Fossils. Raener took after Beach Fossils in many ways, and the female-dominated Snail Mail was a perfect mixture between melodies of female singer Frankie Cosmos and the rock flare of band Diet Cig. Both openers performed roughly a half hour set each.
After Snail Mail wrapped up, the guys of Beach Fossils began to set up stage themselves. This made the crowd visibly antsy. One fan in the front row even engaged in conversation with Payseur, showing the band's openess to interact with their crowd.
Beach Fossils looked like a couple of grungy, basketball-playing kids. This may have been their Brooklyn style, but the relaxed fashion made the band appear approachable. The lead singer wore a "Hellraiser" graphic t-shirt on stage and had stickers covering his guitar similar to a college student's laptop.
The group casually walked back on stage at 10 p.m. and dove into "Generational Synthetic," an older song from their 2013 album, "Clash the Truth." This was Beach Fossils' third and longest album.
The tone Beach Fossils brought to the stage was much less melancholy than their past studio work. The guys felt vibrant on stage through their movement and smiling to one another. Perhaps it wasn't just their live set, but a change in the band overall within the past few years that the band was apart. The band made "Clash the Truth" in 2013 and then showed their faces again four years later with the 2017 release of "Somersault." This latest album is unique in comparison to the other, much earlier Beach Fossils creations.
Their EP "What A Pleasure," was released in 2011 and "Clash the Truth" in 2013. Both albums had a dark, wintery feel to them,  depressed tunes hidden by breezy guitar riffs. The album "Somersault" as a whole is like the coming of spring to the very dreary albums of their past. Although older songs were performed at The Bottom Lounge, this new radiant sound was clear to the audience.
There was an easy flow from one song to the next on stage. Opening with "Generational Synthetic" and continuing with the song "Youth," there was merely a quick pause between the two.
Beach Fossils was not overly interactive while they were playing music, although their commentary every now and then between songs made for an enthusiastic crowd. There was crowd surfing in the compact Bottom Lounge. Fans even lost their shoes and a phone in the process—which was promptly returned by Payseur. At one point in the night, Payseur had a fan's bra come his way. He picked it up and put it on himself. "I also look good in a dress," he shared.
This engagement escalated when Beach Fossils stopped after their performance of "Youth" to explain their intended raffle. The raffle winner was allowed to come on stage with one other person to sing the next song. However, when Matthew—the winner of the raffle—was brought up on stage with his girlfriend, it was noticable that there was no raffle to begin with. Matthew, who traveled from Indiana that night in order to propose to his girlfriend on stage, kneeled down and proposed. The newly engaged couple then danced to the next song on stage. While the couple left the stage, Payseur stated, "I was nervous for that and that wasn't even me."
Payseur even referred back to the proposal later in the show by saying, "It's been such a good show that I want to spend the rest of my life with everyone in here. Will you marry me, Chicago?"
After the chaos, passion flowed throughout the Bottom Lounge into the end of Beach Fossils' set. Addressing the crowd personally one last time, Payseur shared, "I've actually been really looking forward to this show. I just love playing here." Cheers filled the room, and their hit song "Sleep Apnea" began to play.
Although there was an extensive amount of communication between the band and the crowd, there was still a clear sense of Beach Fossils' classic sound and new work throughout the show. Their Chicago set ended on a high note as the energy came to a close that radiated nicely with the crowd.