DePaul hosts panel on North Korean threat as tensions rise
The department of history hosted a presentation and discussion panel entitled "Crisis with North Korea: How Did We Get here?" Nov. 2 at the Schmitt Academic Center.
Students and fellow professors crammed the lecture room to discuss with panelists in a discussion about North Korea's position on nuclear testing and how the media has heavily deformed nuclear testing as a passive declaration of war.
Professor John Harney of Centre College began with the assertion that the matter does not concern the United States alone and that there are many misconceptions about relations between North Korea and other countries.
"We talk about North and South Korea like they're these two discreet communities that have nothing in common except for common order," Harney said.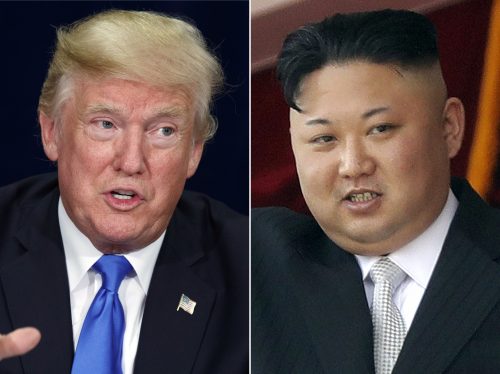 Despite the media's portrayal of North and South Korea as socially and politically destructive and always on the verge of a nuclear-missile launch, there is such thing as a "united Korea," Harney continued.
In a brief presentation following,  history professor at DePaul Ryan Yokota elaborated on the "internal operating dynamics" of North Korea that guides the country with foreign relations.  He noted that President Donald Trump set a platform for rumors to spread rapidly about the dangers of North Korea's access to nuclear weapons.
"We need to re-conceptualize the way in which we think about missile testing," Yokota said. "On the one hand yes, missile testing is significant, ongoing and certainly represents a threat to a certain level and it causes for concern especially in terms of the question of nuclear proliferation."
Nevertheless, nuclear testing is often ignored by the media as a form of advertising for the missiles North Korea is trying to sell, Yokota said.
Professor Byungdug Jun of the peace, justice and conflict studies program, who is from Korea and DePaul religious studies professor Yuki Miyamoto pointed out that nuclear testing is not exclusive to overseas countries. The record-breaking numbers have been found within the United States, Miyamoto stated.
According to the United Nations website, the United States conducted 1032 nuclear tests between 1945 and 1992 compared to Korea of only six. Professor Miyamoto cited further sources come from survivors of nuclear testing who continue to suffer from bodily damage from the testing.
"It might be a little interesting to think [about] the number gaps," Miyamoto stated. "Then maybe the question of how to survive is not quite known."
Byungdug followed with the notion that Korea is focused more heavily on solving their environmental issues and regaining relations with surrounding countries. The nuclear testing has also been a way to determine the environmental health of the country as well as neighbors. For example, research shows why some areas may or may not be supportive for nuclear testing and how mountains can also be affected
"So while the U.S. may be saying at this point and time, what North Korea is doing is not rational but then – like the panelists pointed out – it might not be a very persuasive argument since the U.S. has conducted over a thousand nuclear tests," Byungdug said.
"I think the students will go away with the idea that various nation states pursue their foreign policy in keeping with their version of what their national interest is."
Special-guest Sulakshana Sen shared with the audience that many other countries are updating their resources to nuclear testing, not just North Korea.
She that she hoped the students would walk away with a better comprehension of North Korea and its stance on testing.
"Ultimately when we're looking at it, the panelists spoke about the nation's state and security and survival, then one of the things that comes up with nuclear weapons is the concept of rational deterrence," Sen said.