The Opioid Crisis: The medical industry's role in creating and ending it
Addiction to opioids has plagued the U.S. for decades, and it's a problem that hasn't shown signs of slowing down. Out of the 1,889 deaths caused by opioid-related overdoses across Illinois in 2016, it's doubtful that any of these individuals wanted a life stifled by a possessive drug addiction.
An opioid is a drug that binds to at least one of the three opioid receptors in the human body. Heroin, a street drug, is likely the most common opioid that people consider among this category of drugs, but highly addictive opioids can be dispensed at pharmacies with a prescription. Drugs like oxycodone, oxycontin and fentanyl are just a few examples of medically prescribed opioids commonly used for pain management. All are highly addictive and are being abused violently across America. 
Dr. Jeffrey Bratberg is a professor at the University of Rhode Island and also a doctor of pharmacy, accredited by the Accredited Council for Pharmacy Education.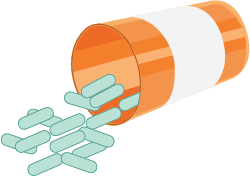 "Fifteen years ago doctors were told that pain is the fifth vital sign. And then these nice pharmaceutical reps said, 'here's a great, easy to use drug, that everybody does better on.' If a patient's in pain, and then they don't have pain and they're happy, and it's all paid for, [doctors] aren't going to say let me take you off this opioid, and have you do acupuncture and massage therapy instead," Bratberg said.
It became too easy to prescribe, and opioids flooded the market. Bratberg argues that people in the medical profession, and society in general, has to change how addiction is perceived. He wasn't too encouraged by President Trump's recent message during a briefing surrounding the opioid crisis.
"(Trump) reinvigorated the failed 'don't do drugs!' statement which doesn't work. I mean, we definitely need prevention and education in all areas, but the statement I agreed most with was the FDA (Federal Drug Administration) commissioner, who said that we need to treat addiction like we treat other diseases," Bratberg said, also suggesting that addiction is like a mental disorder. 
"I think we need to treat addiction as a disease, and as a brain disease, and we need to train pharmacists and other health professionals together to use opioids more wisely, and to dispense much more dioxin with opioids to prevent unintentional overdose," Bratberg said.
The total number of fatalities in Illinois has nearly doubled in just a three-year span, following the 1,072 recorded opioid overdoses in 2013. It is clear that a solution is needed quickly, and according to long-time nurse practitioner Hillarie Jones at the University of Connecticut, this opioid epidemic is far from exclusive to the state of Illinois.
She cites an incident that took place at the University of Connecticut where ex-pharmacist Michael Olzinski was busted for forging prescriptions and diverting upwards of $30,000 worth of controlled substances between 2012 and 2015.
"The crisis is the same no matter where you are in the country. There are people in Wyoming abusing opioids, too, not just people in Illinois," Jones said.
Jones admits that she will prescribe small doses of opioids when she feels that the situation warrants it.
"Most of the time it's for fractures, or really bad injuries, bad burns, and once in awhile I'll do it for someone who's got really bad tonsillitis," she said. "But quite honestly, we really try to avoid prescribing opioids, and when we do, it's usually in very small quantities."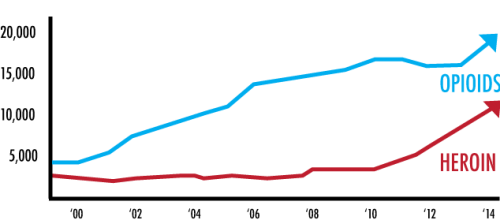 Like Bratberg, Jones acknowledges the importance of treatment opportunities for opioid addicts, as well as other substances that are being abused. In fact, she praised UConn's efforts in instituting an on-campus recovery home, the UConn Recovery Committee, where students can visit for support or even live. Jones said she also hopes that more schools throughout the country will emulate this concept.
In addition to the treatment of ongoing cases of opioid addiction, it is also vital that the next generation of medical professionals receive proper education in order to combat this crisis. Jeremy Rousse-Grossman, a pharmacy student at the University of Toronto, believes opioids have a role in medicine, but require special attention.
"During my career, I'm going to want to promote healthy living. Pain killers are helpful, but only to a certain extent," Rousse-Grossman said. "I plan to be really careful when dealing with controlled substances like opioids, and I fully expect that the Doctors I'm dealing with will proceed with same level of caution."
Meanwhile, in Illinois, there has been a call to action. Southern Illinois University School of Medicine and the University of Chicago Medicine along with the State Department of Public Health will be joining forces to use a 1.13 million dollar federal grant, which will allow them to study the opioid epidemic that concerns 16 of the state's southernmost counties. In conjunction with one another, doctors Mai Tuyet Pho and Wiley D. Jenkins will work closely to find answers that can mitigate an epidemic that has already contributed to countless early deaths.
With the national spotlight on opioid misuse and addiction, including Trump calling the crisis a 'health emergency,' more information is being acquired through extensive research and education. A more efficient treatment system for those who suffer from opioid addictions would be treating addiction as a form of mental illness, some medical professionals say.