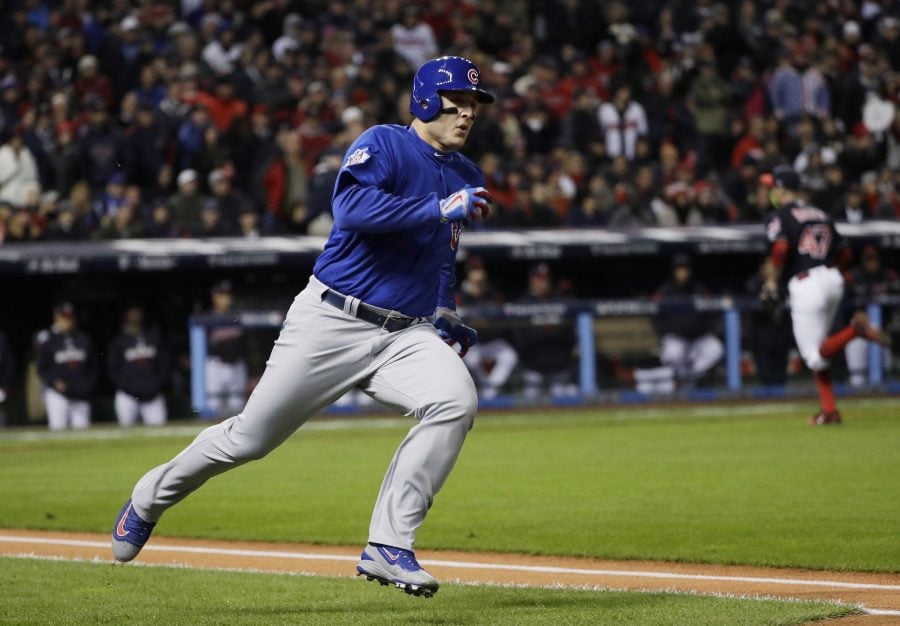 AP
Chicago Cubs first baseman Anthony Rizzo is a three-time All-Star and a World Series Champion, but one of his most prestigious accomplishments came late last month when he was named the recipient of the Roberto Clemente Award for 2017.
For all the work he has done for his foundation in a short amount of time, Cubs beat writer for MLB.com Carrie Muskat was happy to see the foundation recognized for their efforts.
"This award is really important to them because this is the top award in terms of honoring and recognizing a player's humanitarian efforts," Muskat said. "Anthony has been doing this now since 2012 this foundation and to have it recognized in this way is really a great accomplishment for him and his foundation."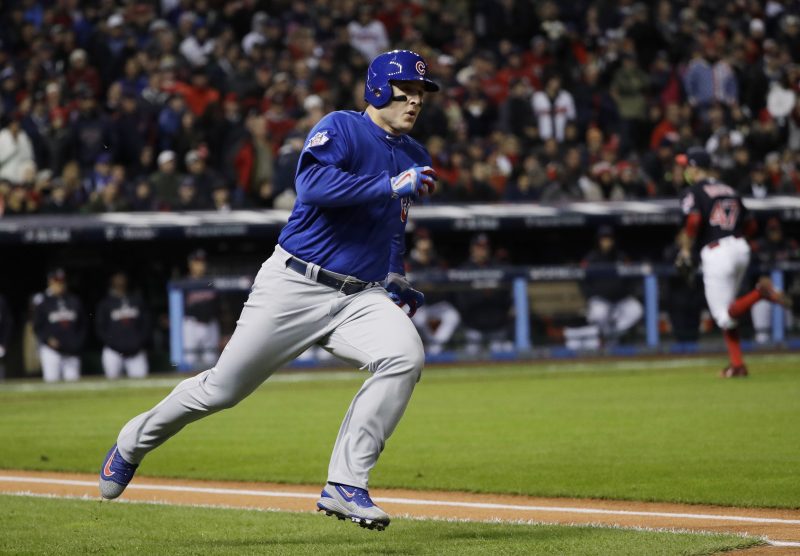 The award was founded in 1971 as the Commissioners Award, and in 1973 was renamed in honor of Roberto Clemente who died in 1972 in a plane crash in Puerto Rico during a mission to assist victims in Nicaragua.
The Roberto Clemente Award was founded to recognize a player who best represents the game of baseball through sportsmanship, community involvement and positive contributions both on and off the field.
The Rizzo Foundation, founded in 2012, was organized to benefit cancer research and families fighting the disease. Rizzo was diagnosed with Hodgkin's Lymphoma in 2008. Through six months of chemotherapy, Rizzo was given the news he was in remission in September of that year and fully cleared in early November.   
"I think Anthony has told this story many times where he remembered how his family reacted when he received the news that he had cancer and how he felt it was harder on the family than it was on him, so he's always looked out for the families," Muskat said.
As part of the award, Rizzo received $25,000 that he donated to Puerto Rico hurricane relief efforts.
"I thought it was a tremendous symbolic gesture on the part of Rizzo to make that it was well done, it was well-thought-out," Muskat said. "I'm told the Clemente family was really appreciative that they did something like that."
DePaul student Andrew Garcia was also pleased to see the money donated to Puerto Rico, and noted once again this sort of gesture speaks to Rizzo's character and is something everyone can learn from.
"I think that speaks even more to his character that if he sees someone in need, that's the kind of thing this world needs," Garcia said. "If they see something, they do something, and in this case he not only sees sick patients in a hospital but people devastated by a hurricane."
Rizzo was named as the Cubs finalist for the award for three straight years between 2013 and 2015, a top-three finalist in 2016, before being recognized after this season for his work with with hospitals in the area.
"It's nice to see Anthony recognized," Muskat said. "Usually this Clemente award goes to a player who might be older so like a Curtis Granderson, or somebody that is a little more established, and been doing charitable work for a longer period of time. Anthony is only 28 for him to receive the award now is kind of special."
Muskat also sees similarities between the charitable nature of Rizzo and stories that have been told about Clemente's same charitable nature.
"I think both Anthony and Clemente they have big hearts, and they want to give back, and they want to do more," Muskat said.
Garcia also thought it was a neat synergy to see Rizzo helping out an area that Clemente himself spent a lot of time helping those who needed it.
"Even though he's not from that area, but he's still aware and conscious and sees something that needs to be done," Garcia said. "Just like Roberto Clemente, if you have the power to help and you have the resources to help, you ought to help somebody."
Recently, Rizzo also received the Marvin Miller Man of the Year Award for his on-field performance and contributions in the community.
"To get both of those at the same time really shows his dedication to what he's done with his foundation ever since he founded it," Garcia said. "He really puts it out there he has a lot of social media accounts that he uses to promote them and what they are trying to do, I think it shows even in the middle of a baseball season throughout 162 games, the fact he remains really dedicated to it."
Since 2013, Rizzo has been DePaul student's Andrew Summers favorite player in large part because of not only his leadership qualities but also what he has been able to do off the field.
"I think it's really cool to see athletes use their platform off the field to help," Summers said. "He's just a leader for the team. He's just the one person who's been the constant over the last couple of years and he's really come into his own leading the players on and off the field."
The Rizzo Foundation is scheduled to host the sixth Annual Walk Off for Cancer on Dec. 3 with all proceeds going towards cancer research.