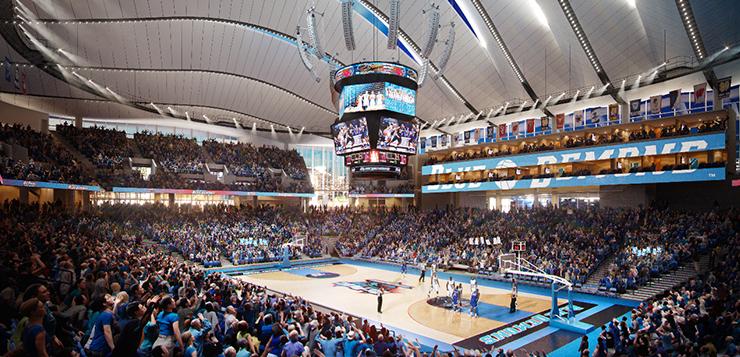 Wintrust Arena will host the Celebrity and Rising Stars games when Chicago hosts NBA All-Star weekend in 2020 Chicago Sports Commission Executive Director Kara Bachman announced at a press conference at the United Center on Friday afternoon.
"We do have some planning to do, but it will set the stage for an incredible visitor and fan experience come 2020," Bachman said. "The United Center will of course host the game, the primary event. But we are very fortunate that we have the brand new Wintrust Arena and of course our very celebrated and iconic Navy Pier which will host a number of the events throughout the days."
NBA commissioner Adam Silver, Chicago Mayor Rahm Emanuel, Bulls President and Chief Operating Officer Michael Reinsdorf, Bulls Executive Vice President of Basketball Operations John Paxson, Ald. Walter Burnett Jr. of the 27th ward, and Bachman all spoke at the press conference.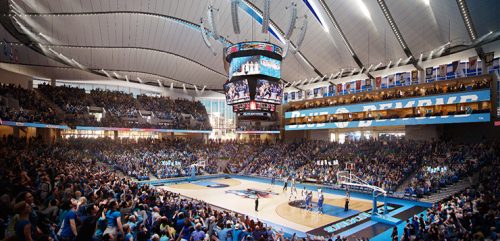 This is the third time that Chicago will host an NBA All-Star game, and the first time since 1988 when Chicago hosted the event at the old Chicago Stadium. That year, Chicago icon Michael Jordan beat Dominique Wilkins in a memorable dunk contest and then dropped 40 points in the All-Star game to help guide the Eastern Conference team to a 138-133 victory and earn MVP honors for his performance. Chicago also hosted the All-Star game in 1973.
"I have to say one more thing about our venues, that it's become more and more such a key component when we are seeking new business," Bachman said. "So, we are very fortunate to have these world-class venues that are really our primary selling point with clients coming in."
Chicago Bulls owner Jerry Reinsdorf wasn't keen about hosting an All-Star game when broached about the topic in 2012.
"They'd have to force me to take the All-Star game," Reinsdorf said. "They take over the building. Your season-ticket holders have to be in a lottery to see if they get tickets. Then they don't get a good ticket. No good can come out of it. All it can do is upset your fans"
Although he acknowledged that All-Star games do infringe on season ticket holders because the NBA takes all but one or two thousand of the available tickets, Reinsdorf's son Michael Reinsdorf said his son Joey and Emanuel eventually convinced Jerry otherwise.
"We look forward to welcoming the world to the most American of America's cities, Chicago," Emanuel said. "Our goal is that in 2021 the NBA is planning on when next to come back to Chicago as soon as possible."
The 10,000-seat Wintrust Arena near McCormick Place in the South Loop cost $173 million and took just under two years to build. It opened on Oct. 14. The DePaul Blue Demon men's basketball team will play all their home games at the arena, while the women's team will play eight home games there. The Chicago Sky of the WNBA will also play their home games at Wintrust starting in 2018.
The DePaul Blue Demon men's team played their first-ever regular season game at Wintrust Arena on Saturday when they hosted No. 14 Notre Dame.