Justin Roberts is Big Man on Campus in DePaul Blue Demons Loss to Illinois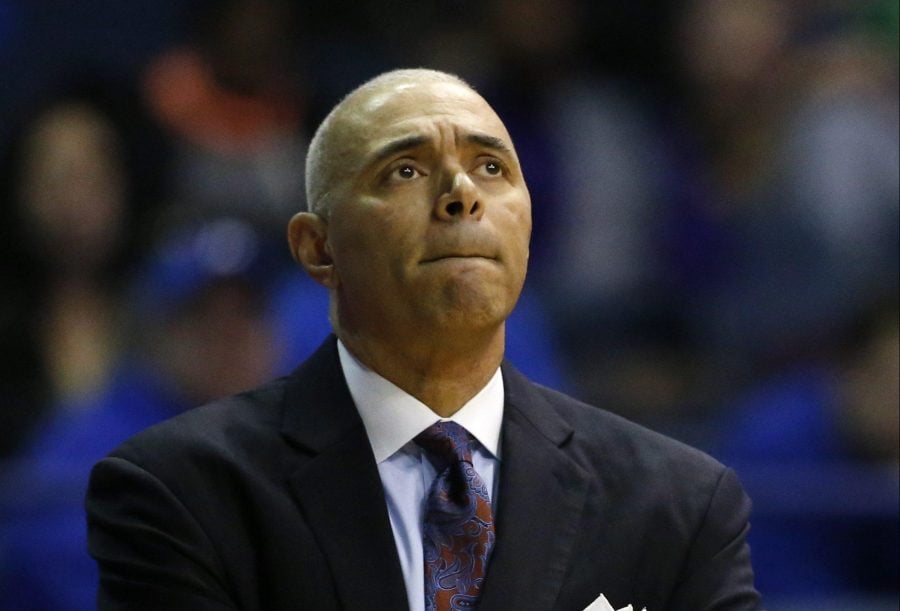 Sometimes the smallest guy on the court makes the biggest impact.
On a night when the DePaul Blue Demons needed a hero Justin Roberts, the barely 6-foot freshman point guard from Indianapolis Ind., filled that role.
In Friday night's 82-73 loss against the University of Illinois Fighting Illini at the State Farm Center in Champaign, Ill., Roberts poured in 19 points, grabbed five rebounds, and dished out five assists, all new career highs in his young Blue Demon career. It seemed like Roberts was the engine behind every run the Blue Demons made to cut the Illini  lead to within striking distance.
"Just being ready, I was always told if you stay ready then you don't have to get ready. I was just ready. I have confidence in my game. Coach has confidence in my game, that's why he put me in."

-DePaul point guard Justin Roberts
Roberts immediately infused a scoring punch into DePaul's offense when he subbed in at the 13:44 mark, as he scored seven straight points  to knot the game at 13 with 11:58 left in the first half. Although he missed his next three field goals in the half, he did record a nice assist that led to an easy layup from 6-foot-11-inch center Marin Maric.
"Justin was tremendous. He was a guy, to be honest with you, we didn't know a ton about, just his reputation from high school. Yeah, he was awfully good. Big night for him. He did from the three, he did it from off the drive and when (Devin) Gage went out, he stepped in and was every bit as good if not better than Devin was."

-University of Illinois head basketball coach Brad Underwood
Roberts was Maric's sidekick in the first half as the graduate senior scored all 12 of his points in the first frame to lead the way in the scoring department for the Blue Demons in the first half. However, in the second half Roberts refused to play sidekick to anybody, commandeering the offense for all but 36 seconds in the half due to a stroke of bad luck for one of his teammates
With about 19:24 remaining in the second half, DePaul's sophomore point guard Devin Gage landed awkwardly on Illinois guard Te'Jon Lucas' foot on a running floater.
Gage needed assistance from the athletic trainers to get off the court, he sat on the bench for a couple minutes so the trainers could inspect his ankle, and then was escorted to the locker room. However, he returned from the locker room at around the 17-minute mark in the second half, and expectantly stood in front of his chair, hands on hips waiting for his opportunity to return to the game. Head coach David Leitao never called his number.
After the game, Leitao said Gage suffered an ankle sprain and will be evaluated soon. Gage has suffered ankle injuries earlier this season.
Justin Roberts & Dave Leitao –#Illini #BlueDemons postgame https://t.co/5a3HWxuSpk

— Illini Report (@IlliniReport) November 18, 2017
Roberts made sure the point guard position was in good hands in the absence of Gage. Even defensively, the biggest question mark surrounding his game, Roberts held his own. He, along with Gage in the ten minutes he was able to play, held the Illini point guard tandem of Trent Frazier and Te'Jon Lucas to six points apiece on a combined 4-for-10 from the field.
Illinois Basketball Highlights vs DePaul 11/17/17: https://t.co/HdRiRzq0WV via @YouTube

— WatchIlliniNow (@WatchIlliniNow) November 18, 2017
On a night where DePaul's stars struggled, Leitao needed his young point guard to step up. Tre'Darius McCallum, Eli Cain, and Max Strus combined for 23 points on 5-for-20 from the field. McCallum was held scoreless after leading the team in scoring through the first two games of the season. McCallum did pick up two early fouls, and couldn't stay out of foul trouble the entire night which limited his playing time and effectiveness.
"I think basketball players are good because they do so many other things and if I was concerned about what they were doing with the five percent of time where they have the ball in their hands then I'd approach it wrong. Those guys can play, they can certainly play offense, it's our job to put them in better positions [and] to feed them with more understanding of what we're trying to do and how we're trying to do it and provide as a result more confidence. Those guys have made plays their whole lives, and they'll (continue) to do so."

-DePaul head basketball coach David Leitao
Roberts affected the game in a variety of ways. He was 3-for-4 from 3-point land, and combined this outside shooting with his natural, quick-twitch muscles that allow him to get to the basket virtually at will. Roberts play was a nice revelation for the Blue Demons after he averaged a non-coincidental 2.5 point in 13 minutes of playing time in his first two games of the season.
Depending on the extent of Gage's injury, the Blue Demons may have to give their smallest player the keys to the offense moving forward. Will he continue to prove that heart wins over height?