Blue Demons upend Youngstown State at home for third win of season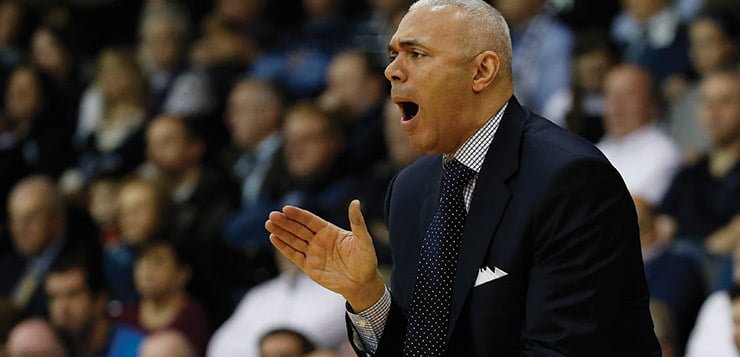 After a grueling six-game stretch to begin the season, the DePaul Blue Demons took advantage of the first game of a softer December schedule to beat the Youngstown State University Penguins 89-73 and improve to 3-4 on the season.
For one game at least, the Blue Demons escaped the grip of their season-long shooting struggles. After shooting a Big East Conference-worst 38.3 percent from the field to start the season, the Blue Demons poured in 57.6 percent of their field goal attempts this afternoon which was their best mark of the season by a significant margin (previous best was 45.7 percent last Sunday against the University of Portland at the PK80 Invitational tournament in Portland, Ore.).
"You have to look at sharing the basketball, we had 16 assists on 34 baskets (which) was a high number of assists compared to what we averaged in previous games," DePaul Blue Demon head coach Dave Leitao said when asked why his team shot so much better this afternoon than they have in previous games this season.
"Sharing the ball becomes a part of that. (Youngstown State) opened up the court for us with pressure and there was a lot of times where we got easy baskets. For the most part, I thought we did a good job. We left some plays out there, but to recognize that they were going to (full-court press) and be aggressive I thought was important," Leitao said.
The Penguins were using an aggressive full-court trap to put pressure on the DePaul players who fielded the inbound passes. But DePaul handled the pressure calmly with guards flinging it to athletic center Marin Maric or one of the wings at half court who then started two on three fast breaks which led to easy buckets. The Blue Demons had 15 fast break points in the first half and finished with 21 for the game and many of these looks were easy, uncontested buckets. The Demons scored 27 points off of 20 Penguin turnovers which helped with their productive day in transition as well.
"Coach just told us to stay aggressive against the press," Blue Demon power forward Tre'Darius McCallum said after the game. "We knew they were going to come out and try to throw different defenses at us and coach told us to keep attacking and let them make mistakes on the press. Coach said the defense was going to be sloppy so take advantage of sloppy defense. Attack the rim, we had a lot of open shots."
The Blue Demons shot selection was better in this game as well. Eli Cain attacked the basket, contorting his dribble through defenders to create space for easy looks around the basket. The junior shot 5-for-10 from the field, a noticeable improvement for a player who has shot 35.1 percent from the field this season. He also shot 1-for-2 from 3-point land, and both of his shots were good looks. Cain needed seven points before this game to reach the 900 point plateau for his Blue Demon career, and with his 15-point effort, he now has 908 career points.
The Blue Demons scored the first basket of the game on a Tre'Darius McCallum driving layup on the right side, and after a few ties early in the game, the Blue Demons went on a 13-3 run from the 9:50-5:50 mark behind two Strus triples to take a commanding 35-21 lead they wouldn't relinquish. The Blue Demons led 47-32 at halftime, and the lead never shrunk to less than 14 points during the second half as the Blue Demons pulled away for a comfortable 16-point victory.
McCallum, arguably the Blue Demons best player this season, has made amends for his nightmare zero point game against the University of Illinois on Nov. 17. Since then, he's averaged 11.3 points per game on 54 percent from the field and against Youngstown State he scored 17 points on 8-for-13 shooting which will further improve those averages. Maric added another 17 points and collected three rebounds, continuing a streak of rock-solid performances that began at the PK80 Invitational.
The Blue Demons return to action on Wednesday when they welcome Central Connecticut to Wintrust Arena. After that, the Blue Demons have three other games at Wintrust Arena and an away game against the University of Illinois at Chicago to close out their non-conference schedule.