Takeaways from DePaul's win against Youngstown State
December 5, 2017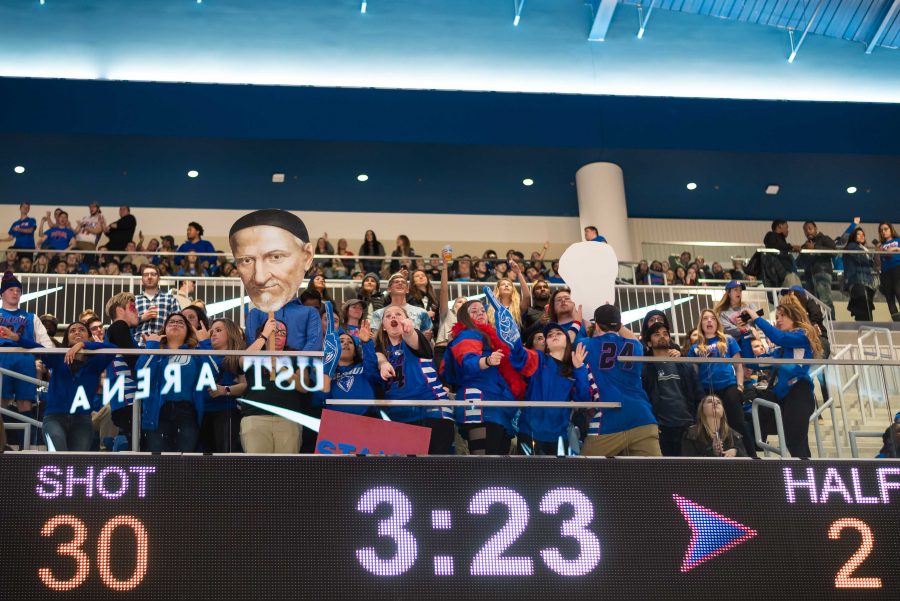 December began on a high note for the DePaul Blue Demon men's basketball team as they took care of business at home to beat the Youngstown State University Penguins 89-73.
Five ?? finished in double-figures as @depaulhoops led start to finish en route to an 89-73 win over Youngstown State. Strus led DePaul with 20 pts while McCallum, Maric, Cain & Cyrus finished with 17, 17, 15 and 12 respectively.

?️: https://t.co/DlFoX5VEmM pic.twitter.com/3ARJH9S4Pp

— DePaul Athletics (@DePaulAthletics) December 2, 2017
DePaul walk-on Pantelis Xidias, who recently earned thousands of new Twitter followers after a University of Kentucky basketball radio station implored its listeners to check him out on the social media site, had plenty to dance about as the Blue Demons shot a season-high 57.6 percent from the field to comfortably send the Penguins back to Antarctica (or Youngstown, Ohio) with a loss.
Here's what we learned about the Blue Demons on Saturday afternoon.
Everybody Can Use an Assist
Is it a coincidence that DePaul's three highest team assist totals have come in their three wins this season?
Against Youngstown State, the Blue Demons dished out 16 dimes on 34 made field goals which represented the second-highest total of the season for the Blue Demons.
Robin to the Batman
Blue Demon starters have accounted for 80.5 percent of the points, 62.8 percent of the rebounds, 76.7 percent of the assists, and 72.1 percent of the minutes this season.
Against Youngstown State on Saturday afternoon, Blue Demon starters poured in 82 percent of the points, grabbed 66.6 percent of the rebounds, and dished out 100 percent of the assists.
DePaul's bench is three players deep right now as head coach Dave Leitao has leaned heavily on the starters all season. Sophomore guard Brandon Cyrus has been the Blue Demons most consistent reserve, averaging 5.1 points in 20.3 minutes per game and serving as the Blue Demon's best perimeter defender.
Freshmen reserves Justin Roberts and Jaylen Butz have signature games this season but haven't been consistent. Against the University of Illinois on Nov. 17, Roberts scored 19 points on 7-for-15 from the field and dished out five assists. He hasn't scored more than five points in any other game this season and has two games where he failed to show up in the scoring column of the box score. Similarly, Butz had good games against Delaware State (seven points and 13 rebounds) and Portland (11 points), but he's also produced four games where he scored two or less points and three games where he had two or less rebounds.
Expected contributors sophomore Austin Grandstaff and freshman Paul Reed are both still searching for their first points of the season. Grandstaff needs to get healthy again as he's undergoing concussion protocol after hurting himself in practice last week.
PK80 Provides Confidence Moving Forward
How does one evaluate the Blue Demon's performance at the PK80 Invitational tournament in Portland, Ore. during Thanksgiving week?
On one hand, DePaul went 1-2. A losing record is never good.
But, they played against some great teams including Michigan State (No. 3 on KenPom) and Oregon (No. 51 on KenPom) and were competitive for long stretches in both games. The tournament was a moral victory if the Blue Demons are into that type of thing.
But what did Leitao take away from his time at the PK80 Invitational?
"

"Coming out of those games, we thought we were growing because of our competitive spirit," Leitao said. "I thought for those (games) we were throwing punches and we were coming out there and we were coming after them. And that's the first and most important given that you want to have out of a good team. I thought we established that. One of my concerns before the tournament was that we weren't shooting the ball very well and that started to come as well.""
Going Streaking With Win
The Blue Demons have their first winning streak of the year after salvaging the finale of the PK80 Invitational tournament against the University of Portland last Sunday and then beating Youngstown State at home on Saturday afternoon.
The Blue Demons conclude their non-conference slate with games against Central Connecticut State (No. 315 in KenPom), at the University of Illinois at Chicago (No. 203 KenPom), Alabama A&M (No. 348 in KenPom), Northwestern (No. 56 in KenPom), and Miami University (No. 307 in KenPom).
If the Blue Demons can win four out of those five games, they can exit a challenging non-conference slate with a respectable 7-5 record. Obviously, the big game remaining on the non-conference schedule is the Nov. 16 showdown against in-state rival Northwestern at Wintrust Arena. Win that game and take care of business against the other four teams remaining on the non-conference slate, and DePaul is suddenly riding the wave of a seven-game win streak and an 8-4 record with a ton of momentum going into Big East Conference play.