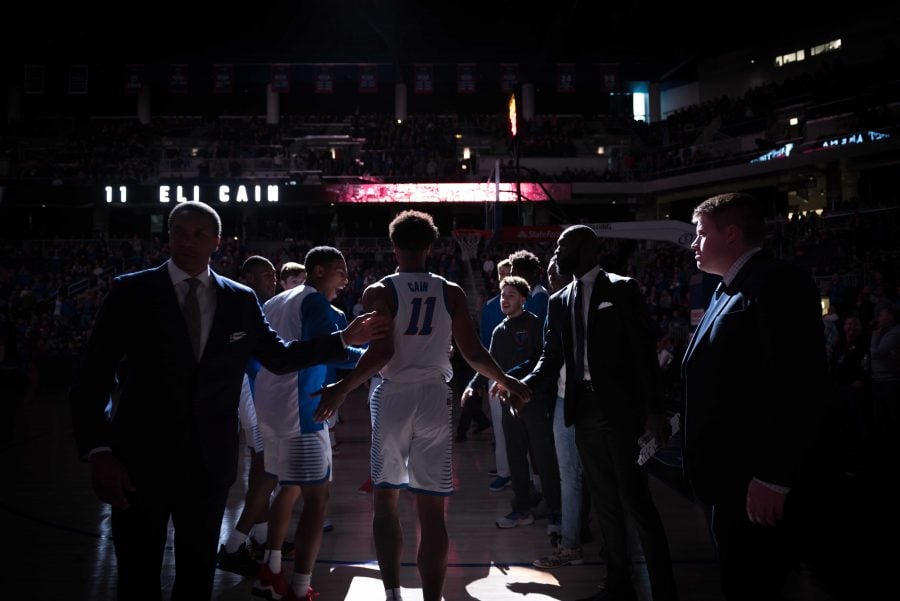 Battling through injuries and a tough road environment, DePaul (5-4) held off a late run from UIC (3-6) to pick up an important road win over their rival 65-55.
"It was a very competitive and hard fought game, we can look back and know that we left everything out there," Leitao said. "Probably left some plays out there, both teams would say that was the case, but at the same point in time it was a total team effort today."
The Blue Demons opened the game with good energy, jumping out to a quick with 14-10 lead midway through the first half. They would lead for much of the first half, although it was close to the margin never growing larger than seven points.
As the half progressed, the Blue Demons struggled to get much going offensively shooting just 39 percent in the first half, but got it on the defensive end, forcing the Flames into 15 turnovers in the first half.
The Blue Demons also held Flames leading scorer Dikembe Dixson scoreless in the first half and continued to frustrate him through. He was held to just nine points on 2-of-13 shooting while being saddled with foul trouble much of the afternoon. Coming into the game, DePaul's players felt comfortable with McCallum's ability to guard another top-notch scorer for the second straight game
"Tre is one hell of a defender and we knew that was Tre's assignment and we helped him when he needed it, but he didn't need much help," Cain said.
Already shorthanded, graduate transfer center Marin Maric was forced to leave the game early in the first half. In his place, the Demons turned to Peter Ryckbosch and Joe Hanel who were both active defensively. Ryckbosch who had played only 14 minutes all season prior to Saturday got the bulk of the minutes finishing with four points and four rebounds, while also drawing three charges.
"We had a fantastic performance out of Peter Ryckbosch who hadn't played a lot this year," Leitao said. "These are the types of games when you're not at home where you have to grind out."
Max Strus gave the Flames problems much of the first half with 12 points on six-of-11 shooting. Strus did most of his damage attacking the Flames zone defense where he was frequently the open man in the middle of the zone or able to get to drive to the basket where had two dunks in the first 20 minutes. For Strus, this game held extra significance for him after he opted to transfer to DePaul over UIC, and is having fun playing with his new teammates.
"I really like the guys when I went there, I fit in well and it's the Big East," Strus said. "DePaul is a great school and I knew we were going to do something special, we're working on that we're on a four game winning streak and we're just going to keep going, keep getting better."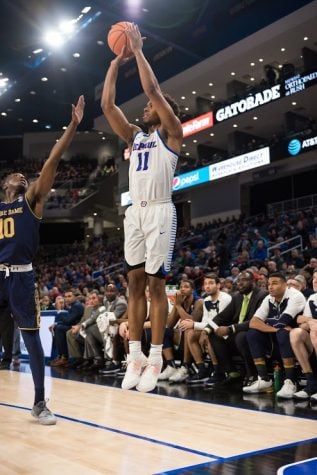 The Blue Demons came out of the half time break and jumped all over the Flames with a 12-2 run to open up a 13-point lead just four minutes in. The run started on the Blue Demon's first possession of the second half with a Tre'Darius McCallum three and was capped with another Strus three in transition to give the road team some breathing room.
While the Flames struggled shooting just 24 percent in the second half, the Blue Demons continued to attack this time led by McCallum who had nine second half points, as well as, Strus who also had 12 points including a couple big threes down the stretch.
The Blue Demons weren't going away quietly, however, going on an 8-0 run to close the gap to six with four minutes to go.
Down the stretch with neither side able to do much offensively, the Blue Demons were able to hold the Flames to just four points in the last four minutes to close it out.
With Gage out, Eli Cain handled much of the ball handling duties and finished with 14 points and eight assists. Cain felt very comfortable taking over the role and looked to get fellow guard Strus involved early and often.
"I was pretty comfortable with guys like this (Max Strus) he makes it pretty easy to put the ball in his hands and let him go make the shot," Cain said. "I played point guard a lot of high school, a lot of AAU, it sucks not having Devin he makes it 1000 times easier, but like coach said after Devin went down it's next man up."
Sophomore guard Brandon Cyrus started in place of Devin Gage after it was announced he would miss the rest of the season the rest of the season with a ruptured Achilles.
The Blue Demons return home to face Alabama A&M on Monday night.