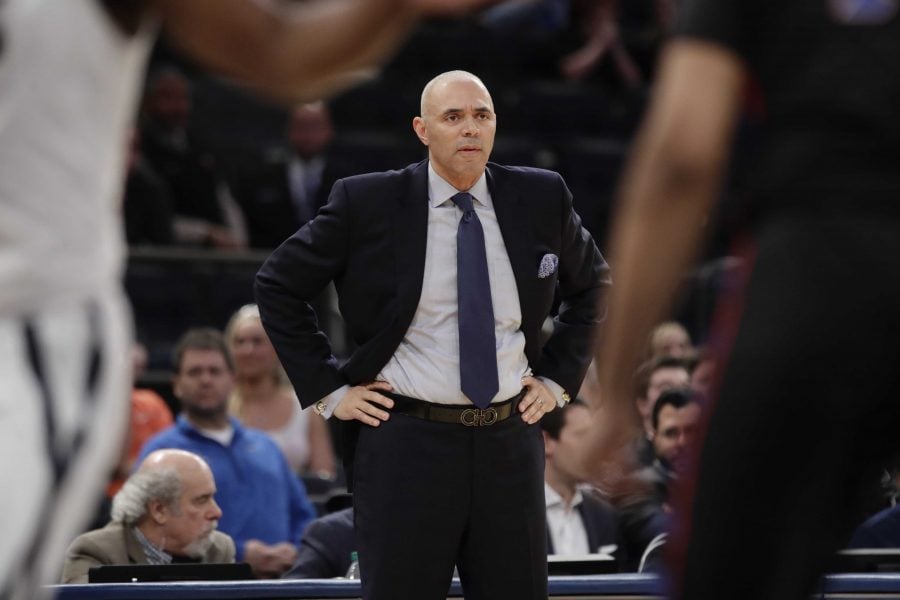 AP
DePaul (6-4) was without two starters Monday night when they faced a winless Alabama A&M (0-9), but that proved to be no problem as they rolled to an 83-59 win at Wintrust Arena.
Jumping out to a quick 20-point lead midway through the first half, a lead they would maintain much of the night afforded DePaul head coach Dave Leitao the opportunity to play some different lineups and extend a rotation that had shrunk to six with recent injuries to Devin Gage and Marin Maric.
"We need to grow our bench and a game like this allows us to look at guys and different lineups and see what guys can do," Leitao said. "More importantly to get them more confidence sometimes especially freshmen and younger guys when they don't play as much their confidence can wane and we've got to get them more confident."
In his first career start replacing Maric, one who is beginning to play with more confidence is Jaylen Butz who collected eight rebounds against the Bulldogs.
"I thought Jaylen in his first start wasn't intimidated and played as he normally does," Leitao said "He attacked the glass and those kinds of things, got in a little bit of foul trouble early but when I looked he had eight rebounds, so when he plays he's going to rebound the ball, so we've just got to expand his growth so when Marin comes back it will be an event better one-two punch."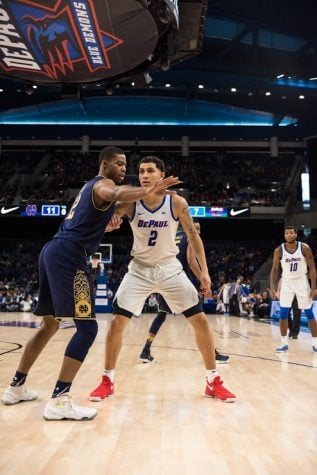 Two other bench pieces' coach Leitao was able to create some playing time for were freshman forward Paul Reed who had nine points and six rebounds, as well as, Austin Grandstaff. Both of these players scored their first points of the season Monday night.
In his return, Grandstaff had his best performance of the season by far with 11 points and five assists while also making a couple good passes that didn't lead to baskets. Grandstaff credited improved preparation as a key reason he was able to come back and produce in his first game back.
"This is my first game back, but I have been seeing the game from a different angle," Grandstaff said, "I think we're kind of putting the pieces back together right now."
Coming into the year, coach Leitao saw three point shooting as one area his team could improve with Grandstaff being a key reason for improvement. Although he hasn't received a ton of minutes, according to his coach, tonight could provide a glimpse of what the sophomore guard can add with extended minutes.
"I tell him all the time as well as other guys that shoot the ball that I don't want him in this case to be dictated by making threes," Leitao said, "I think that's a bonus because he can shoot the ball so well as he grows in all other areas that are critically important for us to be a really good team then the shooting part will just be a natural part because he's done that all his life."
With Devin Gage out for the season, the spotlight has turned to Justin Roberts, who has taken on increased ball handling duties in the last two games. Roberts echoed his comments he made after a career-high 18 points against Illinois as the key to continuing to produce for him and his teammates.
"Like I said against Illinois, if you stay ready, you don't have to be ready," Roberts said, "We just keep ourselves level headed on and off the court, whether you are starting or not and you just come out and give everything you've got."
After the Blue Demons win against UIC, coach Leitao stressed the need to get Roberts more comfortable and speed up his development to allow Eli Cain to move back off the ball on offense. Roberts took strides taking care of the ball and finished with nine points, four assists and zero turnovers in 21 minutes of action.
"I always look at what is your turnover assist ratio and he had four assists and no turnovers," Leitao said "Trying to raise the bar very quickly for him as a young guy and play with a little more intensity, more vocal and bounce around a little more and at times make a mistake or two, but make an aggressive mistake and as he grows I'm sure he'll understand that process a bit better."
The freshman guard also noted he has room to grow, but Big East play approaches he is starting to get more comfortable playing at a higher level.
"I feel like I'm getting more comfortable," Roberts said. "Playing with my teammates and playing at this level, it's only 10 games and we haven't got to Big East play, right now I would say I'm kind of comfortable, but not real comfortable."
With crosstown rival Northwestern next up on Saturday, coach Leitao stressed his team will need to be efficient for 40 minutes against a veteran Wildcats squad, something the bench will play a big part in.
"They are about as veteran a team as you can play against," Leitao said "So when you have a team that is one as good as they are, and two as old as they are they are not going to beat themselves possession by possession, we have to be efficient on both ends for the course of the game, we can't have the lulls that we had at times in this game or have had at different points in the season."
It remains to be seen if center Marin Maric will be able to play, but if not it will once again be up to Jaylen Butz and Peter Ryckbosch who have been solid in his absence.