Sixth-year Blue Demon refuses to peter out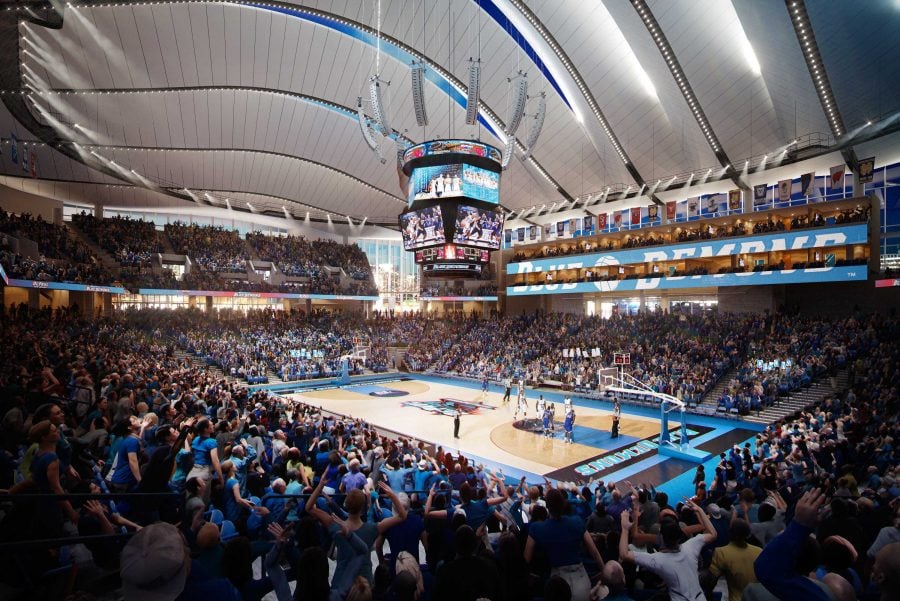 Taking a charge is a skill that requires heightened defensive instincts, impeccable timing, and…. intrepidity?
It's unnerving waiting motionless as a toned, Division I basketball player crashes into your chest sending you barreling backward towards the unforgiving floor. In almost any other setting willingly letting somebody knock you down would be brainlessly stupid, but on the basketball court taking a charge has become the epitome of the selfless, team-first attitude that coaches covet.
It seems fitting then that graduate senior forward Peter Ryckbosch, a player who walked on the team his freshmen year and who embodies that team-first attitude, has been the most adept DePaul basketball player at taking charges this season.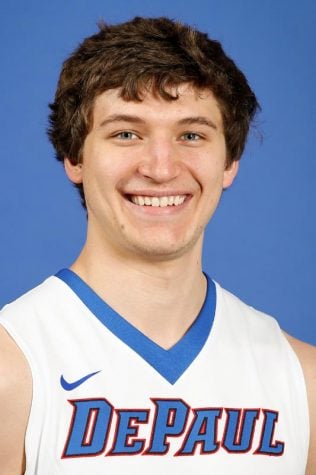 "You do need to have some instincts (to take charges), but it's a very cerebral thing," Ryckbosch said, confirming the unnerving anticipation most players feel when they beat an opponent to a spot and must wait for that fraction of a second before they get hit. "You can see that okay this guy is putting his head down and if you can beat him to this spot and you fall down by rule that's a charge. So, you can take advantage of the rules. It's not only an instinctual, only some people can do it (kind of skill). I just have gotten really pretty good at it."
Now with the non-conference slate of his sixth and final year as a DePaul basketball player in the rearview mirror (he arrived on campus in 2012, but he's hung around after receiving medical redshirts for two major knee injuries), the Chicago native has had ample time to refine his charge-taking skills.
In a three-game stretch from Dec. 9 until Dec. 16, Ryckbosch drew four charges including three in a 65-55 win against the University of Illinois at Chicago. In those three games, Ryckbosch averaged 15.7 minutes per game (his highest average of his career for a three-game stretch), scoring 4.3 points and pulling down 3.3 rebounds in those minutes.
Across the entirety of the season, Ryckbosch's traditional, box score stuffing numbers are modest; he's ninth on the team this season in points per game and eighth in rebounds. However, surface-level analysis of his box-score numbers doesn't do justice to his contributions this season because much of what he brings to a game doesn't show up in a box score. His charge taking, his boxing out to clear the lane so his teammates can get rebounds, and his defensive intensity take back stage to teammate Max Strus wowing crowds with double-clutch layups and streaky 3-point shooting and graduate senior Marin Maric's dominant post play. But without Ryckbosch doing these things, the Blue Demons aren't as good of a team.
Like one of his favorite NBA players former Chicago Bull Joakim Noah, Ryckbosch's contributions aren't always the storyline, but the little things he does so well add up to make a big difference. While Ryckbosch said he didn't necessarily pattern his game off Noah, he appreciates how hard the 11-year NBA veteran plays and there are obvious similarities between the approach both players take when they play the game.
"I've always played with a reckless abandon, it's maybe part of the reason why I've gotten hurt," Ryckbosch said. "I'm not going to change how I play. Like that was a big part of deciding if I wanted to come back. If I couldn't get to the level of play I'm used to and the aggressiveness I'm used to then I really didn't want to do it (make a comeback)."
But going into his senior season after averaging 6.8 minutes, 1.3 points, and 1.6 rebounds in his first three seasons as a Blue Demon, it seemed unlikely that the 6-foot-10-inch big man would receive much of an opportunity to do his best Noah impression on the court.
For years, Ryckbosch mostly wore down a spot on the end of the bench. The guy that played harder than anyone else in practice to the point where teammates and coaches had to implore him to tone it down couldn't find his way onto the court with any consistency. However, he didn't pout, making the most of the lack of playing time by conducting choreographed celebrations as part of DePaul's renowned (no, seriously) bench celebration mob.
Ironically, an injury has created an opportunity for Ryckbosch to escape the clutches of the bench this season.
Maric banged knees with an opponent early in the first half of DePaul's 65-55 win against the University of Illinois at Chicago on Dec. 9 and then missed the subsequent three games with the injury. Ryckbosch was fully prepared to fill in as needed.
"As a guy off the bench, you always need to be mentally prepared to play and I think I've done a decent job of (that)," Ryckbosch said. "When Marin got hurt, I was able to step in and do what I could to help the team. I did (in the game) what I normally do in practice. I play aggressively, I take charges, hard hedge ball screens really aggressively. Talk on defense, try to rebound and just be really physical. It all just kind of carries over because you can make good habits (in practice) on either end of the floor."
Playing his style and cashing in on playing opportunities as they have come has worked. This season, he is second (22.1) behind Maric (23.9) in player efficiency rating through 12 games (minimum 50 minutes).
Powered by a motor with a bottomless supply of diesel, Ryckbosch had made sure his presence has been felt in his senior season six years in the making by maximizing his strengths, not forcing things offensively, and playing his own unique brand of scrappy, grind-it-out basketball.
By remaining true to what has gotten him this far in his basketball life, he has been able to contribute meaningfully to a rising DePaul Blue Demon team as the book on his unusually long collegiate career comes to an end.
"I'm not necessarily going to get 20 points right off the bat by throwing it to me in the post," Ryckbosch said. "But that's not particularly my game, and I'm okay with that I'm just going to help any way I can."