Slow start costs DePaul in loss to Marquette
MILWAUKEE — DePaul (10-5, 2-1 Big East) entered Thursday night looking to avenge three losses to Marquette (9-5, 3-0 Big East) last season, but were in a quick hole they couldn't climb out of falling to their rivals 93-81 at the Al McGuire Center for their first loss of Big East play.
The Golden Eagles jumped out to a quick 10-0 start just two minutes in and at one point led 19-4 before the Blue Demons began to chip away.
DePaul head coach Doug Bruno while pleased his team was able to rally, conceded it was too big of a deficit against one of the top teams in the conference
"We just got off to a terrible start and that ended up to be the ballgame," Bruno said. "We won the second quarter, we won the third quarter I think, to get off to 10-0 start and a 16-4 start, it's really tough to overcome against a team that is this good."
The Blue Demons shot just 22 percent in the first quarter, while the Golden Eagles opened the game shooting 54 percent. Marquette head coach Carolyn Kieger was pleased with the way her team came out, and said rebounding was the key to the fast start.
"Our start was phenomenal, they were missing their shots, but we were getting the rebounds in those moments," Kieger said. "When we can rebound, we can run and that's when we jumped out to that 8-0 run."
After falling behind by 18 midway through the second quarter, the Blue Demons responded with a 13-3 run of their own to close within eight with just over two minutes remaining.
Despite the late rally from Coach Bruno's squad, the Golden Eagles closed on an 8-4 run to take a 14-point lead to the break.
The Blue Demons weren't going quietly, however, opening the second half on a 6-0 run to close the gap back down to six. Marquette responded with a run of their own, opening their lead back up to 11 entering the final period. Coach Bruno admitted overcoming double digit deficits can wear on a team, and even though they were able to close the deficit in the second half they had to expend a lot of energy to get back in the game.
"When you have to expend this much energy fighting back from 14 down, 16 down, 18 down, you can't rest," Bruno said. "You still have to be one possession perfect."
It was a tough night for a usually high-powered Blue Demons offense finishing just six of 28 from behind the arc, while only shooting 40 percent for the game. The Blue Demons were led by Mart'e Grays who finished with 19 points.
Coming off being named Big East Player of the Week, it was also another good performance for sophomore guard Kelly Campbell who finished with 17 points, 12 rebounds and seven assists. Kieger said pressuring Campbell was a focus, but also stressed they also were concerned with the Blue Demons versatile attack.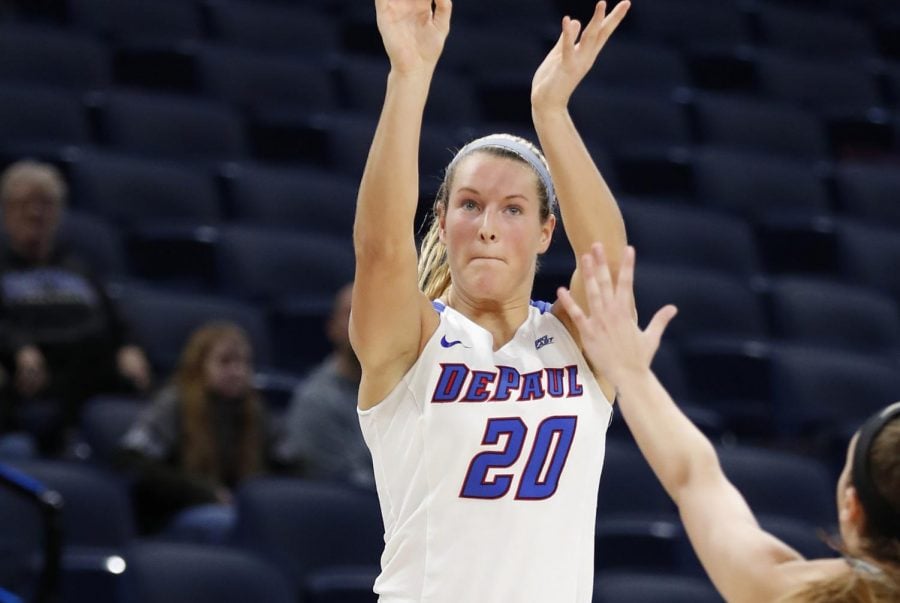 "We were trying to pressure her as much as we could," Kieger said. "One-on-one get up there and really cause havoc with her she's a phenomenal player and distributing the ball really well right now, but DePaul you really can't key in on one player they're all so versatile so for us you've got to guard everybody like they are the best player on the team."
Ultimately the Golden Eagles were able to pull away in the fourth quarter to beat the Blue Demons for fourth straight time. Marquette guard Allazia Blockton, who finished with a game high 25 points, said she enjoys playing the Blue Demons in an environment like Thursday with both schools playing similar styles and being so familiar with each other.
"It's a great game, I think a lot of us know a lot of their players so we're cool off the court," Blockton said. "Just getting to play in front of your home crowd and they're so close, so they have a lot of fans come too, so we always know they are going to bring great competition, we play a similar style so we know it's going to be a fast paced game, a lot of points and a lot of transition."
While disappointed with the loss, coach Bruno said it's important not to dwell on this loss and turn their focus to Providence with a quick turnaround on Sunday.
"We'll figure this out, we learned a lot about our team tonight," Bruno said. "This is a marathon not a sprint, the Big East season is a marathon not a sprint, we just got to get our kids rest tomorrow, we got to get on a plane, we got one hour to get ready for Providence and that's it we got to go to Providence and play a great Providence team on Sunday."
That game will mark second game of a three game road trip with the Blue Demons then facing Creighton before returning home.