PREVIEW: Blue Demons look to ace road test against Marquette on MLK Day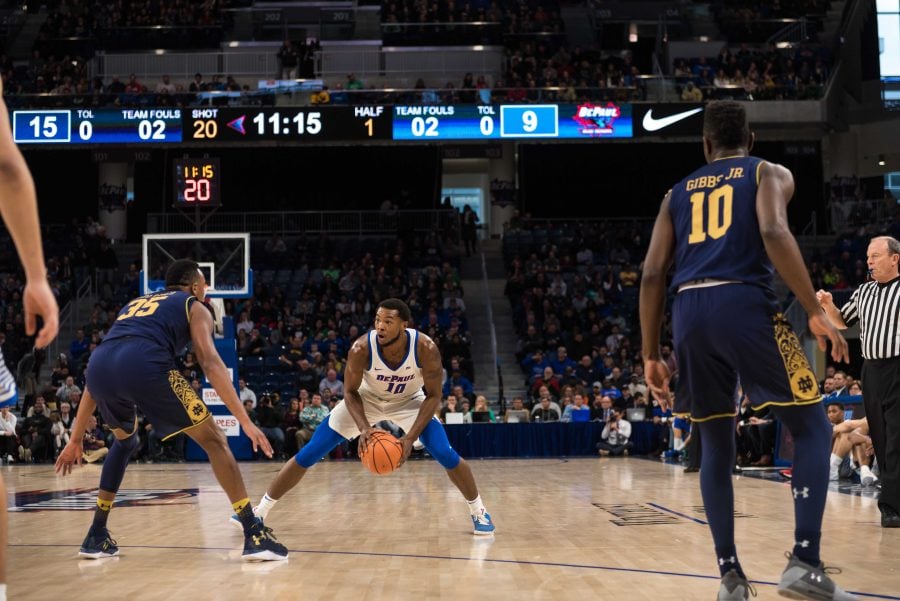 If there was an advanced statistic that quantified heartbreak in losses, DePaul might lead the country in that category this season.
First, there was the 89-79 overtime loss against Oregon way back in the PK80 Invitational tournament. Then, there was the 62-60 loss against Northwestern on Dec. 16 when the Blue Demons went 9-for-24 from the free-throw stripe (37.5 percent) and couldn't cash in on a possession to tie or win at the end of the game. In losses against Xavier and Providence, the Blue Demons surrendered double-digit leads in the second half and they also dropped a winnable home game against Georgetown on Jan. 2 to add to a season full of adversity.
When the DePaul Blue Demons (8-9; 1-4 Big East) travel to Milwaukee on Monday to take on the Marquette Golden Eagles (12-6; 3-3 Big East), righting the errors of those past defeats will be on their minds. Tipoff is at 8 p.m. at the BMO Harris Bradley Center in downtown Milwaukee. This game is the 121st meeting between the two programs, with Marquette holding a decisive 74-46 advantage in the all-time series. The Blue Demons have lost the last three matchups against the Golden Eagles.
Fourth year Golden Eagle head coach Steve Wojciechowski has the top two leading scorers in the Big East on his roster. Guards Markus Howard and Andrew Rowsey average 22.3 and 21.3 points per game respectively, and they do this scoring efficiently shooting a combined 46 percent from the field. Rowsey also gets it done in the passing department, averaging a team-high four assists per game which is the eighth-best mark in the Big East.
For the last nine games, the Golden Eagles have ran out a starting lineup that consisted of three guards (Howard and Rowsey are under six feet tall, but Sam Hauser is 6-foot-7-inches tall), an undersized 6-foot-5-inch forward in Sacar Anim, and then a 6-foot-10-inch, 255-pound big man at center in Matt Heldt. The Golden Eagles have gone 8-3 when they've ran these guys out there as their starting lineup.
The Golden Eagles forfeit a size advantage against most opponents with that starting lineup, but three of those starters shoot upwards of 39 percent from 3-point range mitigating that size disadvantage with perimeter play. Marquette is second in the Big East in 3-point field goal percentage (41 percent) and first in 3-point field goals made per game (11.8). Hauser leads the Big East in 3-point field goal percentage (49.5 percent) and this mark puts him at fourth in the nation in this category.
You've heard this before, but DePaul's ability to defend the 3-point line is a key in this game. The Blue Demons surrender a 37.5 percent 3-point field goal percentage to opponents which is ninth in the Big East and 308th nationally.
Head coach Dave Leitao's squad has been competitive in all but one of their Big East matchups this season, but only have one win to show for it. Junior Max Strus will look to bounce back after a performance against Providence on Friday where he scored eight points on 3-for-13 from the field.  After posting one of their worst shooting performances of the season against Providence (38.8 percent from the field and 23.8 percent from 3-point range; the Blue Demons are 0-4 when they shoot below 40 percent from the field), a matchup against the porous Marquette defense could help the Blue Demons get back rolling offensively. Marquette surrenders a Big East worst 77 points per game and allows offenses to shoot the ball at a 47.8 percent clip from the field.
New arrival Flynn Cameron was with the team on Friday evening against Providence, but wasn't dressed in uniform. If he makes his debut against Marquette, that'd send a ripple effect through the Blue Demon rotation and possibly move junior Eli Cain to his more natural shooting guard position.
In a Martin Luther King Jr. Day showdown, the Blue Demons have another chance to match their conference win total from a season ago (two wins), but they'll need to cool off a hot Marquette offense if they want to do it.
---
When: Jan. 15 @ 8 p.m. CT
Where: BMO Harris Bradley Center — Milwaukee, WI
How to Watch: FS1