DPAM puts focus on Chicago
Art is a reflection of self and, by extension the society in which we live. That was clearer than ever before at the most recent art opening at the DePaul Art Museum on Jan. 11. The event was free and open to the public and featured two exhibitions from influential Chicago artists Barbara Jones-Hogu from the South Side and Jose Guerrero from the Pilsen neighborhood as well as a third exhibition from lithographers Clinton Adams and June Wayne.
The museum's Director and Chief Curator Julie Rodrigues Widholm discussed the decision to highlight these artists and their work.
"The exhibitions we choose to present are relevant to life today and the conversations we are having around the dinner table, while also considering how art can be transformational," she said. "The U.S. feels very divided today, and some of the challenges from the civil rights era continue to this day so we felt Barbara Jones-Hogu's work from 1968 was important to revisit in a new context in 2018."
In part a celebration of Barbara Jones-Hogu's work on Chicago's famous Wall of Respect, this is her first solo museum exhibition. A year and a half in the making, her colorful prints sought to inspire the black community on the South Side in the midst of the Civil Rights Movement. Featuring bright works of art detailing the struggles of the black community, Jones-Hogu's work is that of empowerment and strength.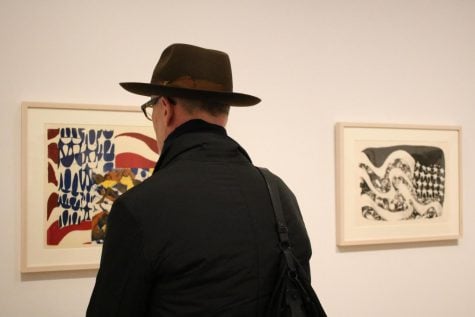 Jose Guerrero is an artist best known for inspiring the Mexican community in the Pilsen neighborhood. His studio and workshop were a hot spot for art classes and political organizing in the 60s. Coming from a neighborhood known for its extensive and powerful murals, Guerrero's influence is vast.
Each exhibition is exclusively print, but the techniques used on those prints varies. The work from Clinton Adams and June Wayne is interestingly unique. Their lithographs were made by drawing a design on a stone or metal surface using a waxy, oily substance that repels water but absorbs ink, allowing the image to be transferred to paper. This technique is complex and costly and has lost popularity over time because of that. The Tamarind Institute, a lithography center based in New Mexico that they founded, has sought to reinvigorate the medium.
The DePaul Art Museum, located on DePaul's Lincoln Park campus, is the perfect stop for students looking for real-life inspiration through art.
"I hope the exhibitions connect with DePaul students who are interested in how artists often address their own life and struggles while reflecting the world we live in," Rodrigues Widholm said. "The current exhibitions have so much content about Chicago, history, literature, community activism, Civil Rights, race, identity, genetic science, etc, so there is a lot to explore."
The exhibitions promote community activism and social justice and are just a short trip across campus. These exhibitions will be up and available for viewing until March 25.