Festival highlights local indie bands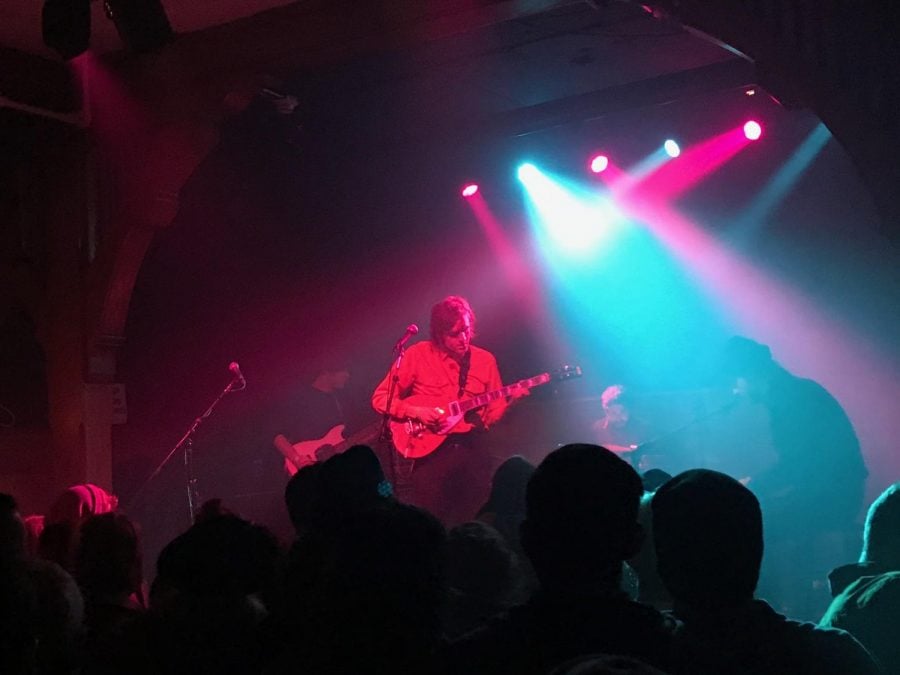 A local bar and concert hall decorated with poinsettias and garland, turns January into a month of showcasing local and rising indie bands. Tomorrow Never Knows (TNK), a five-day music festival hosted by Schubas Tavern and Lincoln Hall, kicked off this weekend.
Since 2004, Schubas and Lincoln Hall have put on this festival, which has featured classic acts from Bon Iver to Sharon Van Etten. This year, TNK saw headline acts from Typhoon, Destroyer, Hinds and many more. Both Lincoln Hall and Schubas had a concert each night from Jan. 17 to 21, featuring 3 to 4 bands.
Not only does TNK feature indie bands, but the venues have headlining comedians each night at partnering comedy clubs. Wham City, a Chicago comedy troupe joined the ranks of comedians who have performed on TNK stage.
On Thursday, Jan. 18, only the second night of the festival, TNK hosted a full house show at Schubas Tavern. Sonny Smith headlined the night, following Cafe Racer, Okey Dokey and Cut Worms. All four artists encompass strong guitar sounds with nostalgic lyrics, while using pink and blue silhouetted lights to set the mood.
Cafe Racer is a local Logan Square-based band that has been making indie rock music since 2015. With only a few songs to stream the band has a new album, "Famous Dust" coming out this winter. The five-member band held the small stage at Schubas well. While only playing a short set, the band enjoyed themselves, swaying to the tune of their own reverberating songs.
Okey Dokey, a small two-man band from Tennessee, had psychedelic undertones with a Kings of Leon-esque vibe. The frontmen, Aaron Martin and Johnny Fisher, played in another band, until their demise. Eventually Martin and Fisher returned to the stage together in 2016 to form Okey Dokey. Their set at TNK was the most upbeat of the four bands, with lots of response from the crowd. It did not seem to bother the men that it was small crowd. They just seemed ecstatic to be playing.
Cut Worms took to the stage right after Okey Dokey, playing a shorter, quieter set than the previous band. Frontman Max Clarke wore a red top that looked as if it had come straight from the '70s, while his music sounded like it should be playing at a concert in the '50s. He had few members with him on the stage and closed his set with only his voice and his guitar. Clarke had little to say except thank yous after a song and introductions of the other guys on stage with him. His 30-minute set featured songs from his newest EP, "Alien Sunset."
Finally, to close out the night, Sonny Smith took to the stage. Smith sang laid-back songs that were influenced with heavy guitar undertones and romantic lyrics. He closed out the show to a small crowd, singing and swaying along to the mesmerizing songs and synchronized lights. Silhouetted in pinks and reds, Sonny Smith gave a great performance with lots of thank yous and smiles.
Tomorrow Never Knows is a great way to get out into the Chicago cold to explore Chicago's music scene, learning about all the local bands that are soon to rise in popularity. TNK has been hosting more than 40 acts over five days for more than a decade. With no stop in sight, this is an accountable January music festival for years to come.