Young actress Bella Thorne discusses new film 'Blended'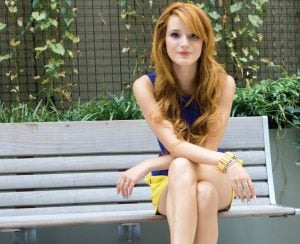 With Bella Thorne's new movie "Blended" coming out on May 23, she is doing anything but "blending" in. With a book series, an album, her TV series "Shake It Up" finished and six more movies coming out within the next year or two, Thorne is quite a busy 16- year-old.
Thorne got her start in the Disney Channel show "Shake It Up," on the air from 2010-2013. Now Thorne is trying to step away from television and hopes to do more in film. "I like the film world; I love working on movies," Thorne said.
"I like the style when you're working on films … in a movie you can take your time, feel out the character and live in the character."
Thorne should have no problem entering into the film world with "Blended" coming to theaters May 23, "Alexander and the Terrible, Horrible, No Good, Very Bad Day" coming out in October 2014, and "Mostly Ghostly: Have You Met My Ghoulfriend," "Home Invasion" and "Big Sky" expected to come out later on this year, and "Amityville" in 2015.
While working on "Blended," Thorne not only got to film in South Africa for two months but also had the pleasure of working with Adam Sandler and Drew Barrymore.
"When you watch the film and you're like 'oh wow, these people are so funny and enjoyable' and you love them, that's exactly how they are off screen," Thorne said.
When asking about some of Thorne's favorite scenes to shoot, she said she enjoyed the dinner scenes most. "I got to work with Kevin Nealon, who is so funny. He's more of a dry humor like me, he's just hilarious… and so is his partner in crime, Jessica Lowe."
Another project that Thorne is working on is her book series, "Autumn Falls," that will be available on Nov. 11. Autumn Falls is about a 14-year-old girl whose life changes when her father dies and he leaves behind a journal for her. When she writes in the journal things come to life, but since the character is dyslexic, they come out a little bit wonky.
Thorne, who is dyslexic just like the character, never considered a career in writing until she became close with Monique Fisher, Thorne's teacher on "Shake It Up," who helped her believe in her writing.
"I wrote the book to teach kids that if I could have a three series book with Random House, one of the biggest publishing companies out there, they can do whatever they want. They can achieve whatever dreams they want. No matter how many people tell them they can't."
Thorne's debut album is also set to release by this summer. Her single, "Call It Whatever," is now available on iTunes.
When asked where she sees herself in five to 10 years, she said she hopes to be invited to the Oscars. "Even if I'm not nominated, just invited would be cool or presenting would be cool. I'd be nervous and trip, I know I would trip – I would definitely fall, I would face plant, break my nose or something… it's gonna happen." "Blended" is now in theaters.