Delgado grabs rebounding record as Seton Hall defeats DePaul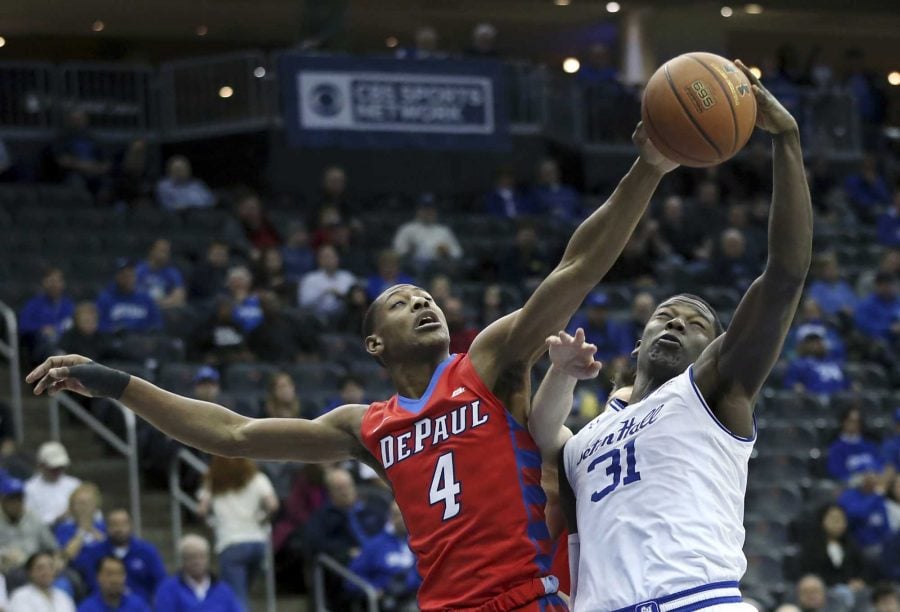 The DePaul Blue Demons (9-12; 2-7) couldn't stop an inevitable historical event from happening in an 86-70 defeat at the hands of the Seton Hall Pirates (16-5; 5-3) on Sunday afternoon.
With under two minutes gone by in the first half, Seton Hall senior big man Angel Delgado etched his name into the Big East Conference record book by collecting his 702nd career rebound in Big East play, passing the previous record of 701 set by Syracuse big man Derrick Coleman. Delgado finished the game with 19 rebounds.
"He's been a monster rebounder for a very long time," said Blue Demon head coach Dave Leitao after the game. "I was in the Big East watching Derrick Coleman when he set records and I didn't think that there was a better rebounder that I've ever seen play the game of basketball at the collegiate level. To pass a guy like that is a feat that he'll cherish for a very long time. He's relentless and has remained relentless every single game of his college career."
In addition to not being able to stop history, the Blue Demons couldn't build upon a 74-73 win against Georgetown on Wednesday and string together their first two game conference winning streak since January 2015. They are stuck with two conference wins and their last three losses have all been by double digits. DePaul still awaits for their first conference win in Wintrust Arena.
For the third loss in a row, the Blue Demons battled in the second half but couldn't dig themselves out of a deficit after falling behind by 15 points in the first half. The Blue Demons didn't score until the 16:22 mark in the first half when sophomore guard Brandon Cyrus poured in a fadeaway mid-range jumper. Seton Hall led the entire half and took an 11-point lead after sophomore guard Myles Powell hit back-to-back 3-point field goals just before the 13 minute mark ( he came into the game shooting 41.1 percent from 3-point range).
"It's simplistically complicated," said Leitao when asked how the Blue Demons can get off to better starts. "The simple part of it is we have to play a certain way, we don't have a choice because we aren't as experienced or as deep as a lot of teams in this league. Our margin of error isn't quite there. We have to be razor sharp in all the physical and psychological things that are necessary to put yourself in position to win basketball games. If you look at it structurally, it's how well you are running your possessions offensively and to what percentage and then how many things are you doing defensively to take away the things the other team is trying to do."
That answer was as vague as Leitao's reason for not giving freshman Justin Roberts more playing time. Through 21 games, Roberts game-to-game production has changed as quickly as his first step.
This afternoon, Roberts' floater game was on point, as he hit two of these shots in the first half. At the 9:30 mark, he splashed a 3-point field goal from the right corner and was fouled,  and completed the 4-point play right before Leitao pulled him from the game.  Roberts finished with 10 points on 3-for-4 from the field in just 12 minutes as Leitao was again reticent to play the freshman big minutes.
"My hope for him is that as we turn the page from January to February, he can start shaking off what makes a young guy young," Leitao said. "The mistakes you make in November shouldn't be the mistakes you make in February because you aren't a freshmen anymore, you've been through 60 or 70 practices and 20 games. It's those days where he plays young that it diminishes his value. We got to get him growing up a little bit quicker."
Behind 10 second-half points from senior Tre'Darius McCallum and a full-court press that forced the Pirates into seven turnovers in the second half, the Blue Demons cut the deficit to eight points with 8:09 remaining on a layup from McCallum. But Pirate guards Myles Powell and Khadeem Carrington were too much, finishing the game with 21 and 15 points respectively on a combined 11-for-20 from the field. Roberts watched most of this from the bench (four minutes of playing time in the second half).
"I thought at times he did and at times he didn't," said Leitao when asked if Roberts playing young contributed to his lack of playing time. "They have really good moments (Roberts, and fellow freshman Jaylen Butz and Paul Reed). But moments have to become games."
The Blue Demons return to action on Feb. 3 at Butler and will look to avenge a 79-67 defeat they sustained at the paws of the Bulldogs earlier this month.