"42 Grams"
An underdog's rise to culinary greatness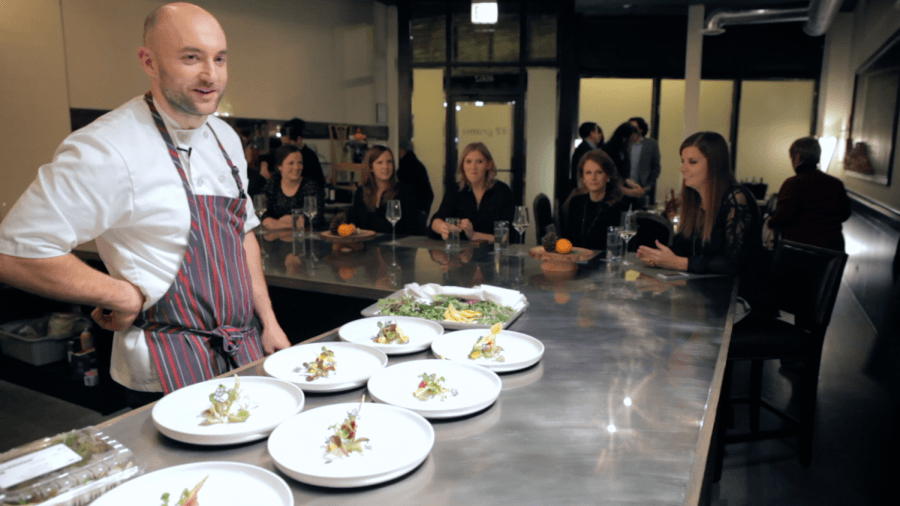 The general public knows very little about what goes on behind the scenes in the most elite kitchens in the world. Filmmaker Jack C. Newell takes us deep into the culinary universe as he follows Jake Bickelhaupt, a talented chef, as he tries to strive for greatness by opening his own restaurant in Uptown.
The documentary opens as Bickelhaupt and his wife Alexa Welsh are running Sous Rising out of their apartment, an illegal underground high-end restaurant. Every weekend, 10 strangers joined them for a 15-course dining experience prepared entirely by Bickelhaupt and his sous chef. The success of Sous Rising in addition to Bickelhaupt's determination to become one of the greatest chefs in the world inspired him and Welsh to open 42 Grams, a high-end restaurant in an old fast food place.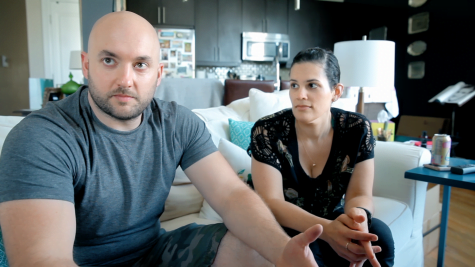 Originally from Wisconsin, Bickelhaupt came to Chicago specifically to work with prolific chef Charlie Trotter. From there, he has worked in some of the greatest restaurants in the world including Schwa and Alinea. After quitting briefly in 2011, he was unable to deny his passion for cooking but he was searching for an outlet in which he could express himself through food. That is how Sous Rising, and eventually 42 Grams, came to be.
"Sous Rising was my creative platform that gave me freedom to do anything my mind dreamt up," Bickelhaupt said. "I loved the idea of creating something new and different that hasn't been done before."
A riff on the saying that one's soul weighs 21 grams, Bickelhaupt and Welsh created 42 Grams, a reflection of what both of them brought to the table. Throughout the film it becomes more and more clear exactly how true that is. They both give every ounce of themselves to this dream.
At the time, Welsh was working at an advertising agency nine to five, five days a week on top of preparing 42 Grams for its opening. Bickelhaupt was creating an entire menu from scratch and staffing his kitchen as the building was transformed from a fast-food place to a fine-dining destination with the home-like atmosphere of Sous Rising.
Newell showcases Bickelhaupt as he goes through the often stressful creative process while perfecting his menu.
"One of the things that I was really excited by is that I was able to get Jake to really open up about his process about how and why he is choosing what he chooses when creating these dishes," Newell said.
What makes Bickelhaupt unique is that he is not bound by the techniques stressed in culinary school and instead seizes every opportunity to do as he pleases. This allows him to express his true personality through this restaurant and the food he serves. 42 Grams was the opportunity for him to showcase to the world what he saw within himself.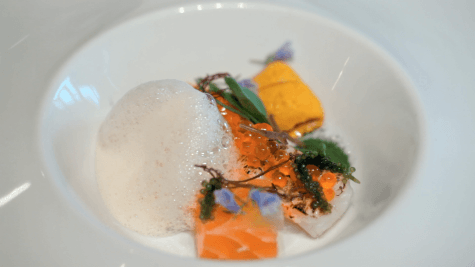 "The atmosphere of 42 grams wasn't geared to what I thought the guests wanted. I made an atmosphere that I wanted to dine at," Bickelhaupt said. "42 Grams was a true expression of who I am as a chef and as a human being."
In many ways, the success of the restaurant defied all odds. Opening a successful restaurant is difficult in its own right but to open one in Chicago, one of the most prominent dining destinations in the world is even more challenging. As Bickelhaupt said in the film, "It's rare to open a restaurant with this much ambition." And that ambition is exactly what struck Newell the most.
"I think what initially drew me to them was their sort of fearlessness in chasing this impossible dream and I was really lucky because amazing things ended up happening over the course of filming," Newell said. "We live in a cynical society and it seems to only really be getting worse, so when you encounter people who are excited, passionate, and are chasing their dream it's refreshing."
Throughout this journey it is clear that the culinary discipline is about growth, creativity, pride and sacrifice. "42 Grams" gives you an inside look at both the inner workings of an elite restaurant as well as of the creative mind behind the menu. It is a documentary about following your passion and carving your own path to make your dreams a reality.
"(Jake) and Alexa's pursuit for perfection against amazing odds is really exciting and you get caught up in it," Newell said. "The film is an emotional roller coaster and it's one you do not have to be a foodie to appreciate, because at its core it's about two people who have a dream and are audacious enough to pursue it."