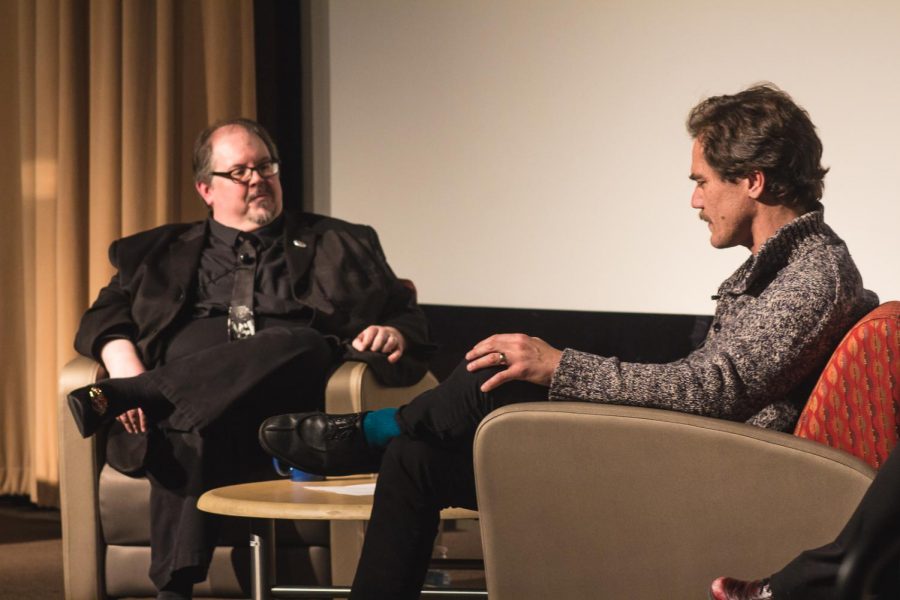 In conversation with a great mind
Humanities Center hosts Michael Shannon
February 5, 2018
Actor Michael Shannon took the stage at the Student Center on last Monday to an audience of nearly 400  people filled the auditorium to watch a screening of his film "Take Shelter" and listen to lead actor Michael Shannon have a conversation with DePaul Humanities Center director H. Peter Steeves.
This event was a part of the center's series "In Conversation with Great Minds" that asks questions about what role art plays in discovering the truth, the deceptive nature of art and where truth and lies are all that there is. Shannon's prowess as an artist on screen and stage made him an optimal guest for this series.
As Michael Shannon entered the room, Steeves entered the stage to welcome the crowd, taking a moment to introduce Shannon. Steeves stressed how Western culture sees reason and emotion at odds with one another, yet emotions and rationality are co-constituents; portraying one without the other lacks authenticity.
"It's not just that Michael Shannon understands, but that his measured performances are both cerebral and emotive, intellectual and moving, alive in such a deep way that they don't ever amount to a pretending to be alive," Steeves said.
Going through various movies and characters from Shannon's career, he described one of the ways in which they argue truths with emotional complexity in a way that communicates a sense of both tragedy and comedy. Steeves called this thrill a product of "categoriality."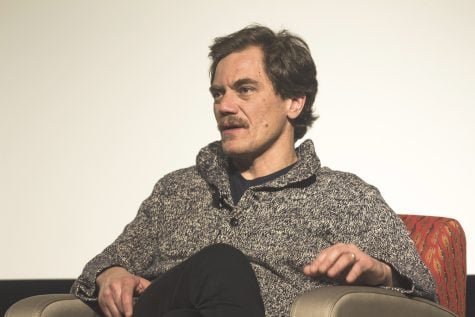 "It takes a nuanced actor to understand that comedy and tragedy are not opposites, but then it takes someone who is truly exceptional at the craft to allow that categoriality take over the flesh, to live it in it authentically," Steeves said. "These complicated moments of being human are enfleshed, that we carry our consciousness in our extended bodies, is something that Michael just exhumes.
The discussion began with how "Take Shelter" spoke to Shannon's experience the most out of any movie he has made and how he has never felt such synchronicity with another artist as he did with the director Jeff Nichols.
The conversation moved toward politics and an environmental crisis. Shannon shared how, as a teenager, he would go door-to-door canvassing for an environmental group in Illinois and was astonished by how uninterested people were. He says he still worried about energy consumption, the waste movie sets produce and how the problem needs more than economic support to be solved. Shannon shared that during a screening for the 2013 movie "The Great Gatsby" in New York, he unknowingly shook conservative billionaire Charles Koch's hand.
Steeves brought the conversation back to Shannon's masterful character complexities, and specifically his performance in "The Iceman." Shannon was immediately fascinated with his character who was based on the real-life mob hitman, Richard Kuklinski.
"The notion that somebody can want to have love in their family and all these things and also be capable of this destruction, that was one of the things that drew me to it," Shannon said.
Shannon is currently directing a play, "Traitor," that is playing at Chicago's A Red Orchid Theater until March 4. He shared his struggles with directing in an endearing yet sarcastic tone.
"It's interesting how many times you can say what you think is the same thing in a number of different ways and yet another human being still has no idea what you're talking about. That's one of the joys of directing," he said. He joked how it wasn't a reflection of the actors, but rather of his own mind.
Besides directing, Shannon also spoke of his appreciation for the "renewing aspect" of plays.
"There's some plays that are not very age-specific; I kind of want to do them once every ten years just to see how I've changed or how I can reinterpret or reimagine it or how the world's changed in relation to it," Shannon said.
When asked how he prepares for a role, he described how it's much more layered than reading lines.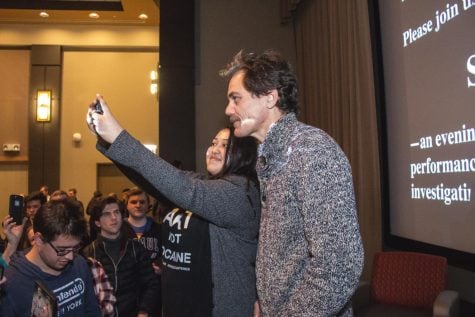 "You have this whole matrix of things in your mind, in your heart, in your soul and all the experiences you've ever had in your life, and all the things you've ever seen, and it's like some switchboard that can't be explained. It's beyond thought. It's just an experience," Shannon said.
Shannon also shared some art that inspires him, such as the music in the 1988 documentary "Straight No Chaser" about the jazz musician Thelonious Monk, the writing of the recently deceased author Denis Johnson and "typical white boy shit" like the works of J.D. Salinger.
As the Q&A began, a theater student asked a question about using acting as a tool to get at complex, emotional truths. When Shannon mentioned that he was at The Theatre School earlier in the day, the whole front left side of the audience, that was comprised almost entirely of theater students, cheered.
"When you whittle all these things away you're like, oh, I think what people really want is they just want to watch people being alive and doing things. They don't need me to do anything other than that. It's cruelly, deceptively simple," Shannon said.
A film student asked Shannon if he would do a voiceover cameo for his short film and another student how to use film and art to create change within people.
"The thing about art is it's not a dictatorship. You can't control other people's behavior. You can't control what other people think or do or feel. But you can throw your pebble in the pond and hope that someone else stares at it and it makes them think while they're watching it," Shannon explained.
Steeves ended the discussion and people crowded the stage, hoping to talk to Shannon. He shook hands, smiled and even went into a hallway with the film student to make the cameo. The student was thrilled but not surprised Shannon had agreed to help, based on his friendly reputation. The rest of the crowd seemed similarly pleased with the evening's event.
"I was definitely hoping to get something from him, some reassurance, to see his philosophy on acting and how it stacks up against the kind of things we're learning in this school, and he really said some stuff that resonated with me personally," said theater student Joey Walsh.
His friend Jazzy Rush, another actor, agreed.
"Our acting teacher speaks so highly of him, and we all know who he is anyway, so as acting students it was something that was necessary. There was a lot to gain," Rush said.
To watch a video recap of the event, and watch past events, visit The DePaul Humanities Center YouTube channel. For a list of upcoming events head to The DePaul Humanities Center website.