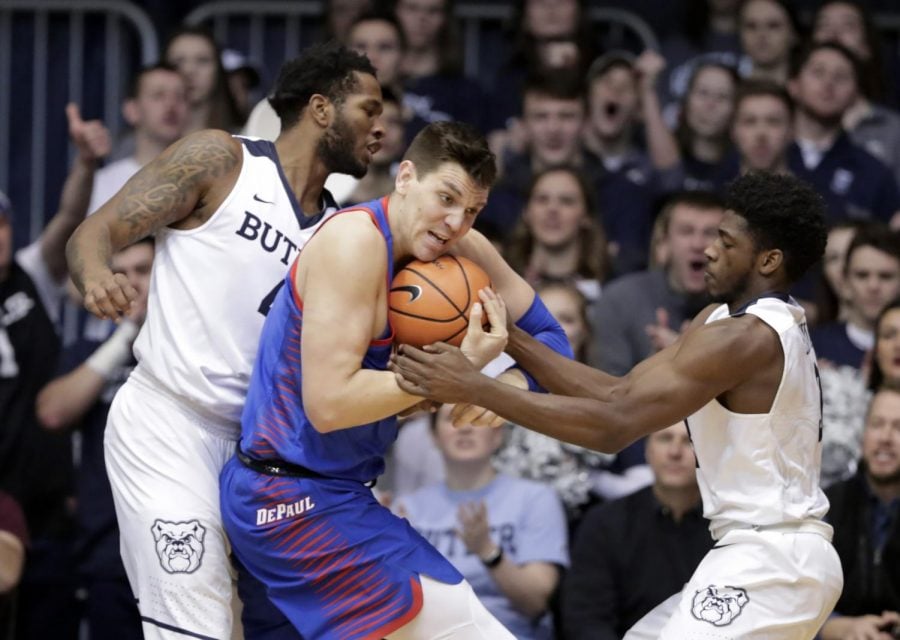 Basketball is often a game of runs, and when a game concludes it's usually easy to point to one particular run that allowed one team to prevail over the other.
In an 80-57 victory by the Butler Bulldogs (17-7; 7-4 Big East) over the DePaul Blue Demons (9-13; 2-8 Big East) at Hinkle Fieldhouse Saturday afternoon, it was a 20-1 whipping in the middle of the first half that allowed the Bulldogs to quickly go from down six to up 13 in just over seven minutes of game time. The Blue Demons coughed the ball up six times in the first nine minutes of the game and finished the half with nine turnovers.
Speaking of running, the Bulldogs turned defense into offense all afternoon, using turnovers and long misses as run out opportunities and finished the first half with 15 points off of turnovers.
On one play in the second half, Butler star Kamar Baldwin corralled a defensive rebound under the basket, took one long dribble to breeze past Blue Demon center Marin Maric, and started a 4-2 fast break on the other end that led to a Paul Jorgensen 3-point field goal. Getting beat in transition was the story of the game, as the Bulldogs finished with 12 fast break points (the scorer must have had a conservative definition of a fast break) and 27 points off of a season-high tying 23 Blue Demon turnovers.
DePaul had runs of their own, particularly out of timeouts, but was never a serious threat in this game after the 20-1 run. The Blue Demons are now 0-9 this season when trailing at halftime.
Maric led the way for the Blue Demons in the scoring department, pouring in 15 points on 6-for-10 from the field. It was his highest scoring game since Jan. 12 against Providence. The Bulldogs shut down Max Strus, who finished with the second lowest scoring total of his season (seven points), on 1-for-8 from the field. DePaul's other three starters, Eli Cain, Brandon Cyrus and Tre'Darius McCallum, combined for 19 points on 6-for-21 (29 percent) from the field.
Freshman point guard Justin Roberts finished the game with six points and four assists but also turned the ball over five times. Early in the second half, he passed out of a double team on the right wing to McCallum, cutting along the baseline on the weak side for an impressive assist. Roberts played 19 minutes, which was his highest total since the Xavier game on Dec. 30.
The Blue Demons return to action on Wednesday, Feb. 7 for an 8 p.m. bout against the Creighton Blue Jays at Wintrust Arena.