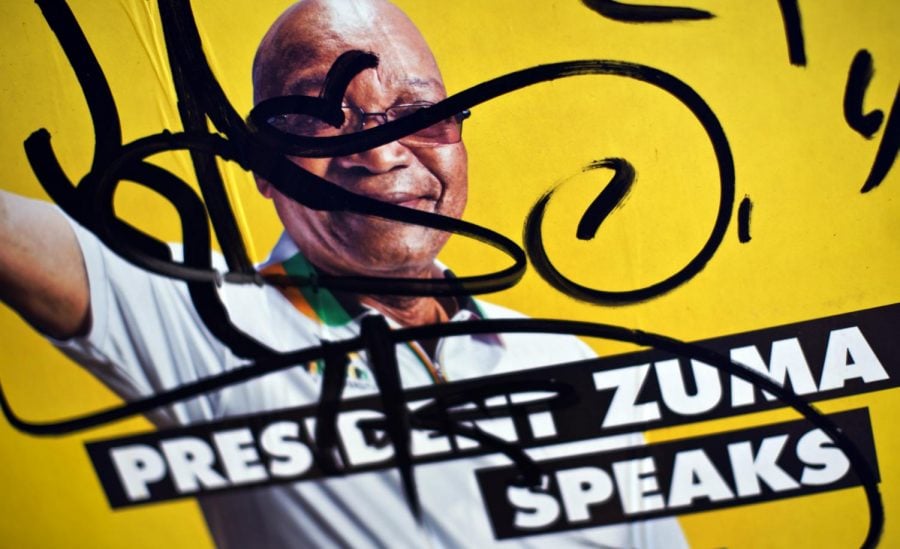 After nearly 60 years of service in the South African government, Jacob Zuma resigned as president amid rising pressure from a party he helped build up.
His resignation comes amid yet another corruption scandal involving the home of a powerful and wealthy Gupta family. Zuma, a member of the African National Congress (ANC), has close ties to the Guptas, and both parties have been accused of financial wrongdoing. This development led the ANC to deliver a vote of no-confidence and to pressure the longtime leader to resign in the same fashion he was elected, just two weeks after corruption charges were dropped against him in 2009.
In October 2017, the Supreme Court of Appeal ruled he must face 18 counts of corruption, fraud, racketeering and money laundering. African politics professor Clement Adibe believes these problems started when Zuma took advantage of a time period during which influential leader Nelson Mandela was struggling with his health and not able to be the face of South African politics as he once had been.
"Unfortunately Mandela was, in retrospect, in the early stages of his passing, so while his symbolism was important, he really wasn't in charge anymore," Adibe said. "Zuma used him as the pillar, in so far as 'if Mandela doesn't condemn me I'm good,' and he rode on that to gain the presidency of the ANC. Everyone thought after that he was at least going to govern reasonably well. Instead he got worse."
As for how much damage has been done, Adibe said that remains to be seen, but he believes it to be sizable. Adibe said Zuma's troubles began with accusations of rape shortly before he became president, when he was accused of raping an HIV-positive woman. Zuma claimed the sex between him and the 31-year-old was consensual, and he drew criticism for telling the court he had simply taken a shower to minimize the risk of infection rather than wear protection. Zuma was ultimately acquitted, but the scandal followed him into office before he'd even started. 
"Thankfully he's out, and now South Africa can begin to repair the damage that he has done," Adibe said. "I think he has actually done a lot of damage, but I always thought he did a lot of damage beginning with his trial."
For years, the ANC has held power, its governorship going unchallenged from Mandela all the way to Cyril Ramaphosa, who took over from Zuma on Feb. 15. Adibe says that while the ANC has typically been able to provide winning, unchallenged candidates, Zuma has tested this theory.
"I think what Zuma did was to test the limit of that logic," Adibe said. "The ANC members like to govern, but they also have some principles they want to maintain, and that came out clearly in this crisis. That is a very good thing."
South African native Scott Morris said that while South Africans celebrated the resignation of Zuma, it was tempered due to the distrust of the ANC that still runs deep.
"There were celebrations, but the truth is the ANC is still in power, so most people are still worried they will act in their own interest again," Morris said. "Our new president is an educated man, so hopefully he will bring change."
Adibe agreed that the ANC now has to pick up the pieces, gaining  back the trust of its citizens and influential leaders such as South African Anglican cleric Desmond Tutu. Adibe is nonetheless optimistic for Ramaphosa's leadership, especially after hearing some of Ramaphosa's initial speeches.
"Ramaphosa has now said he wants to return the ANC to the Mandela principles, and that's a very good thing," Adibe said. "It's not so much about winning, but it's more about governing and doing the right thing, and I think that is desperately needed. We saw Desmond (Tutu) was very critical of Zuma's ANC. You have a lot of very important black politicians who were very, very critical of Zuma and the stuff he did."
Adibe points out that Ramaphosa comes from a wealthy and successful background, which will also hopefully lessen his desire to steal.
"Ramaphosa is very sophisticated. He's been there. The modern history of South Africa has Ramaphosa all over the place: trade union leader, venture capitalist and politician," Adibe said. "Now he's a good man, he's accumulated a lot of wisdom, he's been there, done that. He's a politician, he's rich — he has no incentive to steal."
As the country and continent look to turn the page, Adibe, who is from Nigeria, said the rest of Africa needs South Africa to regain stability and become a model for other nations.
"All of Africa needs a successful South Africa. It's a big chunk of the morality of what is good about Africa, to say nothing about just economic symbolism and power" Adibe said. "We need South Africa to be successful. That way it can deter some of this bad behavior elsewhere."
John Kafarhire, a native of Congo and second-year masters student in International Studies, said the resignation of Zuma is also a good lesson for the rest of the continent.
"What happened in South Africa needs to be a lesson," Kafarhire said. "That for all the other African leaders, we need to work for democracy."
One of the first areas for potential change is the upcoming 2019 general election  Adibe hopes the ANC will face a stiff challenger forcing them to select a qualified leader that will continue to address issues such as poverty, crime and the water crisis, where current residents of Cape Town are limited to 50 liters per person per day.
"I do think the ANC needs a challenger," Adibe said. "The ANC needs a formidable opposition to be able to govern properly. If they do not have (a challenger), the ANC is just going to be one more party that is more interested in power than governing."
Though Zuma at one point stood side-by-side with Mandela during South Africa's anti-apartheid protests, Adibe says he now needs to face the rest of the continent.
"Zuma was a staunch anti-apartheid activist who went to jail with Mandela," Adibe said. "He had all the bonafides, and to do what he did afterwards just sold, in my view, his resume. I think he owes all Africans an apology."
Zuma has only addressed his citizens via a video message, but calls continue for him to face the public in person and deliver yet another apology.