Three Blue Demons earn Big East hardware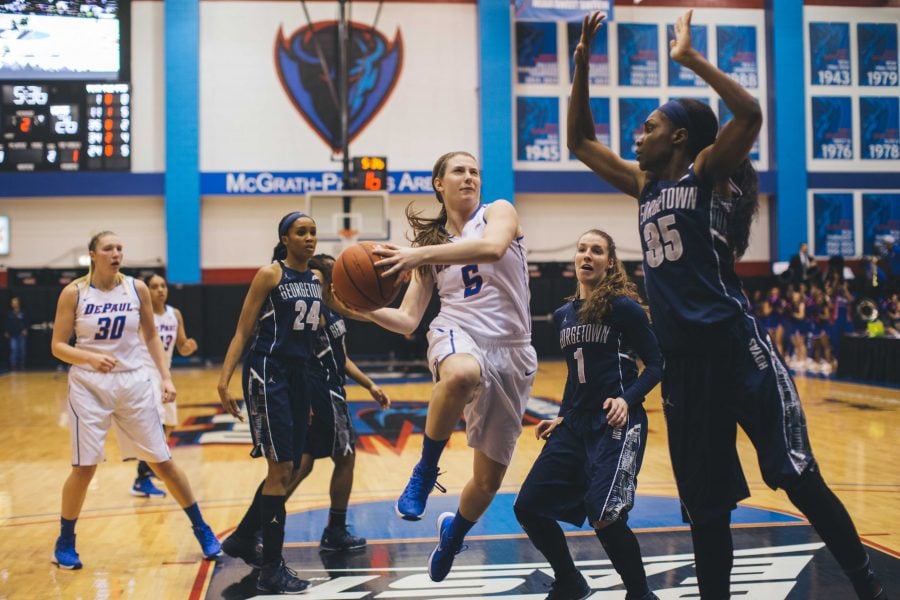 It's not surprising that the 2017-2018 Big East co-regular season champion DePaul Blue Demons have representation all over the All-Big East First Team selections for women's basketball.
The conference announced today that Blue Demon sophomore guard Kelly Campbell and junior forward Mart'e Grays are All-Big East First Team selections for the 2017-2018 regular season as voted for by the head coaches in the conference. They join Allazia Blockton from Marquette, Tori Schickel from Butler, and Dionna White from Georgetown on the All-Big East First Team.
Also, Blue Demon senior guard Lauren Prochaska earned the Big East Sportsmanship award, as she becomes the fifth Blue Demon in program history to earn this award.
Grays led the Blue Demons in scoring, averaging 14.4 points per game this season. A true multi-dimensional scorer, she used her size to dominate the post offensively while shooting at a 36.8 percent clip from behind the 3-point line. She also chipped in 4.5 rebounds per game which was the fourth highest mark on the team.  This is her first conference postseason accolade.
Campbell was the epitome of a stat sheet stuffer this season. From her guard position, she was fourth in the Big East in rebounding (8.8 boards per game), while leading the Big East in assists per game (5.9 per game), and assist to turnover ratio (4.0). She could score a little bit too, averaging 10.5 points per game on an efficient 45 percent from the field. She is the only player this year to post a triple-double, accomplishing the rare feat on Dec. 28 against Seton Hall (12 points, 11 rebounds, and 11 assists). Campbell was on the Big East All-Freshman team last season.
Prochaska was one of the Blue Demons top bench players this season, averaging 19.5 minutes per game. She averaged 3.1 assists per game (ninth in the Big East) and had a 2.5 assist to turnover ratio (third in the Big East), and was a constant sparkplug in the second unit with her hard-nosed defense and high-energy play.
With the postseason awards announced, Campbell, Grays, Prochaska and the rest of the Blue Demons turn their attention to the Big East tournament which begins on Saturday at Wintrust Arena. The Blue Demons, who earned the two seed in the tournament, will play their first game on Sunday against the winner of Seton Hall and Xavier.