Law professor draws ire of students after using 'N-word' in lecture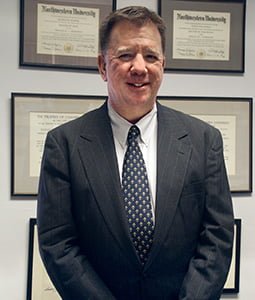 DePaul College of Law professor Donald Hermann is under fire from students for using the N-word multiple times in a lecture to his criminal law class on Feb. 22 and refusing to apologize in following classes.
During that class, Hermann says he was posing a hypothetical situation — a standard teaching method in law school, commonly referred to as a "hypo" — in which a man shouts the N-word toward a group of people attending a funeral for a civil rights leader, prompting the crowd to come after the agitator.  The agitator, having reason to believe that the crowd may harm or kill him, pulls out a gun and shoots them. 
"The question is: Can he use the claim of self defense?" Hermann said. "Under these facts, the answer is no because he is the provoker."
In order to make the argument that the man shouting the N-word is the provoker, Hermann says you first have to decide what words are sufficient grounds for provocation.
"Generally when someone uses words — challenging words, insulting words — that will not be enough for that person to lose the right of self defense," Hermann said. "(…) Probably the only case (in which words provide sufficient grounds) is one where the word in question is used."
Even after multiple students confronted Hermann, asking him to refrain from using the word in class again, he stood by his decision to use the N-word, saying it was important to use the word in the present educational context in order to convey the unique nature of the word in a legal setting.
"The discussion, in a sense, was sympathetic to African-Americans. I was explaining that they have a stronger claim or protection (because of the significance of the N-word)," said Hermann
After the class, students were quick to take action.
"On Feb. 22, the dean of DePaul's College of Law heard from students who alleged that a law professor used a racial slur during a class discussion about criminal law and speech," University spokesperson Carol Hughes said in an official statement. "DePaul's Office of Institutional Diversity and Equity (OIDE), which oversees discrimination and harassment complaints, was notified immediately and set up meetings to interview the students and professor. The OIDE staff will complete their inquiries in accordance with established university procedures.
"Additionally, OIDE has prioritized this investigation and students in the class may contact OIDE to file a complaint, offer witness testimony or ask questions about the process, which is outlined (on the OIDE's website)."
Hughes told The DePaulia that the university does not condone discrimination or harassment in any way, and while there is no policy in place governing the language professors can or cannot use in the classroom, the university's Guiding Principles for Speech and Expression explains how DePaul "aspires to be a community marked by mutual respect and a community in which we never lose sight of the potential effects, both beneficial and harmful, of our words and of our expressive conduct."
Tiffany Harper, a co-founder of the Diverse Attorney Pipeline Program for women of color in law school, wrote a letter to Hermann after two of her mentees, along with other students, tipped her off to the situation.
"Many students in the class, beyond the two that are actually in my pipeline program reached out to me, distraught and upset, wanting to know what they should do and how to move forward," Harper said.
In the letter she told Hermann that it is never okay for a non-black person to use the N-word.  Students from the class say Hermann read the letter allowed, saying the N-word in full 13 more times.
Terry Smith, an African American professor at DePaul's College of Law, told the Sun-Times he supports the way Hermann used the word in his class.
"Increasingly, we are dumbing down legal education for students. And increasingly they are ill-prepared to go out and represent clients. They will encounter this terminology and worse in practice. What will they do then?" Smith told the Sun-Times.
One of Hermann's criminal law students and Harper's mentees, Carli Wright, said Hermann was completely unmoved by the students' complaints and continued to double down. She says he grew angry and "screamed" at students as the class continued to challenge him. Hermann says he never screamed at anyone.
"It was completely unnecessary for him to use the word in that context," Wright said. "We are all law students, we are all smart people, we all have college degrees — it's not hard for us to understand the impact of the word without him saying it."
View Comments(1)