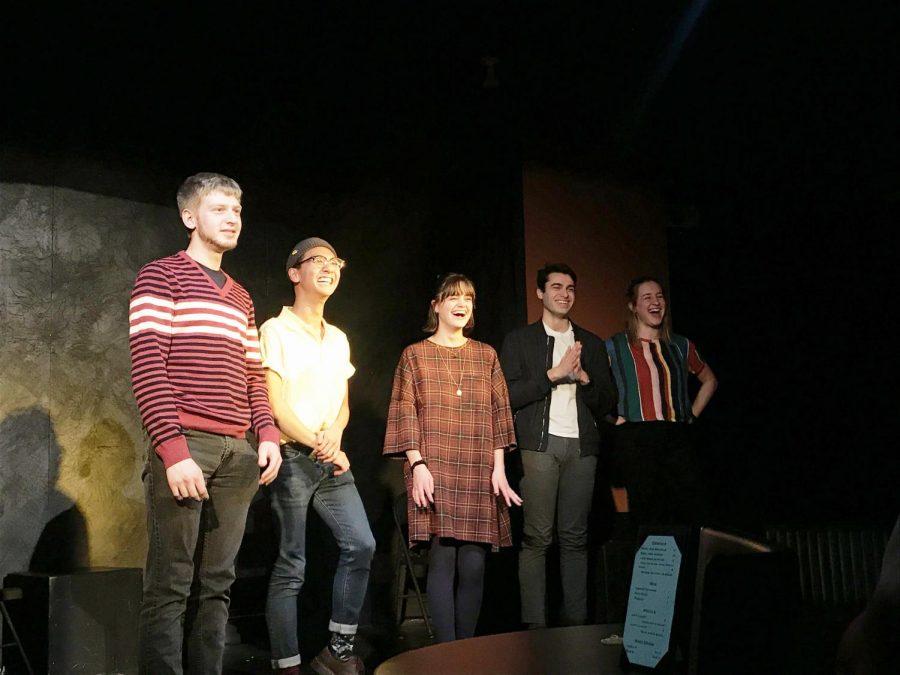 Trying to forget middle school humiliations like the awkward interactions you had with your crush or the hilarity of your gym teacher repeatedly saying "penis" in sexual education class, is an effort in trying to forget some of the strangest and most intense moments of your prepubescent life. On a cold but glowing Thursday night at the Under the Gun Theater in Wrigleyville, the first production of comedy and improv show Middle School Dance reminded the audience of some of those discomforting but hilarious times they (and we) would all prefer to forget.
What was originally a somewhat fleeting thought by sophomore Jerwin Santiago turned into a full-fledged production after he and his group performed two shows at Second City.
"Middle School Dance is an experimental improv, sketch and storytelling story built on inclusivity and elevating voices that need to be heard," Santiago said.
Santiago says he attempted to make his cast as diverse as possible to adhere to the show's call for wider representation in improv and stand-up cultures. It's not a secret that those cultures are dominated by straight white men, and consequently most of the performers are LGBTQ+ and of underrepresented racial groups.
In many middle school experiences, fitting into the mold of normalcy was essential to keep bullies away. For members of the LGBTQ+ community and for those from lesser represented racial groups, it could be downright harrowing. Santiago's decision to center his show around the often traumatizing time that is middle school is a way for those who do not fit the norm to take back those experiences. It also creates a relatable and interactive environment for the audience members.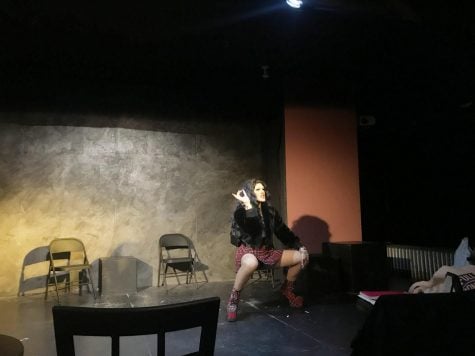 "I know we tried making it a super immersive experience, like really involving the audience the entire time," Santiago said. "We want the audience to be with us the whole way around. Interactivity is something we value a lot while others shows may not."
This show marks the first of the 10-week installments of Middle School Dance at the Under the Gun Theater. Each week will feature new jokes, performances and death drops. Anyone can perform any type of piece, as long as it adheres to the week's selected theme. This performance's theme was "puberty," one major setback to the calm and carefree life that was pre-puberty.
The show included a full and diverse lineup of improv, drag, spoken word and parody to fulfill all your regrettable middle school fantasies.
Jayme Coveliers, junior, played the raunchy and out-of-touch, but also somehow familiar, substitute teacher who coaches softball while also teaching sexual education. Many remember the horrors and entertainment of middle school sexual education class, but seeing their gym teacher put a condom on a banana is nothing compared to Coveliers' take on the juvenile hilarity of sex ed. With no preparation except their character, Covelier presented a hilariously uncomfortable, and weirdly relatable, performance accompanied by a bizarre Powerpoint they hadn't seen before the show.
"I made that Powerpoint, and they did not see it before their presentation," said Christian Borkey. "People think they wrote that whole sketch because of how funny and fluid it was, but it was all improv."
Omani Cross performed as Coveliers' somehow even more unqualified drag queen replacement. Their lip sync to "The Bad Touch" by Bloodhound Gang worked as a hilarious how-to for the horny and perverted middle schoolers. The song's blatant sexuality worked well with Omani Cross' drag style, with their see-through mesh top and star-shaped pasties. The overt sexuality was aided with their skilled death drops and stomps fit for a queen – literally.
Breastmilk, a four-person improv group and their performance of a sleepover from hell provided the darkest humor of the night. The four actors played best friends at a sleepover where they experimented with alcohol, cigarettes and the demented world of everyone's favorite naughty video chat site, Omegle. Their sketch was all too familiar since most preteen girls remember one particular sleepover that somewhat changed how you were going to grow up from there.
The night ended with Queer Eye Jr., the show's take on the popular reality show "Queer Eye" where LGBTQ+ individuals makeover and revamp a (usually) straight person's image. Still keeping with the middle school theme, the contestant's new look was complete with a copious amount of hair gel, Axe body spray and graphic t-shirts with regrettable but familiar text like, "I'm not gay, but $20 is $20." The cast perfectly portrayed each of the show's characters: One was a culinary expert whose job was to alter the contestant's diet for a healthier life. When he asked the contestant what his last meal was, the contestant said Starbursts. "Oh yeah, you know what's great with that to spice it up a bit: avocado," was his response, to a roar from the audience.
The Queer Eye Jr. skit was such a success that Borkey's Instagram post about the skit even received praise from Karamo Brown, the culture expert of the Netflix series. He liked the post and commented "Love this!" to the surprise of Borkey and her team.
The wide variety of performances exuded a different kind of relatability for the diverse cast and audience.
"It was so delightful to see people with a silly idea come together to make something tangible and relatable for so many people," said audience member Lucy Grundhauser.
When asked why he chose middle school as the show's overarching theme, Santiago mentioned how other writers often times obtain ideas from their recent past experiences. Someone in their mid-to-late 20s, for example, could easily write about their experiences in college since they are easier to remember than experiences from high school.
"The only thing that I am far away enough from and can effectively reflect on is middle school," Santiago said. "Middle school's a time you can really make fun of and really conflate what happened because it was truly the dumbest time of all of our lives."
If you are interested in performing, contact Santiago through his email middleschooldanceshow@mail.com or message him on Facebook.