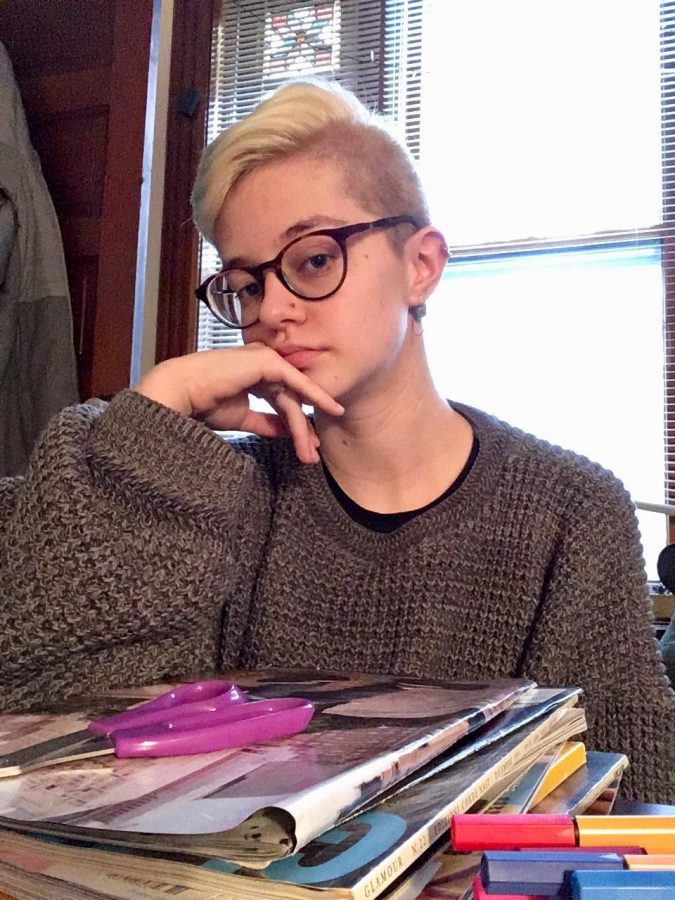 As the sun pours through the huge front windows of their third-floor Lincoln Park apartment on a Friday afternoon, Zoe Knight lies stretched on the floor. Their small frame is covered by a baggy thrifted sweater over a pair of denim overalls that they are proud to say they purchased from Target's kid's section. With the light coming in so bright, the fading of the green dye in their short hair is made clear, and the mix of yellowish, bleached tones and lime hues are reminiscent of a Sprite commercial.
Knight is stretched on the floor because they are rummaging through their own personal zine library. Dozens and dozens of booklets of different colors, sizes and thicknesses lie in Converse and Doc Martens shoeboxes. These little booklets in Knight's old shoeboxes are noncommercial publications that usually focus on nonconventional matter or artistic expression. They are independently-produced and an opportunity for artists to freely say what they want to say.
Defining the oftentimes bizarre and surely original subject matter of zines is tough, since a zine can really be about anything that the artist wants. The zines in Knight's collection vary widely in terms of thematic content, ranging from Marxism to worms to Radiohead to personal essay collections.
Zines are not just something they collect, though. Knight has been producing their own zines since they were a junior in high school back in Denver, Colorado. When they started, the process was simple. "I was doing some doodles and folding some paper," they said.
Now, as a DePaul University sophomore, Knight still makes zines and attributes their zines' creative process to being incredibly beneficial to their mental and social health. As a Writing Rhetoric and Discourse major at DePaul, their penchant for writing has driven them to be a person who creates and expresses themselves.
Knight describes themselves as someone who is always writing. Before turning to zines as a creative outlet, they did not always have a place to put their writing. They cite having some physical compilation of their work as a huge motivator behind their zine practice. "It made me feel kind of sad that my writing was just sitting in my notebook," they said.
Currently, Knight is working on the winter installation of their seasonal zine series. Their fall zine was put out in November and featured personal essays, poetry and collages. Knight's seasonal zines differ a bit from the others in that they are collections of work that they had produced for themselves over the course of a few months, rather than containing work that was produced specifically for the purpose of making up a zine.
Knight is hoping to publish their winter zine in late February. It is something they have been working on for a couple months now. They made another zine this past weekend, but that one took only a couple days. They began it during the Zlumber Party at Quimby's Bookstore, an annual Wicker Park event where artists can spend all night at Quimby's working on their zines.
"People come to Zlumber Party to be inspired by a creative space and creative people," said manager Liz Mason.
A year ago as a freshman new to the city, Knight attended the Zlumber Party alone; now they have a wealth of new friends in the Chicago zine community. Knight described the group of zine producers in Chicago as people who were very excited, both to share what they were making and learn about what others were making as well. "I feel like we make zines based on what communities we're in and how we want to express ourselves," said Madeline Happold, a fellow DePaul student and young zine maker.
Now fully emerged in the Chicago zine scene, Knight feels at home as an artist. As a teenager in Denver, most of the zine makers they saw were older and already established in the community. In Chicago, the zine community is reflective of the city's diverse and creative population, and people are accepting to newcomers. This has served as a source of inspiration for Knight. "It's really nice to see people my age who are constantly producing," they said.
Knight's process of creating a zine is not complicated. They type up their written work, scan their art if need be, and use online guides for formatting. If they need colors in the zine, they will send it to the UPS printing service, and if not, they will just print and staple in DePaul's library.
The straightforward process of creating zines has allowed Knight to put their creativity toward something meaningful. This practice has both helped their mental soundness as an artist and also has given them a whole new circle of artists that they can interact with.
Since they know firsthand how accessible the process of creating a zine is, Knight believes more young people should dabble in the art of zine making.
"I think young people should be exposed to zines earlier because it's a good motivator for them to be creative in their own way," they said. "Truly anyone can make a zine," they added.
As Knight's zines lay strewn across the shoeboxes on their living room floor, their backpack full of schoolwork could be seen lying against the room's huge front window. Even though Knight is learning about the creative process in all of their major classes at DePaul, they are pursuing the same learning experiences about creative processes every time they make a zine or take a trip to Quimby's. The universal self-driven process of zine making is something that they said will stick with them no matter what work they pursue in the future.