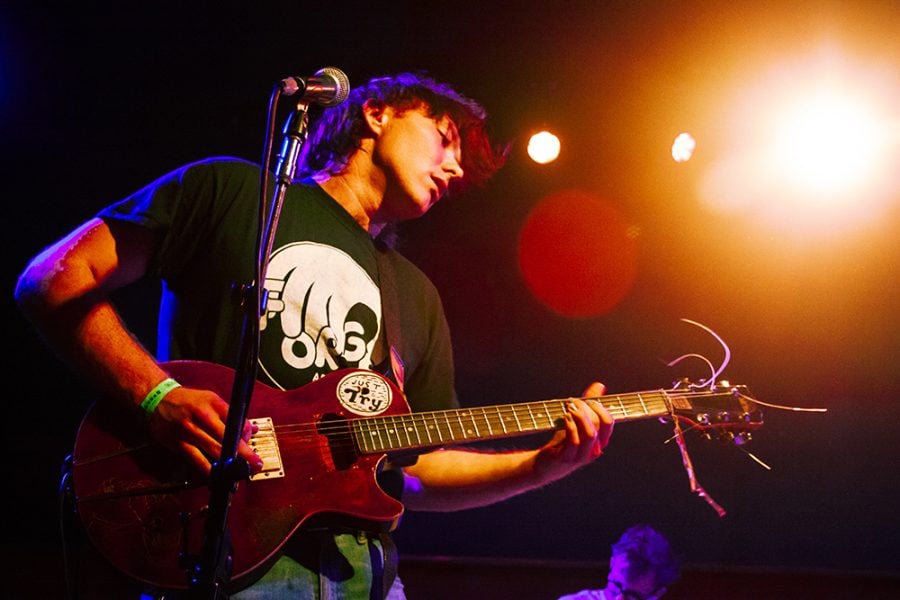 The phrase "I'll never die" echoed throughout Schubas during Current Joys' last song with lead singer Nick Rattigan sprawled across the floor, shouting alongside the audience. This bedroom pop solo project was transformed into a full-band performance with friends Jackson, Eric and Maddie filling in drums, bass and keys. Rattigan led each song passionately with haunting vocals, dynamic guitar styles and echo effects that captivated attendees throughout the night on Tuesday, April 3.
With a setlist mixing new tracks and old favorites, Rattigan had to gain the audience's trust as not only was this show kicking off a small tour – it was also Current Joys' first time playing the city. Starting the night off by playing a new dreamy and nostalgic track, Rattigan built suspense that brought the audience close together and wanting more. The crowd's unrestrained energy was unexpected for a low-key venue like Schubas, as the diverse audience brought a mix of ethnicities, ages and gender identities ready to move all night. The second crowd surfer rose during a highly amplified performance of "My Motorcycle" – a cult favorite.
Often constrained behind a drum set in "Surf Curse," Rattigan created a more personal connection with the audience by dancing to the instrumental waves of emotion, guitar in hand. Tapping his foot in Levi's straight leg jeans, his vocals sparked kindred emotions of nostalgia, anxiety, maturity and frustration. Dramatizing and intensifying catchy songs during the set, the latter half consisted of Rattigan performing tracks alone.
Transitioning the performance from a full-band to a single spotlight showcased how Current Joys came to be. Current Joys is the solo project of 25-year-old, Nevada-born songwriter Nick Rattigan. Outside of Surf Curse, Rattigan wrote heart-wrenching songs endlessly under different names until finally choosing Current Joys. "A Different Age" is their latest work, released March 2. The album documents the process of making art with a desire to create it sincerely in a time fraught with extreme irony, apathy and nostalgia. Inspired by a plethora of directors and artists, Rattigan harnesses it all, blending his influences seamlessly with personal experiences. By concentrating on the importance of creating an art that's more than simply music, "A Different Age" was to be released as a visual album – as seen by the video premieres of "Become The Warm Jets" and "Fear" via Stereogum.
The solo tracks performed at Schubas shined light on Rattigan's Nevada-influenced stylings, creating an atmosphere best described as desert daze. "A Different Age" hits themes of fear, love, passion, nonconformity, imperfections, reality and nostalgia. Listening to the recorded tracks and comparing them to the live performance, the amount of improvisation kept the crowd stimulated back-to-back and brought nuances showcasing the development of Current Joys over the course of the past five years.
The rawness of the project's songs, whether recorded or live, shows that imperfections are what make us human, allowing our creativity to prosper in our day to day lives. While societal norms tend to influence one's development of personhood and push for unrealistic expectations, it's essential to discover what's key to one's identity and how to convey one's story.
Bringing solo recorded songs to life with spontaneity and passion in front of fans that know every lyric, Current Joys is an act on the rise, alluring listeners with lively dark tones that can resonate with anyone, anywhere.