The walkouts end, but unrest remains
After nine days of protesting, Oklahoma teachers union leaders and organizers called for an official end to the statewide strike and asked educators to return to the classroom. The decision came once it became more apparent that the state legislature would not push a new bill to increase funding.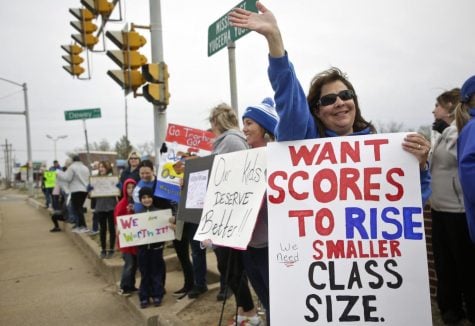 The protests came after lawmakers did not meet most of the demands that had been requested by the Oklahoma Education Association (OEA). They originally gave the state the ultimatum to provide more funding for the education budget or face a walkout, and on April 2 many teachers, students and fellow supporters joined the protests that lasted for nine school days in most parts of the state. 
At the start of the walkouts, protesters were pushing for $10,000 raises and more funding in the general education fund. The victory ended up falling short of their initial goals, but teachers were still able to walk away with an average raise of $6,000, with school staff receiving a raise of $1,250.
"We need to face reality," OEA president Alicia Priest said in a press conference.
"
Despite tens of thousands of people filling the capitol and spilling out onto the grounds of this capital for nine days, we have seen no significant legislative movement since last Friday (…) Senate Republicans won't budge an inch on any more revenue for public education."
— Alicia Priest
Priest went on to ask for lobbying groups to continue pressing lawmakers for increased funding in public education, as well as asking voters to back candidates in November who can bring adequate funding to the state's public schools. Many have echoed the sentiment on social media, calling for supporters to register to vote and campaign for candidates who stood in support of the protests.
"We may have returned to the office, but we're working harder than ever, and we have the following message for our friends on the front lines: We see you. We hear you. We're with you until it's fixed," said Becki Murphy, an adoption attorney in Tulsa and a member of Girl Attorney, LLC. The group got involved in the walkouts after Murphy first spoke out, and they have since provided legal representation for the teachers.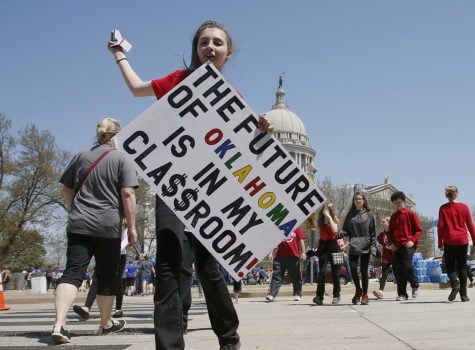 Despite the pay raises, many are worried that educators' concerns will be ignored, with education funding falling behind once again the Republican-held state. Oklahoma's school budgets have been shrinking for years, with some schools having to teach only four days a week because of a lack of funds. Teachers, there are also paid less than nearly every other state throughout the country.
"The reality is that this is not just about teachers making more money, it's about the consequences we all bear witness to when education gets put on the back burner," said freshman Myranda Bahr, who is originally from Oklahoma City and who has lent support to the protests. "Going through the public education system in Oklahoma, you fall victim to the lack of funding and you learn to adapt."
The Oklahoma protests aren't the first the country has seen this year. In early March after over a week of protests, West Virginia teachers reached a deal with the state that would give every state employee a five percent raise across the board. Arizona teachers also saw a 20 percent raise by 2020 after their protests, and Kentucky educators recently saw a legislative override of their governor's veto of a budget that would boost spending on education.
For now, the Oklahoma teachers who were part of OEA and the walkouts are now back in the classrooms, though public concerns remain. Other organizations are now focused on the elections that will take place in November, and others are ready to hold the government accountable so teachers will receive their promised raises.
"The reality of the public education system in Oklahoma is sad and embarrassing, so it's about time some action is actually being taken to provide accessible, quality public education throughout the state," Bahr said. "It's not a high demand, they're asking for living wages. The money is there, they just refuse to acknowledge the solutions."