Nation and World Briefs: April 16, 2018
Trump pardons former Cheney aide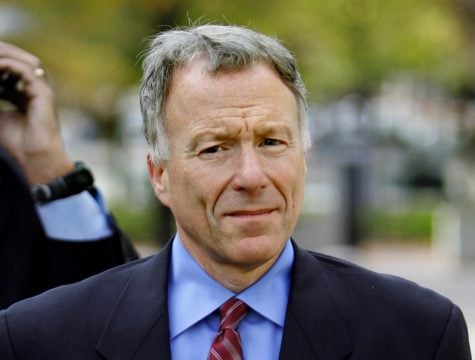 President Donald Trump issued a full pardon Friday to I. Lewis "Scooter" Libby, a former top aide to Vice President Dick Cheney.
Trump said he does not know Libby, but "for years I have heard that he has been treated unfairly. Hopefully, this full pardon will help rectify a very sad portion of his life," according to a statement issued by White House spokeswoman Sarah Huckabee Sanders announcing the pardon.
Libby, Cheney's former chief of staff, was convicted of lying to investigators and obstruction of justice following the 2003 leak of the covert identity of CIA officer Valerie Plame. President George W. Bush later commuted Libby's 30-month prison sentence, but didn't issue a pardon despite intense pressure from Cheney. No one was ever charged for the leak.
Since then, the Libby case has been criticized by conservatives, who argue he was the victim of an overly zealous and politically motivated prosecution by a special counsel. Another twist is that the special counsel, Patrick Fitzgerald, was appointed by James Comey, deputy attorney general at the time. Comey later became head of the FBI, but was fired by Trump, and has since written a book highly critical of the president.
White House counselor Kellyanne Conway, while declining at the time to confirm Trump's plans for a pardon, said earlier Friday that "many people think that Scooter Libby was the victim of a special counsel gone amok." Asked if a pardon would be about Comey, Conway said no.
Plame appeared on MSNBC Friday morning and said a pardon would send a message "that you can commit crimes against national security and you will be pardoned."
The pardon was the third for Trump. He granted one last year for former Arizona sheriff Joe Arpaio, who was awaiting sentencing for contempt of court. Trump also pardoned a U.S. Navy sailor, who was convicted after taking photos of classified portions of a submarine.
Russia says alleged chemical attack in Syria staged by UK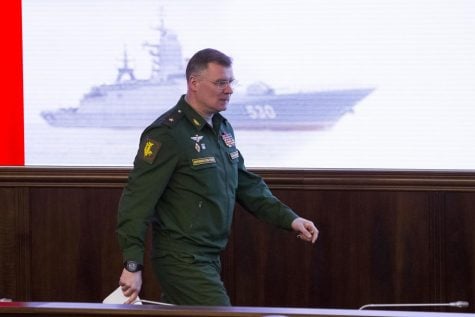 The Russian Defense Ministry on Friday accused Britain of staging a fake chemical attack in a Syrian town outside Damascus, a bold charge vehemently denied by Britain as a "blatant lie." The exchange follows the poisoning of a former Russian spy in Britain, and comes amid Moscow's stern warnings to the West against striking Syria.
A day before a team from the international chemical weapons watchdog was to arrive in Douma, just east of Damascus, Russian Defense Ministry spokesman Maj. Gen. Igor Konashenkov said that images of victims of the purported attack were staged with "Britain's direct involvement, " without providing evidence.
Britain's ambassador to the United Nations, Karen Pierce, dismissed Konashenkov's claim as "a blatant lie." Pierce said she wanted "to state categorically … that Britain has no involvement and would never have any involvement in the use of a chemical weapon."
White Helmets first-responders and Syrian activists have claimed the suspected chemical attack was carried out by the Syrian government on April 7 and killed more than 40 people in Douma, allegations that drew international outrage and prompted Washington and its allies to consider a military response. Moscow warned against any strikes and threatened to retaliate.
Konashenkov released statements he said came from medics at Douma's hospital, saying a group of people toting video cameras entered the hospital, shouting that its patients were struck with chemical weapons, dousing them with water and causing panic. The statement said none of the patients had any symptoms of chemical poisoning.
Konashenkov said that "powerful pressure from London was exerted on representatives of the so-called White Helmets to quickly stage the premeditated provocation." He added that the Russian military has proof of British involvement, but didn't immediately present it.
Konashenkov's claim followed an earlier statement by Russian Foreign Minister Sergey Lavrov, who said that "intelligence agencies of a state that is now striving to spearhead a Russo-phobic campaign were involved in that fabrication." He didn't elaborate or name the state.
As fears of a Russia confrontation with Western powers mount, French President Emmanuel Macron expressed his "deep concerns" over the situation in Syria in a phone call with Russian President Vladimir Putin.
According to a statement by the French presidency, Macron called for dialogue between France and Russia to "continue and intensify" to bring peace and stability to Syria. The Kremlin readout said that Putin warned against rushing to blame the Syrian government before conducting a "thorough and objective probe."
Russian officials had said before the suspected gas attack in Douma that rebels in the eastern Ghouta suburbs of Damascus were plotting chemical attacks to blame the Syrian government and set the stage for a U.S. strike. Moscow alleged soon after the suspected April 7 attack that the images of the victims in Douma were fakes.
The Russian Foreign Ministry also said that following Syrian rebels' withdrawal from eastern Ghouta, stockpiles of chemical agents were found there.
Russia has been a staunch ally of Syrian President Bashar Assad's government and has helped turn the tide of war in his favor since entering the conflict in September 2015. Syria's civil war, which began as a popular uprising against Assad, is now in its eighth year.
In Greek city, Syrian refugees line up to get arrested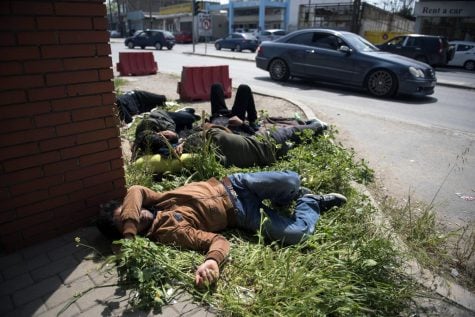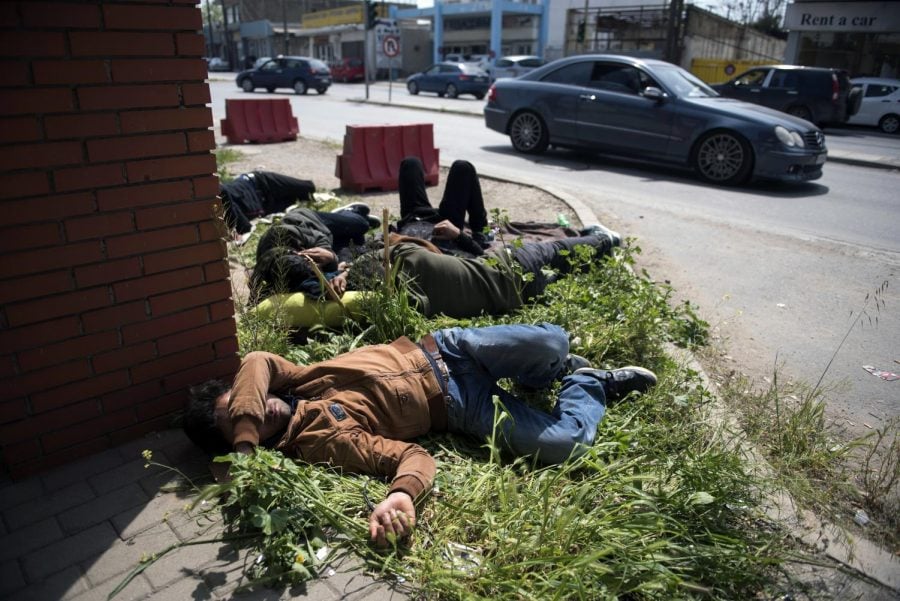 Several hundred refugees and migrants have gathered outside a police station in Greece's second largest city, waiting for hours to be formally arrested in order to gain temporary residence in the European Union country.
Families sat on the sidewalk outside the police building for hours Friday after crossing illegally from Turkey.
Police in northern Greece have reported a surge in illegal land crossings following Turkey's military offensive in northern Syria and capture of the town of Afrin from Kurdish fighters.
Among them was 24-year-old Mohammed Basil who fled Afrin with his wife and spent several days at a state-run hostel on the Greek-Turkish border before being allowed to leave and travel to Thessaloniki.
The huge line formed for a second day as many slept on the ground outside the police building or looked for a nearby park to rest. Although the arrest is considered a formality for refugees, many use the procedure as the fastest method to start their paperwork.
Most families are requesting placement at refugee camps around Greece that were set up after a European crackdown on migration two years ago. Refugees from Syria and other war-torn countries are usually granted the right to stay in Greece for at least 30 days.
Dimitris Beliakidis, a police spokesman, said there had been a spike in arrivals in the city over the last few days. They coincided with renewed tension in Syria over the possibility of Western military intervention.
New arrivals have mostly crossed the Evros River, which forms a natural border between Greece and Turkey, as migrants mostly try to avoid the Greek islands where strict controls on movement have been imposed and refugee camps are overcrowded.
Separately Friday, several thousand protesters gathered outside the U.S. Embassy in Athens in a rally against possible strikes in Syria. Organizers said protests are also planned on the island of Crete where a deep-water port at Souda Bay is used by the U.S. military.