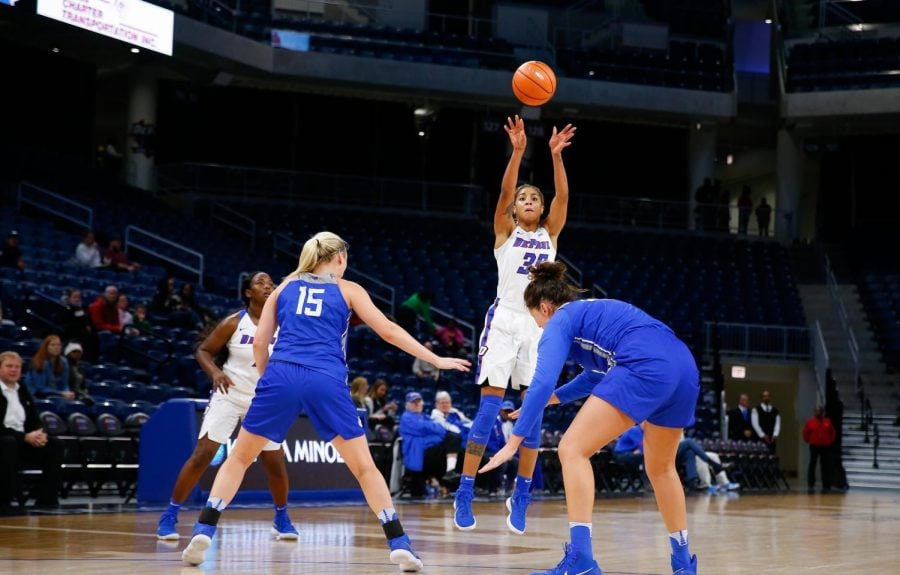 Just five days after junior forward Mart'e Grays was named to the All-Big East First Team, she was one of 10 athletes named to the 2018 Division I-AAA Athletic Directors Association Women's Basketball Scholar-Athlete team.
Grays bounced back after sitting out the entire 2016-2017 season with a torn Achilles tendon, to average 15.2 points per game in conference play.
This marks the fourth consecutive year a DePaul player has received the award after Brook Schulte was chosen in 2017 and Jessica January was named the I-AAA Scholar Athlete of the Year in 2016. Megan Podkowa was also named to the group in 2015 and 2016 along Brittany Hrynko who was honored in 2015.
All players with a minimum grade point average of 3.2 on a 4.0 scale in undergraduate study and have been a starter or important reserve with legitimate athletic credentials were eligible for the award. Athletes must also have played in at least 50 percent of games played and be at least a junior in academic standing.
The awards will be given out during the I-AAA ADA annual meeting held June 28-30 in conjunction with the National Association of Collegiate Directors of Athletic Directors (NACDA) Convention at the Gaylord National Resort and Convention Center in Washington D.C.
A special review committee was responsible for selecting the winners. The committee included: Scott Lazenby (Chair); Amanda Braun, Wisconsin-Milwaukee; Don DiJulia, St. Joseph's; Bill Husak, Loyola Marymount; Philip Hutcheson, Lipscomb; Jean Lenti Ponsetto, DePaul; Kenneth Siegfied, CSU Bakersfield; Irma Garcia, St. Francis and Robert Lineburg, Radford.