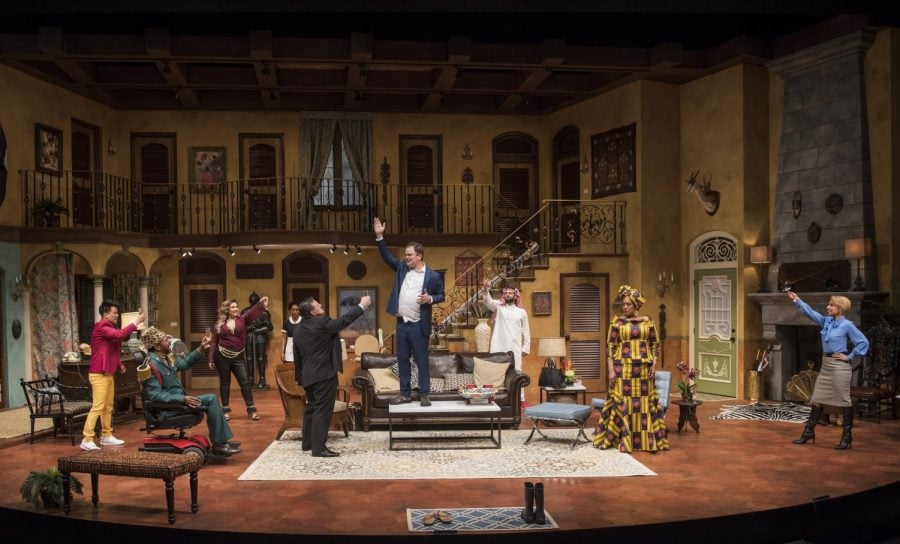 A recent DePaul graduate walks on stage in front of a completely filled audience, before fluffing pillows on a brown, leather couch center stage and spreading assorted African flora around the room. Not long after, Rainn Wilson, known for his role as Dwight in "The Office," follows her. Clad in a fencing costume and speaking in a British accent, Wilson and co-star Celeste M. Cooper banter on and off about the future of their country in the Central African Republic.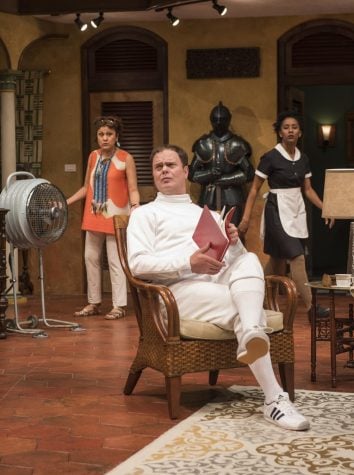 In "The Doppelganger (an international farce)," which premiered on April 5, is directed by Tina Landau and written by Matthew-Lee Erlbach, Wilson plays both the role of a British politician named Thomas who is met with an untimely sickness and his carbon copy, an American teacher named Jimmy who seems to be at the wrong place at the wrong time. Opposite Wilson is recent DePaul Theatre School graduate Cooper, who is brilliant in the role of Rosie. Her character is an African maid, who despite her lowly status nonetheless spars fiercely with the other characters in the show.
While Thomas deals with his sickness, his doppelganger, Jimmy has to take on the world of being a politician, and Celeste has to juggle both the men. As new politicians start coming and going from stage, including a lowly American, a Silicon Valley hot-shot, a rowdy British woman, a sexually perverse Latina and Saudi Arabian couple and finally followed by the CAR's King and Queen. When all the politicians have finally been introduced, the dirty world of politics commence. With one large capitalistic deal and secret deals being made between all the characters, Rosie and Jimmy are forced to adapt to their chaotic surroundings.
Wilson delivers impeccable comedy, with wonderful timing and a real talent for acting. He awed the audience with his quick changes from Thomas to Jimmy and back. Cooper, similarly dazzled audiences with her ability to channel raw emotion in the story, as well as her surprising comedic abilities. Her performance is incredible, emotive and visceral.
Written with a ribald sense of humor by playwright Matthew-Lee Erlbach,  the show encompasses  many elements of a  classic farce, including racy sex jokes, bodily humor and sometimes even purposefully poor timing. Throughout its entire two and a half hour runtime, the audience roared with laughter.
The show is timely, with many references to pop culture and hot-button political issues.There are jokes in this production that you know probably shouldn't laugh at, but you will anyway, including ones featuring American gun control, Brexit, Facebook, Steve Bannon and Silicon Valley.
The play ultimately wants the audience to see how difficult and senseless the field of politics can be, especially when it becomes nothing more than a venue for capitalistic ventures and untrustworthy motives. With its stereotypical portrayals of African, American, Middle Eastern and British characters, it creates a satirical mood that shows the chaotic state of global affairs.
For all the laughs "The Doppelganger (an international farce)" provides, it poses profound questions. It examines faith, asking why people pray when they know full well that their prayers do nothing. Across its three hours, the play tackles a variety of subject matter in both a humorous and serious way. It is almost genius-like in the way it criticizes global society while still being rooted in farce.  The show has great production values too; from the set design to the sound and lighting.
"The Doppelganger (an international farce)," quite frankly, left me speechless. If you are looking for a good laugh, for something that is as suspenseful as it is comedic, all wrapped up in a story that makes you ask questions about your own humanity, then "The Doppelganger (an international farce)" is a great choice. It is a necessary play for our time, and for the inhumane, unjust world we live in.
"The Doppelganger (an international farce)" will show at the Steppenwolf Theater until June 2.