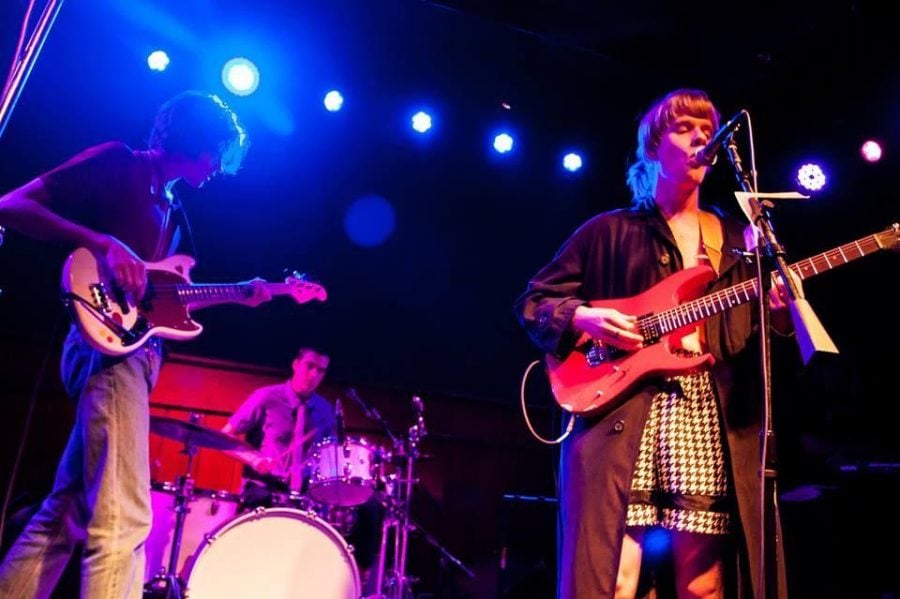 Three-piece local band The Slaps, were born shortly after the trio began their freshman year of college at DePaul University.
"We met at a party two weeks after school started in 2016," said guitarist Rand Kelly.
After finding common interest in music, Ramsey Bell, Kelly, and Josh Resing sought out a name for their newly formed project.
"Our friend suggested 'The Slaps' because people say 'that sh*t slaps,'" said Kelly, referring to the familiar music saying referring to when a song is a hit.
The Slaps released their first single "The Whistle Song" on Jan. 3, 2017 followed by an eight-track album titled "Susan's Room" on Jan. 31, 2017.
Their hit track "Song for a friend" collected 40,000 plays in just under a year and continues to grow.
"I met Rand at the beginning of the 2016-2017 academic year at DMBO's first meeting," said Alicia Maciel, local music promoter and founder of Fifty50 shows. "He gave me his Soundcloud and I didn't anticipate liking his voice and style as quickly as I did."
At DePaul, The Slaps are known for their massive house shows and dedicated cult-following.
The band has sold out venues at popular hotspots such as the Beat Kitchen, Schubas and The Subterranean and exceeded capacity at local DIY venues such as Soup Shop and the 7/7.
"Our performances get people away from the repetitive, mundane social experiences that are expected to be staples of college life," said Kelly. "We add some spice to the weekend plans. Lots of our support comes from fellow students and friends at DePaul."
Unlike other bands in the local scene that rely on social media for promotion, The Slaps' following is show-driven.
"We have no specific genre and are consistently altering the structure and presentation of our music," said Kelly. "I think what sets us apart from other bands is the range of styles we can play."
The Slaps' live performances evolve and change depending on the nature of the shows. The band performs alternative versions of their recorded songs in live settings, giving them a fresh feel.
"We tend to add or subtract from every song whenever we play, with the intent to reflect how we feel at that exact moment," said Kelly.
Their following also has gained The Slaps tremendous support from fellow musicians.
"After getting to know Rand, Ramsey, and Josh more I can't wait to support them along the way and help them out as much as I can," said Maciel.
The Slaps attribute their accomplishments as a band to the local music scene, with DePaul being the place their success began.
"It has facilitated a special kind of network that has allowed us to develop collaborative projects with other creative minds," said Kelly, referring to DePaul's musical environment.
"We all met at DePaul," said Kelly. "We practiced in the Corcoran music rooms, wrote music in our dorms and even played our first big show in the Stu."
The Slaps encourage fellow students to pursue artistic fields that stray outside the norm through their living example as musicians.