When Winter won't go
It's April, but it doesn't quite feel like it. Spring-sport athletes battle schedule changes and frigid competition.
When you're working on a story about weather conditions affecting college sports and are planning to go to a DePaul softball game to get a comment, be prepared for the game to be canceled at any time – usually because of the weather conditions. This April doesn't seem to be aware of the fact that it's spring already.
The Cubs already had at least three games canceled this week. According to Fox Sports, manager Joe Maddon joked that the team are at the point where they just want to play and get back to a regular baseball schedule.
Chicago, however, isn't the only city where athletes have struggled with filthy weather conditions. The  2018 Boston Marathon runners, for example, found themselves in a much worse situation. They had to start the distance in 38 degrees Fahrenheit with winds reaching speed up to 18 mph, and the rain made that morning even nastier. It was the coldest start to the athletic event in 30 years, according to Sports Illustrated.
Despite the stormy weather, Des Linden managed to bring the title of the marathon winner back to American women – the last time that happened was 33 years ago. And this time, it seems the weather actually even came in handy.
Some of those who were originally favored to win the race, many of whom are East African athletes who routinely lead the pack in years past, did not finish the race at all. The reason, says Mary Kate Shea, the elite athlete recruiter, in her interview to The Boston Globe, is that they never train in such cold and rainy conditions and rarely compete in them.
Garret Buckley, a DePaul golf team member, remembers playing in 28 degrees Farenheit in the snow. "Before I really figured out what was going on, I slipped during a practice swing," he remembered. "The snow was kicking to the bottom of my golf shoe, and it was layered over the spikes that usually help us to get a lot of grip."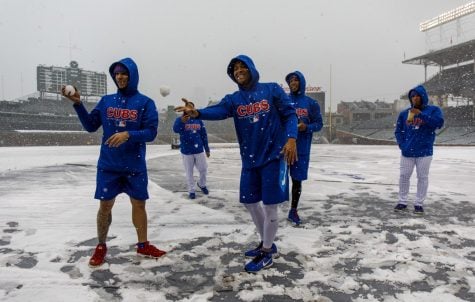 Golf, unlike many other sports, is rarely canceled because of the changing weather; the game is almost always on even during rainy conditions, unless the course is flooded.
Without a doubt, bad weather conditions add a lot of pressure for an athlete, both physical and mental. Besides wearing layers of waterproof gear like jackets, pants and special gloves, an athlete has to pay attention to every single detail that might affect his or her performance – the strength of the wind, rain direction and even their own feet sinking into the wet soil. All of it makes the game considerably more difficult.
"Just grind it out," Buckley said. "You got to be patient, it's just harder."
Sophomore pitcher Missy Zoch agreed that it's tougher to play in cold weather. "It's definitely both on hitters and the throwers," Zoch said after the Friday game against UIC. "Your hands are cold, you have to grip it differently, and hitting you don't want to swing full and hurt your hand."
She admitted that the team was, "kind of timid because it was still kind of chilly."
It's harder for athletes to compete in bad weather conditions on a psychological level  as well. Major weather changes like gloomy and rainy days can become sources of distress for players. And an absence of sunlight  can even cause a lack of energy and tiredness due to the brain's production of melatonin, the sleep hormone, in the absence of sunlight.
The rain can add to athletes' woes as well. Various studies have shown proved that rain is directly linked to our mood. WebMD quotes clinical psychologist Tecsia Evans, Ph.D., as saying,It's pretty common to see a change in mood – such as feeling sadness or lower self-esteem – when it's rainy outside."The Blue Demons' softball coach, Eugene Lenti, says there are freshmen from California and New Orleans on the team for whom current April weather is a surprise. But there isn't much choice for them. "We do come out when it's really really cold and just try to do it," Lenti says.
Mark Potosnak, an associate professor and Department Chair in Environmental Science and Studies at DePaul, says that there are lots of links between the weather and climate change. He argues that it's not unreasonable to think that climate change will play a role in how spring weather will look like in the future.
"In the Chicago area the biggest thing we should prepare ourselves over are extreme rain events," Potosnak said. "We've already seen that, and we're seeing more and more." Potosnak, a baseball and football fan himself, says that more covered stadiums might be needed due to global climate change and weather shifts.
He also sees the Super Bowl being increasingly hosted in new locations around the country – places that aren't always warm and sunny.
"They played the Super Bowl in New York– technically in New Jersey – (and) they took the risk," Potosnak said. "They always played (the) Super Bowl in warm weather locations. But they took a risk, and it worked out great. "
Maybe in a decade even playing golf in the snow won't seem like such a hilariously absurd thing. "There's not a lot you can really do and change," Buckley said. "You just got to be ready for it, and just really try to stick to your process."