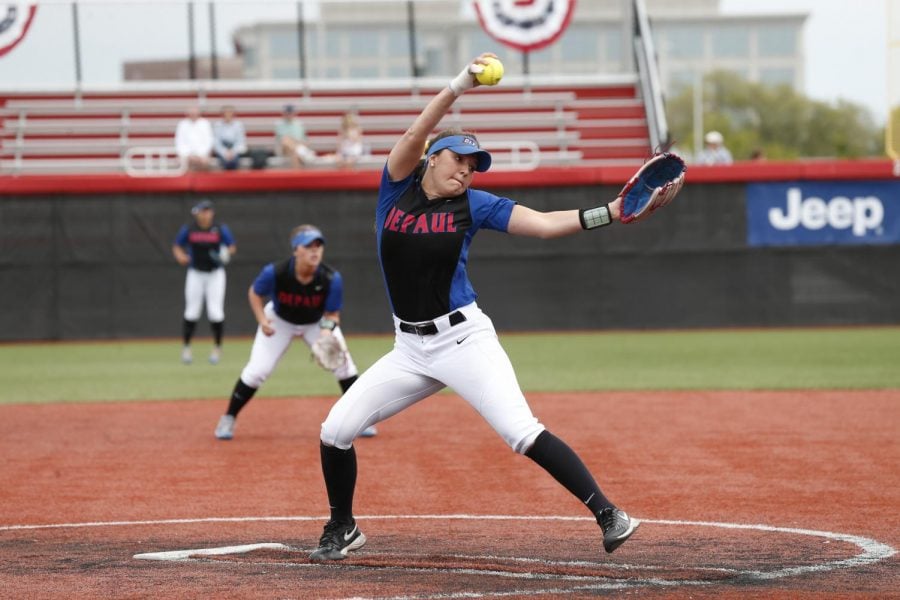 DePaul and St. John's entered the weekend looking to keep pace in a crowded conference race. DePaul edged out the Red Storm in the finale 2-1 to take two of three in a highly competitive series that featured two extra-inning games.
The game remained 1-1 with neither side scoring after the third inning until junior third baseman Alysia Rodriguez won it for DePaul (27-14; 9-3 Big East) with her first career walk-off home run to left field in the 10th inning.
"I know I love low inside pitches and I just turned on it," Rodriguez said. "I knew it was gone the moment it hit my bat. I was really annoyed with myself because I've been on this girl the whole time; my timing was just off so it was perfect for that moment that I hit that ball."
St John's head coach Amy Kvilhaug came out to question the umpires on whether the ball had stayed fair, but there was never a doubt in Rodriguez' mind.
"I knew it was fair right away," Rodriguez said. "I was like nope, don't even question it, because it was fair."
Held scoreless since Kate Polucha led off the bottom of the first inning for DePaul with a home run, DePaul head coach Eugene Lenti said they needed someone to give them a lift in a hard-fought series.
"It's just a tremendous lift for the team," Lenti said. "It was just a battle. We obviously have gone to extra innings twice in two of the three games, and the third game was close. Just a tremendous at-bat and at the right time, we really needed someone to pick us up and Alysia did a great job."
After senior Kennedy Garcia pitched 11 innings in the first game of the series, Missy Zoch pitched 10 innings Sunday shutting down the Red Storm with just one run allowed. The sophomore pitcher said it was definitely a grind, as both teams struggled to push across a second run.
"Every inning you find yourself saying 'Oh I got three outs,'" Zoch said. "Then you come in and the pitchers on that side wanted to do the exact same thing, and so they're coming out just as hard. So it really comes down to who wants it more."
After stranding five runners between the fifth and seventh, Zoch said she felt the stakes get higher as the game progressed.
"I think I got a little more nervous as the game went along," Zoch said. "It just gets more intense and your adrenaline is running. Probably like two innings after the extra I calmed down. I was like 'you're older now, you got this, calm down.'"
After escaping jams in both of those innings, Lenti said he was proud of the way Zoch battled, and he may even have a new nickname for his three pitchers after this weekend.
"Tremendous, that's a great job she battled. A couple of times she battled from behind. She had a couple of walks which was uncharacteristic for her," Lenti said. "Every time she got in trouble she found a way to wiggle out of it. I think our pitching staff, I'm going to call them 'the cardiac kids' these days."
DePaul also had multiple opportunities to take the lead with runners in scoring position in the fifth, sixth and ninth innings, but Lenti is focused on his team's resilience and the sound defensive play they showed on Sunday.
"I just see a lot of grit and a lot of resilience. That's really what today was all about," Lenti said. "Missy did a tremendous job; the defense was fantastic. I think we made one error in three games, I think they only made one error in three games. It was really going to come down to who could put the ball in play at the end where nobody could catch it."
With six games to go in the conference season, DePaul has kept pace with Creighton who sits at 7-2 after also beating Seton Hall on Sunday. Lenti said winning a game like Sunday provides momentum they can certainly build upon.
"It should give the team a lot of confidence. We're in the driver's seat. We're in control of our situation, and that's all you can really ask for is to be in control when you're in a conference race," Lenti said. "We have six games left if we go out and take care of business. Nobody can catch us, and that's where you want to be."
DePaul closes out the home portion of their conference season with three games against Butler on Saturday and Sunday.